Published
May 08, 2019 - 04:30pm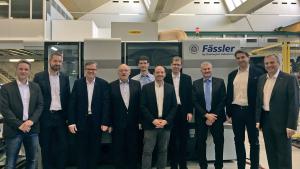 ROCHESTER, NEW YORK USA. Gleason Corporation today announced the signing of a definitive agreement with Daetwyler Industries AG and MDC Max Daetwyler AG to acquire all assets of Daetwyler's Faessler gear honing business.
Under the Faessler brand, Daetwyler has been producing gear honing machines, related workholding and tools for the high-precision hard finishing of gears. The business operations of the Faessler division, which has approximately 70 employees, will be acquired by a new Gleason subsidiary, Gleason Switzerland AG, and will continue to operate at its current locations in Bleienbach and Dietikon, both located in Switzerland. Gleason will retain Faessler's existing management team and expects Faessler's current employees to join Gleason.
The transaction is structured as an asset deal whereby substantially all assets and certain contractual relationships of the Faessler business shall be transferred by way of a bulk transfer according to the Swiss Merger Act. It is subject to employee notice periods and other customary closing conditions. It is expected to be completed in April 2019.
Commenting on the acquisition, John J. Perrotti, President and Chief Executive Officer of Gleason Corporation, said, "Faessler is a leader in honing technology for gears and ideally complements Gleason's existing product line for gear hard finishing solutions. Faessler's established presence in the global marketplace and Gleason's extensive sales and service organization will create great synergies for existing and new customers".
Ralph Daetwyler, Chief Executive Officer of Daetwyler Global Tec Holding, said "We are pleased to have a company such as Gleason with its long tradition in gear technology and the gear production equipment market become the new owner of this business. We are proud of the accomplishments of the Faessler team, and we believe the potential for Faessler's continued growth and success by being part of Gleason, with its market leadership and global reach, is truly exciting."