Published
June 09, 2017 - 09:30am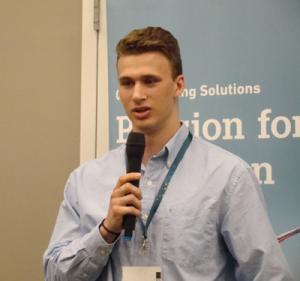 Machine tool builder GF Machining Solutions LLC announced its new "learn and earn" apprenticeship program during the first day of the machine tool builder's 2-day Solutions Days open house. The event, which took place June 6-7 at its Lincolnshire, Ill., headquarters, included technical presentations and equipment demonstrations.
At a presentation about the program, Jon Carlson, marketing specialist for GFMS, said the program is scheduled to begin in the fall. The company plans to accept four students as apprentices for the first year, with the potential for a fifth. The initial program offers opportunities for two field-service engineers and two application engineers. The field-service engineers help coordinate activities that relate to the installation and repair of machines and other manufacturing equipment and resolve technical issues. The application engineers provide technical support and analyze machine performance; the work requires effective spatial reasoning.
Carlson explained that the program is in partnership with Harper College and the Chicago-based Industrial Consortium for Advanced Technical Training. Apprentices will spend 3 years taking courses at Harper College to earn an associate's degree. When school is not in session, they will train at GFMS for 40 hours per week. They will be paid an hourly wage for both activities, plus benefits. "Student loans don't go away, so why start with one?" Carlson asked.
After the 3-year apprenticeship program, participants are required to fulfill an additional 2-year commitment with the company while receiving a salary. After the 5-year commitment, they will have an opportunity to continue to work for GFMS or pursue another career path.
Corey Ocock (pictured), who is the first apprentice in the program, spoke at the open house. He said he is targeting the field-service engineer position after completing a 2-year advanced manufacturing program at Palatine High School, where he operated a CNC 3-axis mill and lathe.
The company says it plans to accept at least four new apprentices into the program each year.
Related Glossary Terms
computer numerical control ( CNC)


computer numerical control ( CNC)

Microprocessor-based controller dedicated to a machine tool that permits the creation or modification of parts. Programmed numerical control activates the machine's servos and spindle drives and controls the various machining operations. See DNC, direct numerical control; NC, numerical control.

lathe


lathe

Turning machine capable of sawing, milling, grinding, gear-cutting, drilling, reaming, boring, threading, facing, chamfering, grooving, knurling, spinning, parting, necking, taper-cutting, and cam- and eccentric-cutting, as well as step- and straight-turning. Comes in a variety of forms, ranging from manual to semiautomatic to fully automatic, with major types being engine lathes, turning and contouring lathes, turret lathes and numerical-control lathes. The engine lathe consists of a headstock and spindle, tailstock, bed, carriage (complete with apron) and cross slides. Features include gear- (speed) and feed-selector levers, toolpost, compound rest, lead screw and reversing lead screw, threading dial and rapid-traverse lever. Special lathe types include through-the-spindle, camshaft and crankshaft, brake drum and rotor, spinning and gun-barrel machines. Toolroom and bench lathes are used for precision work; the former for tool-and-die work and similar tasks, the latter for small workpieces (instruments, watches), normally without a power feed. Models are typically designated according to their "swing," or the largest-diameter workpiece that can be rotated; bed length, or the distance between centers; and horsepower generated. See turning machine.

milling machine ( mill)


milling machine ( mill)

Runs endmills and arbor-mounted milling cutters. Features include a head with a spindle that drives the cutters; a column, knee and table that provide motion in the three Cartesian axes; and a base that supports the components and houses the cutting-fluid pump and reservoir. The work is mounted on the table and fed into the rotating cutter or endmill to accomplish the milling steps; vertical milling machines also feed endmills into the work by means of a spindle-mounted quill. Models range from small manual machines to big bed-type and duplex mills. All take one of three basic forms: vertical, horizontal or convertible horizontal/vertical. Vertical machines may be knee-type (the table is mounted on a knee that can be elevated) or bed-type (the table is securely supported and only moves horizontally). In general, horizontal machines are bigger and more powerful, while vertical machines are lighter but more versatile and easier to set up and operate.