Published
March 28, 2020 - 08:00am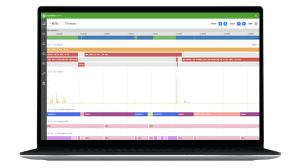 With the arrival of Industry 4.0, a new business model is emerging for how part manufacturers acquire machine tools: equipment as a service (Eaas). Graham Immerman, vice president of marketing for Northampton, Massachusetts-based MachineMetrics Inc., effectively covers this topic in his new 12-page ebook/white paper titled "Equipment-as-a-Service: A Brave New World for Machine Tool Builders." In an interview with CTE, he said, "Instead of buying a machine and fully financing it or paying cash, you can pay as you use it." This model provides financial flexibility to part manufacturers.
With EaaS, Immerman added that machine tool builders will no longer be selling "a piece of iron" but an industrial internet of things-enabled piece of equipment that is also a service. By being IIoT-enabled, the machine can send data to the machine builder or distributor to provide a host of services, such as developing a custom preventive maintenance plan based on the customer's usage of the machine, enabling remote machine monitoring and revealing whether the machine is operating at optimal capacity or not.
"MachineMetrics can tell you that the average customer is using their equipment about 25% of the time," Immerman said.
As a result, builders sell manufacturers equipment that wouldn't be needed if equipment utilization was more optimized. "That's just a fact," he said. "As all manufacturers start having data and realizing these facts, builders are not going to sell them these iron things anymore at some random rate. They are going to enable other use cases and wrap these models around the sale of machines."
He explained that MachineMetrics is a subscription-based service in which customers purchase a platform for providing services around that platform, which can connect every machine on a shop's floor.
Although the metalworking sector has been slow to offer the EaaS model, the adoption rate for this type of technology can be quick, according to Immerman. "The type of data that we collect from the equipment is so deep that we can enable this service so fast."
The first use case that's gaining traction is remote machine monitoring, he added. Not only does remote monitoring reduce the time it takes to get a machine back to making chips, it reduces the
machine builder's service costs by helping to reduce on-site service visits 10% to 20% and provides a better experience for the customer, who is then more likely to buy more of its machines.
"The ability to remotely diagnose and resolve problems without having to go on-site is a win-win for the machine builder or distributor and customer," Immerman said.
Other potential gains that a machine builder derives from having data directly fed from production equipment include improved equipment design and identification of optimal changeover sequences, he noted.
The path to this new model start with the data and data transformation, Immerman concluded in the interview. "It's the foundation of all these future business models."
Related Glossary Terms
metalworking


metalworking

Any manufacturing process in which metal is processed or machined such that the workpiece is given a new shape. Broadly defined, the term includes processes such as design and layout, heat-treating, material handling and inspection.