Published
December 29, 2020 - 01:30am
Filtration systems reduce production costs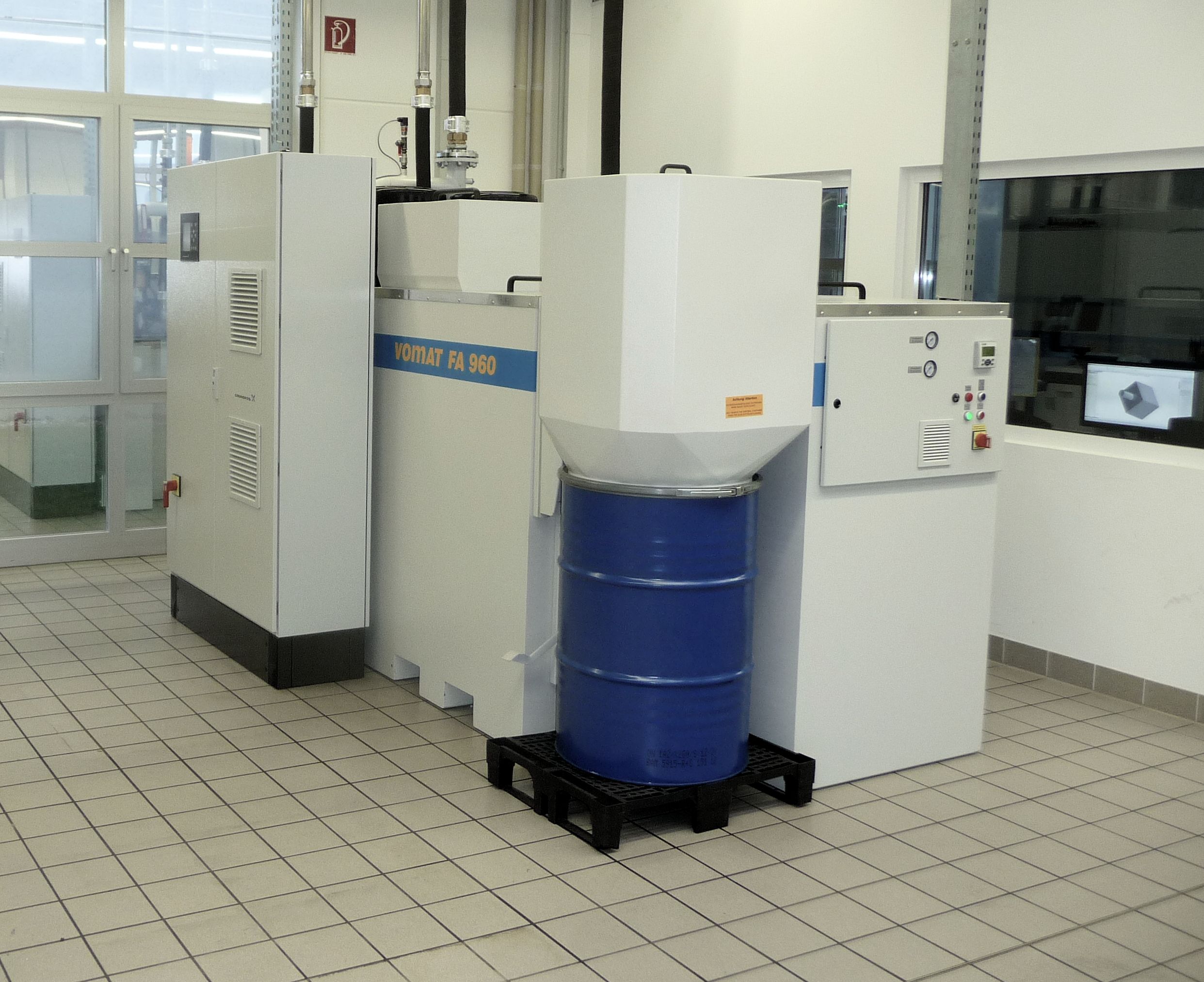 The costs of cooling lubricants in tool grinding often exceed the costs for grinding wheels. Tool manufacturers who acknowledge this can save money with ultra-fine filtration technology that is optimally adapted to a company's production capacity and manufacturing requirements.
To grind modern cutting tools, all parameters involved in the manufacturing process must be optimally coordinated including the ultra-fine filtration technology. This is the only way to produce drills and end mills in large quantities with consistently high quality and process reliability the end user expects.
Vomat in Treuen, Germany, is a filtration specialist that offers a range of products. "Filtration systems must not only guarantee very high purity of the coolant media over a long period of time, but in terms of capacity and performance they must also be optimally tailored to the respective workflow," said Steffen Strobel, technical sales manager at VOMAT. "In addition, the filtration system should be highly flexible so it can be easily configured and grow as production expands. From the outset, this offers great potential for reducing current and future production costs."
The ultra-fine filtration of metal coolants is an important value-added factor in tool grinding. Many studies and recommendations, such as VDI Guideline 3397, Sheet 2, describe successful coolant maintenance as a key factor in reducing production costs. "For the greatest possible success, the finer and cleaner you can filter your coolant, the better the production quality will be," said Strobel. "Moreover, the coolant can remain in the system for a much longer time and makes the grinding process more economical."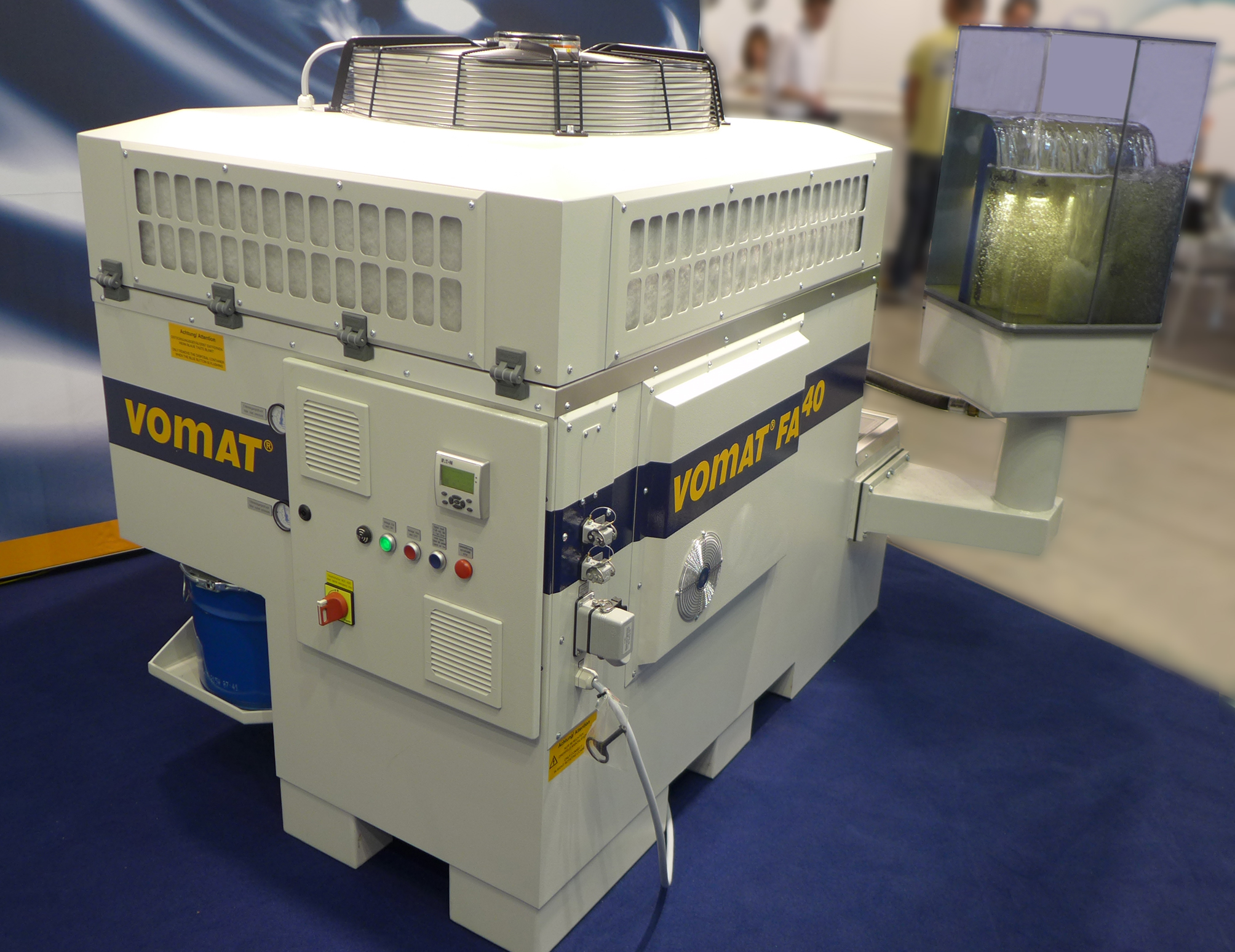 According to Strobel, the grinding tools last longer and more drills or milling cutters can be ground with one grinding wheel. Grinding machine downtime is greatly reduced because the grinding wheel no longer has to be frequently adjusted or change. Furthermore, cooling lubricants, which no longer have to be changed as often, not only help to reduce non-productive time, but also cut costs in terms of purchasing, storage, recycling and energy consumption.
Vomat's product line includes stand-alone units up to large-scale industrial central systems. All systems are modular or custom designed to meet specific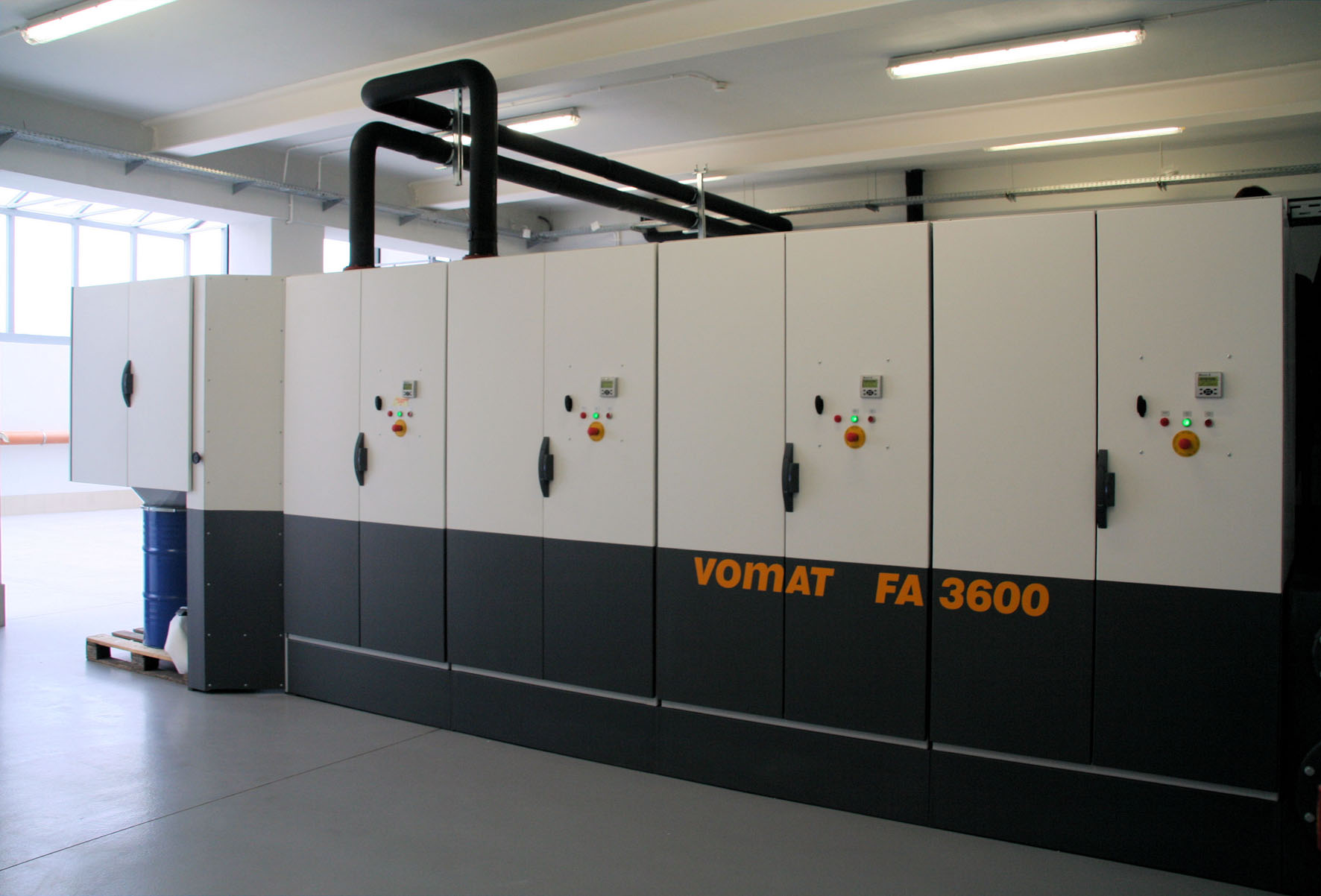 needs of any size tool grinding shop. Vomat systems can be adapted to changing requirements in a company, both technically and in terms of capacity.
Advanced Filtration Technology
VOMAT's FA series stand-alone units feature filtration capacities from 70 to 960 liters/minute and customized central systems. High-performance pre-coat filters with long maintenance intervals are used. The separation of dirty and clean oil is 100 percent. The special filter technology ensures that clean oil in the quality class NAS 7 (3 to 5 µm) is available during the on-demand filtering and backwashing process. The cooling capacity on VOMAT systems range from 9 to 100 kW with a control accuracy of ± 0.2 K.
If needed, standard filtration systems can be adapted to increased or changed production requirements by means of various additional modules, such as frequency-controlled machine supply pumps, internal or external pre-filters as well as special cooling systems. Individual system configurations up to large industrial central systems with optimal cooling and disposal concepts can be realized.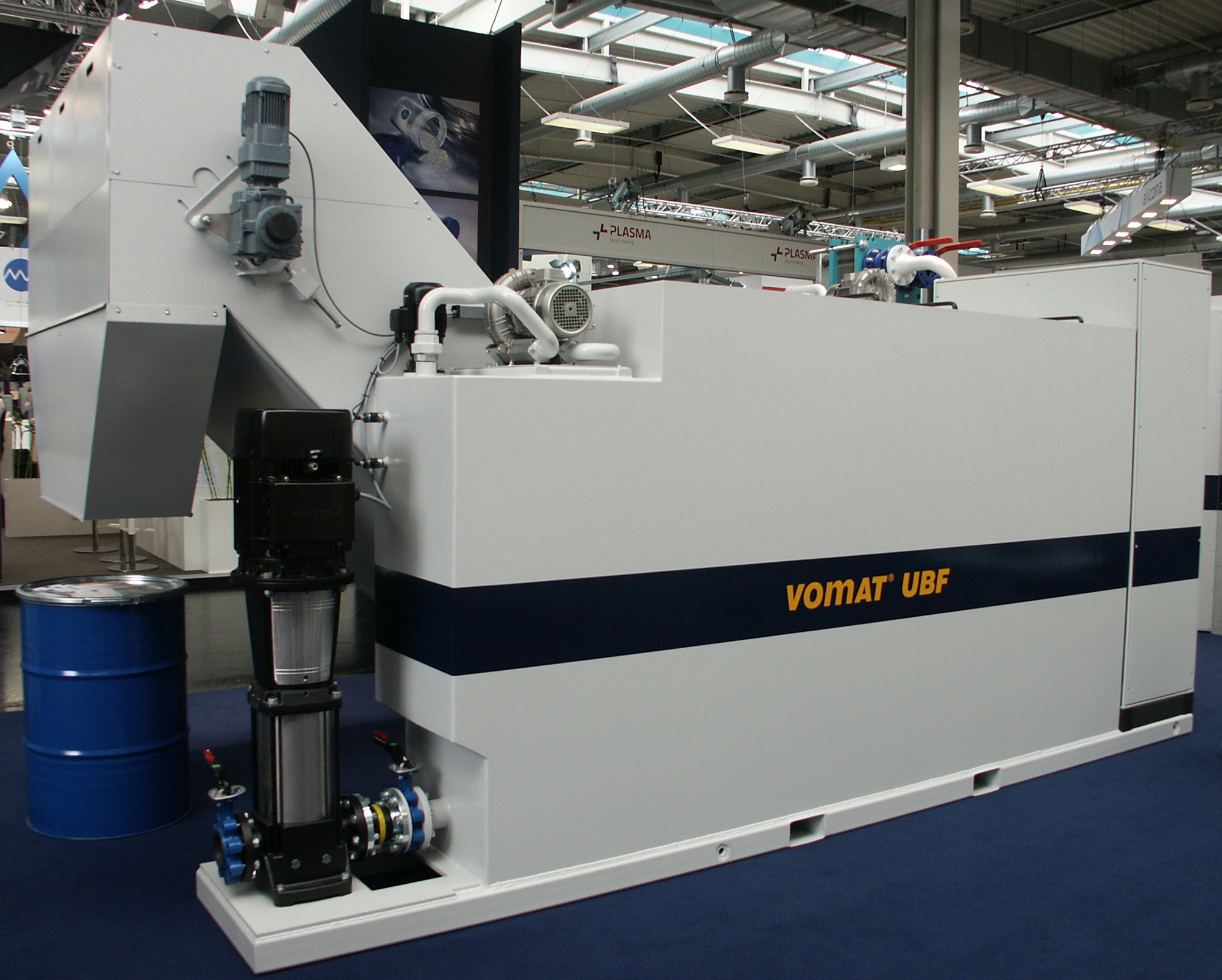 In addition to the FA ultra-fine filtration systems, VOMAT provides the vacuum belt filter UBF. Strobel said that the UBF offers powerful filtration of water-based coolants, emulsions, and grinding oils. It can also be used to filter ferrous and non-ferrous alloys, hard metals, disc abrasion, and binders from modern cooling lubricants such as water-based coolants without a pre-filtration system. The UBF achieves high filtration performance and filter fineness of 10 to 30 µm. The compact UBF unit is easy to maintain and, according to VOMAT, requires about 70 percent less space than conventional systems due to a special belt guiding system, while providing 100 percent performance
"With VOMAT technology, costs can be filtered out of metal coolants," said Strobel. "Our filters manage the balancing act between productivity, quality and resource-saving tool grinding."
Vomat offers ultra-fine filtration systems. In the U.S., the technology can be viewed at Oelheld U.S. Inc. in West Dundee, Illinois. For information, phone 847-531-8501 or visit Vomat at www.vomat.de.