Published
May 15, 2020 - 07:30pm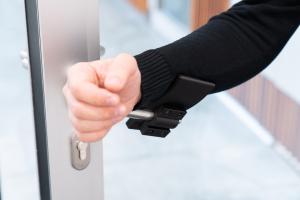 A few weeks ago, Emag LLC started examining workplace safety regarding the pandemic and quickly came up with a long list of new safety measures to avoid spreading the virus. Over the past couple of weeks, our employees have been working hard to implement these measures, making us confident that all workplaces now are designed so the spread of infection at the company is almost impossible. Strict hygiene rules are being upheld throughout the company, and the minimum 2 m (6 ft.) social distancing measures are followed. However, there was one area that the team struggled to find a safe solution for: door handles.
Throughout the company people were trying to avoid door handles, using their forearms and elbows to open doors as much as possible. This trick works well, as long as you can push the doors open, if you have to pull it, it becomes much more difficult. A company called "Materialise" also recognized this, and developed a product for the domestic 3D printer, and than it made the manufacturing data free to download on its website.
One of EMAG's employees, who himself is a hobbyist in 3D printing, had the idea of using this product in the company as well, so he began to produce this hands free door opener. However, the design of the door opener had to be adapted to everyday industrial use. Doors in an industrial company with so many employees are used much more frequently, and the doors are typically much heavier than those at home. Therefore, EMAG had to customize the files for its own purposes.
We would like to share the design and manual for the industrial door opener here for free to support the fight against the spread of the coronavirus.
Wishing you and your family the best during this difficult time. We will get through this together!
Stay healthy!
Team EMAG