Published
May 23, 2017 - 08:45am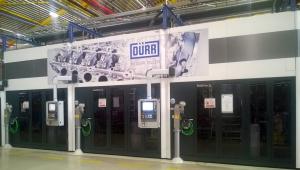 In the 100th year of its history, 2016, the BMW Group ordered the 100th EcoCFlex system from Dürr Ecoclean. The anniversary specimen of the flexible robot cell forms part of a three-unit package and has received a special painting. The machines have been serving in a volume production environment at the Steyr engine plant since May 2017.
The first EcoCFlex machine for cleaning and deburring engine components went into service at the BMW Group in 2005. Eleven years later, when the company was celebrating the 100th anniversary of its foundation, BMW ordered the 100th cleaning machine of this type as part of a major order. Representing the third generation of Dürr Ecoclean's flexible robotized cells, this anniversary specimen was launched in production at the Steyr engine plant in early May 2017 along with two other EcoCFlex 3L systems. These cleaning machines are adapted to BMW's latest specifications for technical cleanliness, replacing the transfer systems previously employed on a production line for petrol engines.
Along with the special painting specified to suit the occasion, the BMW Group opted to order the new EcoCFlex 3L systems with handling technology comprising the Scara manipulator developed by Dürr Ecoclean. This rugged robot was purpose-designed for use in cleaning machines and convinces, among other features, with its innovative control approach. Instead of the separate robot control unit commonly adopted, the EcoCFlex 3L relies on just one single CNC to operate both the Scara manipulator and the cleaning machine. This simplifies and accelerates programming, service and maintenance of the overall installation. However, the EcoCFlex 3L sets new standards not only for cleaning quality and ease of operation, but also in terms of energy efficiency.
Related Glossary Terms
computer numerical control ( CNC)


computer numerical control ( CNC)

Microprocessor-based controller dedicated to a machine tool that permits the creation or modification of parts. Programmed numerical control activates the machine's servos and spindle drives and controls the various machining operations. See DNC, direct numerical control; NC, numerical control.

manipulator


manipulator

Arm or basic object-transferring device. Hands or gripping devices vary according to application, as do arm design and number of joints (axes or degrees of freedom). See degrees of freedom; effectuating device.