Published
September 03, 2017 - 08:15pm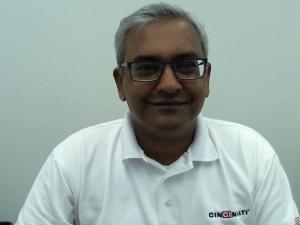 Cincinnati Inc., Harrison, Ohio, named industry veteran Rakesh Kumar vice president of sales, marketing and service. A metal fabrication industry veteran, he comes to Cincinnati from Amada Co. Ltd., Isehara, Japan, where he spent more than 20 years in engineering, manufacturing, production control, solution center management and sales. Kumar's appointment continues the company's expansion of its sales and service teams to provide a high level of brand experience as it enters new markets and increases its presence in established markets.
"Rakesh is known throughout the fabrication industry, and his wealth of experience brings a unique perspective to our customer relations," said Cary Chen, president and CEO of Cincinnati. "He is a hands-on person who understands that the right solution can have a huge impact on a shop's operations."
Kumar studied mechanical engineering at Osmania University and Arizona State University. A record of increasing sales and satisfied customers follows him to Cincinnati, a company with a long history in metal fabrication.
"This is a great opportunity to bring my knowledge and approach to a company with a great history, as well as a great future," Kumar said. "There is a lot of excitement around the additive initiative, and CI still provides some of the best press brakes and lasers in the industry."
Cincinnati provides manufacturers throughout North America with laser cutting and automation, as well as other metal fabrication solutions, including press brakes, shears and conveyor systems, powder metal presses, the Big Area Additive Manufacturing large-part additive system and the Small Area Additive Manufacturing system.