Published
February 02, 2018 - 03:45pm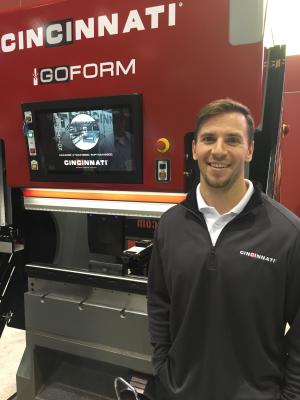 Cincinnati Inc., Harrison, Ohio, which manufactures laser-cutting, automation and other metal fabrication equipment, named Adam Yborra sales engineer for the Eastern U.S., specifically eastern Pennsylvania, south New Jersey, Delaware, Maryland and northwest New York. Yborra, a mechanical engineer, has extensive experience in design, project management and 3D additive manufacturing initiatives. He will be based in Philadelphia. Yborra's appointment continues the company's expansion of its sales and service teams to provide a high level of brand experience as it enters new markets and increases its presence in established markets.
"This was an area where previously we were represented by a distributor," said Rakesh Kumar, vice president of sales, marketing and service. "Establishing a CI outpost in this area allows us to advance our direct sales approach and deliver on customer expectations."
Yborra graduated from Penn State University and previously held design positions with both Volvo Trucks and Mack Trucks.
"I'm excited to represent the CI brand," said Yborra. "I'm looking forward to helping fabrication shops build and sustain their businesses through the capabilities and advantages that CI equipment provides."