Published
August 27, 2015 - 07:00pm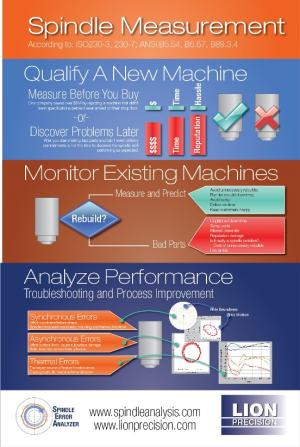 Thermal drift is the biggest contributor to machining and part errors. SpindleCheck from Lion Precision measures changes in the point of machining as the spindle warms up, as chillers run and as the environment changes. Precise warm-up times can be determined for each machine tool and sources of thermal drift can be identified. This is the only method that tests thermal effects at the point of machining, reports Lion Precision.
SpindleCheck is a system of software, noncontact capacitive sensors and precision target pins. The target pins are placed in a toolholder, which, in turn, is put in the spindle. The sensors are installed in a "nest" and mounted to the machine table. The target is moved into position in front of the probes. The spindle is rotated at full operational speeds while the sensors and software capture, analyze, and display the error motions in X, Y and Z axes. SpindleCheck directly measures what happens at the point of machining, where the tool contacts the workpiece. SpindleCheck tests are compliant with tests indicated in ANSI, ISO and JIS machine tool standards.
SpindleCheck, says the manufacturer, allows users to qualify a new machine before delivery; speed up installation verification; prevent unnecessary spindle rebuilds; troubleshoot form errors in parts; perform preventive and predictive maintenance; plan downtime rather than have unexpected production stoppages and missed delivery dates.
"Machine shops can run with confidence when they know how machines are behaving," according to Don Martin, president of Lion Precision. "It's a great asset to know which job goes on which machine depending on the tolerances required; even better to know when error motions are increasing and a machine is in need of maintenance — before it fails."
Related Glossary Terms
toolholder


toolholder

Secures a cutting tool during a machining operation. Basic types include block, cartridge, chuck, collet, fixed, modular, quick-change and rotating.