Published
September 24, 2020 - 09:30am
Ceratizit's virtual event showcases industry's latest innovations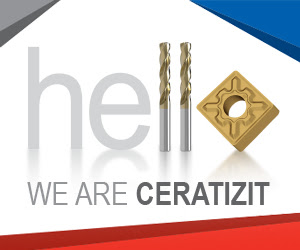 Registration is now open for Ceratizit's virtual event that runs from Sept. 30 to Oct. 30, 2020.
The company will look at individual product lines, in-depth discussions about the services that the company provides; and new products and promotions. It will showcase its full line of cutting tool brands, including Ceratizit's Cutting Solutions, Hard Material Solutions, Komet, Klenk, and WNT.
Ceratizit experts will demonstrate its innovative tooling solutions including WTX 4-Fluted Drills offering increased precision, productivity and service life. Discover FreeTurn Tools designed to perform all-in-one turning operations using just one tool, and Dragonskin Coating Technology formulated with state-of-the-art high-performance substrates and the latest coating structures for extreme tooling protection.
Visitors can also sign up for individual meetings with a team member.
EVENT AGENDA
Welcome – who is CERATIZIT?
Milling
Reaming
What has CERATIZIT been up to?
Rods
Drilling
Engineered Product Solutions
KLENK
Turning
Digital Tooling
To register for the event, click here.
Related Glossary Terms
gang cutting ( milling)


gang cutting ( milling)

Machining with several cutters mounted on a single arbor, generally for simultaneous cutting.

milling


milling

Machining operation in which metal or other material is removed by applying power to a rotating cutter. In vertical milling, the cutting tool is mounted vertically on the spindle. In horizontal milling, the cutting tool is mounted horizontally, either directly on the spindle or on an arbor. Horizontal milling is further broken down into conventional milling, where the cutter rotates opposite the direction of feed, or "up" into the workpiece; and climb milling, where the cutter rotates in the direction of feed, or "down" into the workpiece. Milling operations include plane or surface milling, endmilling, facemilling, angle milling, form milling and profiling.

turning


turning

Workpiece is held in a chuck, mounted on a face plate or secured between centers and rotated while a cutting tool, normally a single-point tool, is fed into it along its periphery or across its end or face. Takes the form of straight turning (cutting along the periphery of the workpiece); taper turning (creating a taper); step turning (turning different-size diameters on the same work); chamfering (beveling an edge or shoulder); facing (cutting on an end); turning threads (usually external but can be internal); roughing (high-volume metal removal); and finishing (final light cuts). Performed on lathes, turning centers, chucking machines, automatic screw machines and similar machines.