Published
July 28, 2022 - 07:00am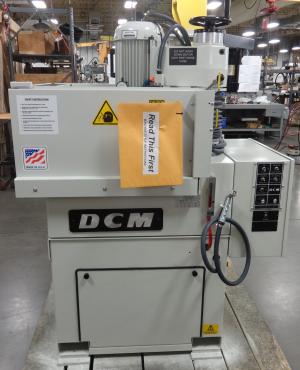 Many fabricators have numerous high-volume, active punches and die that must be properly maintained to keep them in peak condition. Regular maintenance improves the tooling's ability to deliver clean sheared, straight-cut edges and ensures the tooling will hold tight dimensional part tolerances, which minimizes potential quality issues. 
By performing this type of maintenance correctly and consistently, fabricators can save time and money. To speed the process, many shops resurface tooling in-house for items such as rooftop punches, turret press tooling, ironworker tooling, progressive dies, die sets, carbide tooling, and stripper plates. 
At most turret press operations, tooling is removed and taken apart, cleaned, and inspected to ensure optimal performance on the next production run. The punches and dies also benefit from surface grinding, so many fabricators consider it a central tenet of their maintenance programs. 
Traditional surface grinders are time-consuming and labor-intensive, with most requiring continual monitoring by an operator. More advanced, automated options can speed the grinding process and allow shops to resurface tools in minutes, instead of hours.
"To grind 0.010 in. off a tool during the sharpening process takes less than five minutes," said Mike Anderson, industrial product manager at Winona, Minn.-based DCM Tech, a designer and builder of industrial rotary surface grinders. 
According to Anderson, surface grinding has many benefits, including substantially increasing productivity, extending tool life, and improving finished part quality.
"Allowing a tool to be used too long without sharpening can seriously degrade the tool," said Anderson, adding that tool life is a function of the number of hits and the material being punched. "Sharpening by the rotary surface grinding method can decrease tool replacement tooling costs by as much as 40%. Additional time and labor can be saved by reducing or eliminating deburring operations," said Anderson. "For these reasons, automated equipment can deliver a return on investment in as little as one year."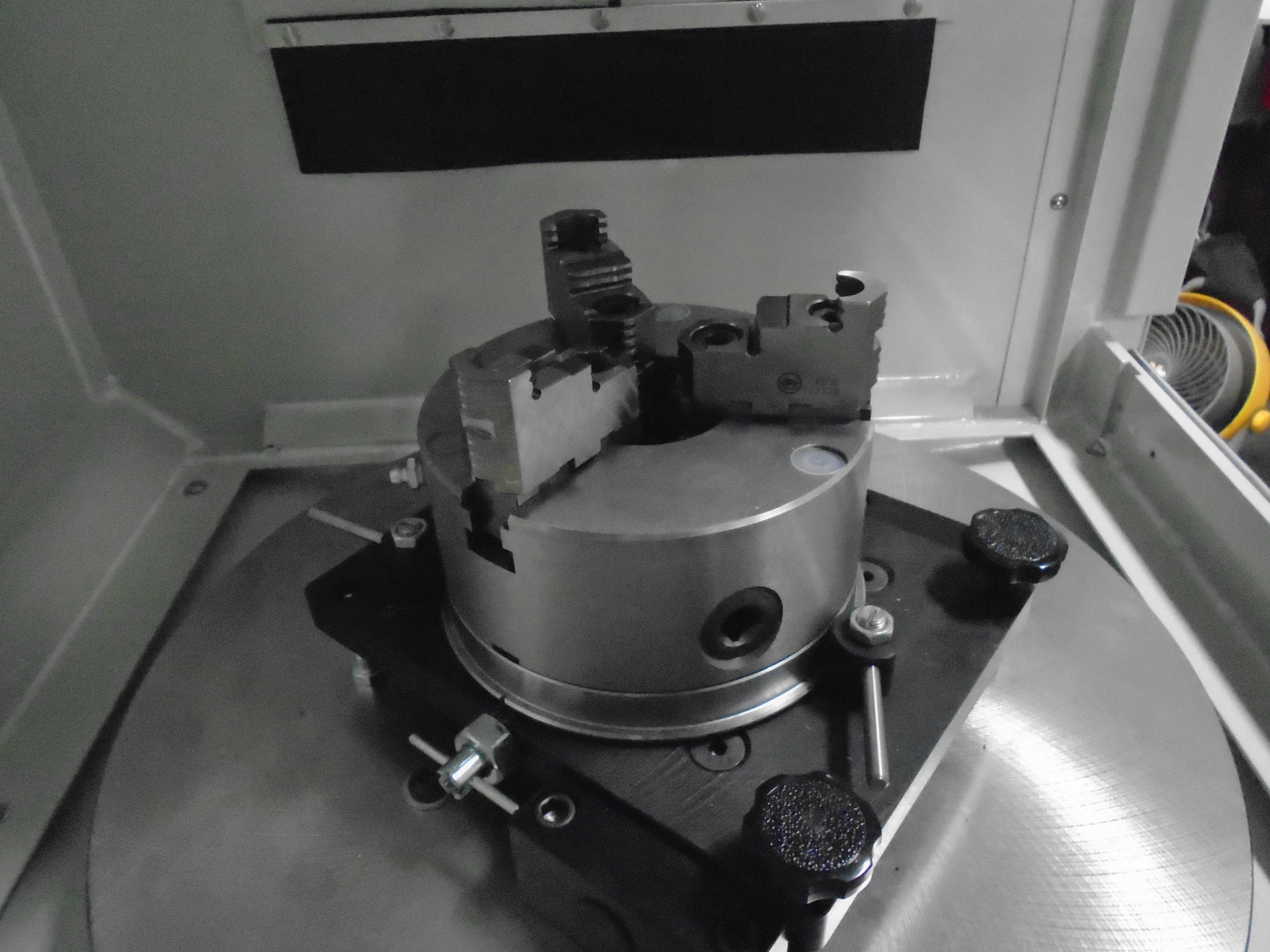 Traditional tool maintenance challenges
Some shops send an entire set of tooling out to be sharpened by an outside vendor, forcing the company to invest in another set of tooling to back up the set being sharpened. Other shops discard the tooling when it is no longer effective, rather than sharpening it to extend the tooling's life. 
For in-house tool maintenance, a basic pedestal grinder may be sufficient, but it does not indicate how much material is being removed. This method burns the tool, fails to create a sharp edge, and ruins the tool. 
With conventional reciprocating surface grinders, the tooling is set in a fixture and a table traverses back and forth under the grinding wheel, an inefficient approach that requires many passes and much time. In a case where there are hundreds of tools to manage, an operator will spend an inordinate amount of time in front of the grinder, watching and adjusting feeds.
Older equipment also has relatively complex wheels and dials to control the grinder's motion. These controls require considerable experience and manual dexterity to operate. Ultimately, operators must be experienced and understand all the nuances of each machine, which can become an issue as veteran machinists retire. 
Considering the limitations inherent in conventional tooling maintenance, a growing number of manufacturers and machining shops are turning to a more automated approach.
 
Benefits of automated punch and die grinding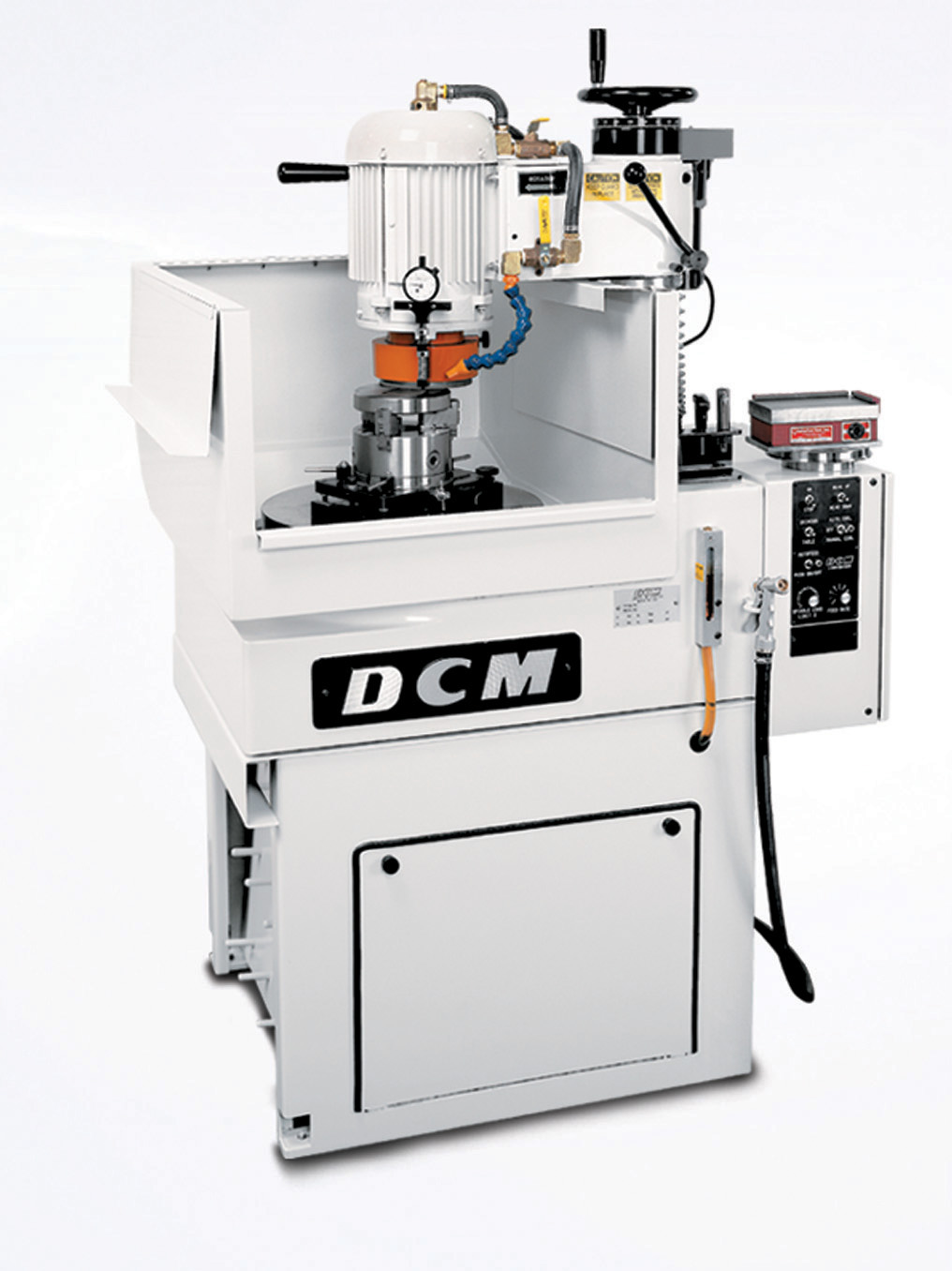 Technological progress in the industry has led to greater automation of punch and die grinders using an advanced rotary surface grinder platform. As an example, DCM Tech's Punch and Die Grinder (PDG), a 5-hp rotary table surface grinder, is a turnkey package with auto-feed control, self-dressing CBN abrasives, through-spindle coolant, and universal fixturing that accepts Amada, Trumpf, Salvagnini, Finnpower, Weideman, Whitney, and another tooling.
With this type of equipment, the table rotates with the workpiece held firmly in place beneath a vertical spindle. The grinding is not performed by the peripheral edge of the wheel, but rather through the entire diameter of the abrasive surface. 
"With reciprocating table surface grinders, it is like trying to cut grass with a lawnmower on its side, using just the edge of the blade, instead of horizontally where the entire blade can cut a wide swath of grass. This is the reason a rotary surface grinder requires fewer finish passes, and the process is much faster," explained Anderson. 
The PDG's automatic feed also eliminates potential problems due to inconsistent manual operation and enhances operator productivity. Once an operator sets up the tooling to be sharpened and starts the machine, he can leave and tend to other work. The PDG will automatically stop after feeding the selected amount of material and shut down the machine on completion of the process. 
"The automatic feed protects both the tooling and the machine from potential aggressive operator manual downfeed, and streamlines the process," said Anderson.
To minimize the risk of burning the tooling, coolant is fed through the spindle from the middle of the wheel, and externally where the wheel meets the tool.
Fixtures are also required to securely hold the punch or die during the grinding process.
However, fabricating shops can waste precious production time if operators search through specialized fixtures for one that will function properly with the tooling. "DCM fixturing is universal, accepting most turret tool shapes and sizes," said Anderson.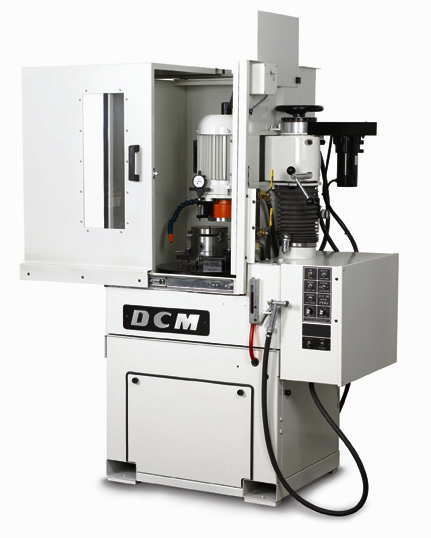 In the case of the PDG, punches are held in place by a unique three-jaw chuck that fixtures tools from small punches to large dies. Standard tooling allows for sharpening of rooftop and shear angle punches up to 10 degrees. An optional quick-mount magnetic chuck allows grinding of stripper plates, rectangular tools, and small dies.
To speed tool maintenance, the grinder utilizes a self-dressing CBN abrasive wheel, which produces new tool conditions and performance. 
When less automation is required in a more compact footprint for in-cell tooling maintenance, the company also offers the Mini PDG with a 1.5 HP motor and a manual feed handwheel. For large die maintenance programs, DCM offers rotary surface grinding tables up to 48" in diameter.
Turret press operators have long relied on labor-intensive methods to maintain punch and die tooling which has contributed to slowed production and excessive downtime. Today, the automated features of advanced rotary surface grinders will streamline tool maintenance in a fraction of the time, dramatically improving productivity, usable tool life, and ultimately the bottom line. 
"Fabricators can sharpen non-turret tooling also, including small die inserts, and experience equivalent time savings," says Anderson. "Shorter turnarounds for tool sharpening means tools are back in service faster, and that is what it is all about – producing the most parts in the shortest time."