Published
October 31, 2016 - 08:00am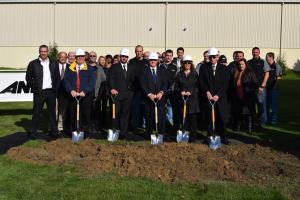 ANCA Inc. will expand its plant in Wixom, Mich., by 50 percent, expanding its inventory and spare parts warehouse capacity, adding a dedicated customer focus and training center, and doubling its machine demonstration area. The announcement was made by Russell Riddiford, ANCA president. ANCA, a private company, did not disclose the dollar value of the investment.
ANCA Inc., is the North America branch of ANCA, a Melbourne, Australia-based designer and builder of advanced CNC, high-accuracy grinding machines used to produce precision cutting tools for the automotive, medical, aerospace and general metalworking industries, as well as turbine blades, orthopedic implants and power steering shafts. From Wixom, ANCA also services Mexico and Brazil.
"This expansion represents ANCA's commitment to the Americas markets and to servicing our customers promptly and fully," Riddiford said.
ANCA signed an agreement Sept. 25 with Schonsheck Inc., also of Wixom, to be the contractor for the ANCA building expansion, which will total 11,793 sq. ft.
The addition will include an enhanced machine rebuild area and machine configuration area for preparing the machines for customer delivery. The expansion also adds to ANCA's spindle rebuild area and electrical repair facility, permitting the company to respond quickly to customer needs. The expansion also includes a larger employee accommodation.
According to Riddiford, the expansion will allow ANCA to add employees to its warehouse, spindle rebuild and machine configuration areas to provide faster customer service.
Completion of the expansion is expected in spring 2017.
Related Glossary Terms
computer numerical control ( CNC)


computer numerical control ( CNC)

Microprocessor-based controller dedicated to a machine tool that permits the creation or modification of parts. Programmed numerical control activates the machine's servos and spindle drives and controls the various machining operations. See DNC, direct numerical control; NC, numerical control.

grinding


grinding

Machining operation in which material is removed from the workpiece by a powered abrasive wheel, stone, belt, paste, sheet, compound, slurry, etc. Takes various forms: surface grinding (creates flat and/or squared surfaces); cylindrical grinding (for external cylindrical and tapered shapes, fillets, undercuts, etc.); centerless grinding; chamfering; thread and form grinding; tool and cutter grinding; offhand grinding; lapping and polishing (grinding with extremely fine grits to create ultrasmooth surfaces); honing; and disc grinding.

metalworking


metalworking

Any manufacturing process in which metal is processed or machined such that the workpiece is given a new shape. Broadly defined, the term includes processes such as design and layout, heat-treating, material handling and inspection.