Published
December 13, 2016 - 05:00am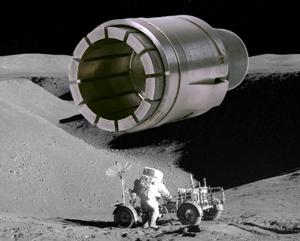 Buy a used chuck, for a drill that didn't work flawlessly to begin with, for almost $50,000? Sounds like a bid for lunacy. And it is, literally. Auction house RR Auction recently took bids on the chuck that was part of the lunar-surface drill used on the Apollo 15 mission by mission commander Dave Scott in 1971. The winning bid was $49,003.68.
The 2.5" long x 1.25"-diameter chuck was accompanied by a signed letter of provenance from Scott that stated in part: "The Apollo 15 Lunar Surface Drill Chuck included with this letter was used to emplace two heat flow probes to record the temperature of the lunar surface as well as a deep core tube to extract 2.9 meters of lunar material from the surface of the Moon … This Lunar Surface Drill Chuck has been in my personal collection since returning to Earth."
The public listing for the chuck noted that those experiments on the lunar surface didn't exactly follow the usual drill:
Towards the end of the mission's first lunar surface EVA [that's "extravehicular activity" to we space cadets], Scott's initial attempt to drill a heat flow experiment bore stem proved a difficult task. After reaching a depth of 5.3 feet, lunar soil particles rode up the helix of the drill bit and hastily halted its momentum. The extreme torque had also subsequently locked the drill chuck and was released using a wrench. The drilling of the second bore stem, which, due to time constraints, was postponed until the following EVA, also concluded with a limited depth mark due to tightly packed lunar soil.
Alternately, however, the drilling of the deep core tube was relatively quick in contrast, but extraction of the tube, which essentially screwed itself into the soil, was again delayed until the following EVA. Results from the experiments concluded that the Moon, far more radioactive than previously thought, bore a significant stratigraphic history, revealing a total of 58 individual layers in the deep core sample.
Related Glossary Terms
chuck


chuck

Workholding device that affixes to a mill, lathe or drill-press spindle. It holds a tool or workpiece by one end, allowing it to be rotated. May also be fitted to the machine table to hold a workpiece. Two or more adjustable jaws actually hold the tool or part. May be actuated manually, pneumatically, hydraulically or electrically. See collet.