Published
May 19, 2017 - 04:15pm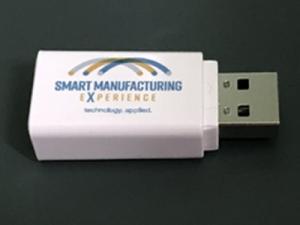 On May 16th at a reception held in conjunction with EASTEC, SME and AMT – The Association For Manufacturing Technology announced partnering on creating "a new kind of event," designed to "help fast-track the adoption of Smart Manufacturing technologies." That event, the Smart Manufacturing Experience, is scheduled to take place April 30 through May 2, 2018 at the Boston Convention Center.
Featured technologies at the event will include additive manufacturing/3D printing, automation, advanced materials, precision machining, precision measurement/3D scanning, the Industrial Internet of Things and digital manufacturing.
The Smart Manufacturing Experience promises to provide "hands-on, live technology demonstrations, active learning labs, collaborative technical workshops, and tours of best-in-class SMART factories," stated a joint SME – AMT news release.
This is the second time these organizations have collaborated on "a new kind of event." If some of the above description sounds familiar, you may be remembering a previous SME–AMT event: imX, in Las Vegas in 2011, similarly promised a novel experience featuring learning labs, collaborative workshops and the like.
imX was co-sponsored by SME and AMTDA (the American Machine Tool Distributors' Association—which merged with AMT in 2012). It seemed to be received well by exhibitors and attendees in 2011—but it was never held again. That collaboration-oriented event was apparently done in when on its last day, AMTDA and AMT chose to end their collaboration with SME. Their attempt to hold a second imX ended with its abrupt cancellation three months before its scheduled opening in 2013.
Both AMT and SME are letting what happened in Vegas stay in Vegas, so to speak, and are looking instead to Boston and the future.
"SME and AMT created the Smart Manufacturing Experience to support manufacturers as they make the transition into the fourth industrial revolution," said AMT President Douglas K. Woods. "We saw the need for an event that prepares the workforce for what's next in advanced technologies, connected technology, and automation."
"Advanced technologies are revolutionizing the manufacturing landscape," said SME Chief Executive Officer Jeff Krause. "Our goal is to offer an interactive learning space for attendees to try new applications and talk to people who are actually using this technology right now to the benefit of their customer and their bottom line."
To learn more about the Smart Manufacturing Experience, view full conference and exhibit details or register, visit www.smartmanufacturingexperience.com.
Related Glossary Terms
precision machining ( precision measurement)


precision machining ( precision measurement)

Machining and measuring to exacting standards. Four basic considerations are: dimensions, or geometrical characteristics such as lengths, angles and diameters of which the sizes are numerically specified; limits, or the maximum and minimum sizes permissible for a specified dimension; tolerances, or the total permissible variations in size; and allowances, or the prescribed differences in dimensions between mating parts.

sawing machine ( saw)


sawing machine ( saw)

Machine designed to use a serrated-tooth blade to cut metal or other material. Comes in a wide variety of styles but takes one of four basic forms: hacksaw (a simple, rugged machine that uses a reciprocating motion to part metal or other material); cold or circular saw (powers a circular blade that cuts structural materials); bandsaw (runs an endless band; the two basic types are cutoff and contour band machines, which cut intricate contours and shapes); and abrasive cutoff saw (similar in appearance to the cold saw, but uses an abrasive disc that rotates at high speeds rather than a blade with serrated teeth).