Published
October 26, 2023 - 08:00am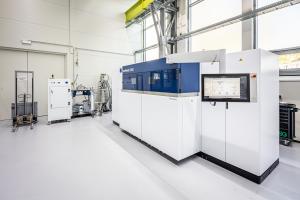 The aerospace company Airbus Helicopters will use 3D printers from TRUMPF to manufacture components for its helicopters and aircraft from its parent company, Airbus.
Airbus Helicopters is expanding its additive manufacturing capabilities with a new 3D printing center in Donauwörth, Germany. TRUMPF is supplying the machines for metal 3D printing.
"With innovative manufacturing processes, we are working on the helicopters of the future in Donauwörth. Among other things, 3D printing helps reduce the weight of components," said Helmut Färber, site manager of Airbus Helicopters in Donauwörth.
That helps aircraft operators reduce fuel consumption and lower their costs. It can also help reduce CO2 emissions in flight. Airbus Helicopters will use the 3D printing process to produce components for the electric-powered CityAirbus, the experimental high-speed Racer helicopter, and the Airbus A350 and A320 passenger aircraft, among others.
"With its manufacturing know-how, TRUMPF is a reliable partner to the aviation industry worldwide. Our 3D printing systems are a key technology on the path to sustainable flying and reduced dependency on long supply chains," said Richard Bannmueller, CEO of TRUMPF Laser and System Technology. Additive manufacturing allows entire assemblies to be printed as one component. This saves weight. At the same time, the components are very stable and meet the strict safety requirements of the aviation industry.
Saves raw materials in production
Airbus Helicopters uses 3D printers from TRUMPF to manufacture structural components made of titanium and high-strength aluminum.
"Additive manufacturing saves expensive raw material and can lower production costs in the aviation industry. 3D printers only use the material that designers actually need for their components and that ends up taking off in the aircraft," said Bannmueller. 3D printing users can also reuse unused metal powder. Conventional manufacturing processes, on the other hand, require up to ten times more raw material than the final product. Therefore, when milling or chipping, much of the raw material ends up as waste.
Related Glossary Terms
gang cutting ( milling)


gang cutting ( milling)

Machining with several cutters mounted on a single arbor, generally for simultaneous cutting.

lapping compound( powder)


lapping compound( powder)

Light, abrasive material used for finishing a surface.

milling


milling

Machining operation in which metal or other material is removed by applying power to a rotating cutter. In vertical milling, the cutting tool is mounted vertically on the spindle. In horizontal milling, the cutting tool is mounted horizontally, either directly on the spindle or on an arbor. Horizontal milling is further broken down into conventional milling, where the cutter rotates opposite the direction of feed, or "up" into the workpiece; and climb milling, where the cutter rotates in the direction of feed, or "down" into the workpiece. Milling operations include plane or surface milling, endmilling, facemilling, angle milling, form milling and profiling.