Published
November 01, 2019 - 03:15pm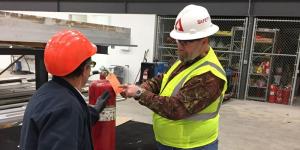 Has your workplace received low safety grade scores because it has a poor program or, worse, no written safety program in place at all?
Having an expert safety manager is optimal. For companies that do not have the resources, there are outstanding online programs, such as those offered by Occupational Health & Safety and the National Safety Council, that provide excellent free and paid content and classes for Occupational Safety and Health Administration 30-hour training, first aid, CPR and more.
Building and managing an optimized safety program can be daunting. For help, look for an industrial supplier who partners closely with industry leaders like Kimbery-Clark, 3M, DBI Sala, MCR, PiP, and Meltblown. Those companies are experts who can provide detailed assessment and recommendations, with the latest solutions for tackling common issues around hazard identification and hazard prevention, the two most critical components of plant safety. They can also help deliver the required employee education and training.
If just getting started or if looking to optimize a safety program at your company, here are nine steps to consider:
1.SKU Analysis
As a first step we recommend that companies complete an SKU analysis to eliminate redundant and less cost-effective safety products. Does the plant use five types of protective gloves when it only needs two? Is there a better, longer lasting product that would be more cost-effective versus a cheaper alternative?
2.Hearing and OSHA Compliance
All noise over 82 decibels requires hearing protection. As some areas will be more noisy than others, conduct a noise analysis of the inside of the building using a decibel meter. Simple ear plugs may work at around 82 decibels, but the requirement will change to a combination of earmuffs and earplugs in an area that produces 132 decibels. Another consideration is attenuated hearing protection, which allows workers to hear each other in face-to-face communication, but will block out ancillary noise from the shop floor. If heavy machinery or heavy products need to be moved, or a crane is operating, it will require a communication system-and a plan-for properly alerting employees on the shop floor.
3.Exposure Assessment/Respiratory Protection
Work areas with exposure levels above the permissible exposure limit must have a respiratory program in place. This requires an air sampling audit which can be performed by an outside vendor. If a respiratory program is required the company then must follow and document adherence to OSHA compliance guidelines, which OSHA will review and if not up-to-date, fines and penalties will be issued. There are multiple levels of respirators such as a Dust Mask, half face respirator, full face respirator, Power Air purifying respirators, and SCBAs which are commonly used by firemen. A compliance program includes medical evaluation, fit testing, respiratory selection, training, etc. Find a qualified supplier who can help walk you through the process. Companies can also work with their insurer who can provide an assessment and recommendations.
4.Slings, Harness and Safety Chains
Anytime an employee is suspended above ground by four feet or more the general rule is he/she must be tied off to a tie off point that meets or exceeds 5000lbs. Companies like 3M and DBI Sala offer training on how to properly use, wear and inspect harnesses. Trending right now are programs that teach new techniques for improved tool safety, such as elimination of body-tethered tool and tool bag drops, which present their own unique and dangerous safety hazards. Additionally, Fall Protection Awareness programs educate on proper usage of harnesses, self-retracting lifelines and other equipment.
5.Slips, Trips and Falls
OSHA mandates that employers protect workers from slips, trips and falls. Spill control is also key, as is making sure aisles are clear of cords and other items. Good housekeeping and common sense rules the day here!
6.Confined Space Awareness
This is not just about the size of the space but requires proper harness and fall protection, air analysis, and an escape plan. In the case of a worker becoming unconscious, does the employee have the right harness so a colleague can pull the worker out of a dangerous situation? Is a Sniffer required to analyze air quality levels at the bottom, middle, and top of the space before someone can enter it? A plan for this is mandated by law. A good place to start is with confined space course to understand all the moving parts. If working with a supplier they should be trained as a qualified safety sales professional program (QSSP).
7.Lockout-tagout (LOTO)
When it comes to locking down machines, turning them off for repair, and then turning them back on after repair, OSHA requires compliance and documentation of three procedures: (1)Energy Control, (2)Inspection and Certify the Date, and(3), Train and Certify the User. It is important to note that individuals using the lockout tag, product and programs must also be certified!
8.Hazardous Chemical and Flammable Liquid Handling and Storage
All companies must have a Proper Use Plan in place covering all materials, as well as safety-related products like gloves, goggles, coveralls, and any other personal protective equipment. Brady Corporation offers an excellent GHS program to learn all the intricacies and requirements.
9. Signage ad ID Systems
Deploy plant-wide a Signage and ID System as the graphic iconery that puts everyone, all the time, on safety alert. Companies should assess all their safety signs, from "Eyewash" to "Restricted Space" to "Fire Extinguisher".
Conclusion
Plant safety requires continual oversight to remain up-to-date and compliant. Lack of a comprehensive safety program can signal to employees that the company does not have their best interests at heart, which breeds lower morale and higher turnover. Maintaining excellent plant safety is much easier when the smart processes are in place, employees are educated, and the right people are properly certified and trained to maintain proper safety levels. If this all seems daunting make a safe bet and reach out to your supplier expert for guidance.
Related Glossary Terms
inner diameter ( ID)


inner diameter ( ID)

Dimension that defines the inside diameter of a cavity or hole. See OD, outer diameter.

turning


turning

Workpiece is held in a chuck, mounted on a face plate or secured between centers and rotated while a cutting tool, normally a single-point tool, is fed into it along its periphery or across its end or face. Takes the form of straight turning (cutting along the periphery of the workpiece); taper turning (creating a taper); step turning (turning different-size diameters on the same work); chamfering (beveling an edge or shoulder); facing (cutting on an end); turning threads (usually external but can be internal); roughing (high-volume metal removal); and finishing (final light cuts). Performed on lathes, turning centers, chucking machines, automatic screw machines and similar machines.