Published
December 19, 2016 - 06:30am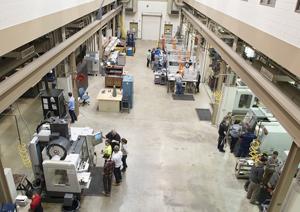 Penn State reports that it will team with researchers and analysts from Case Western Reserve University, the GE Global Research Center and Microsoft on a $1.5 million collaborative research project to develop a cloud-based wireless sensing and prognostic system for monitoring manufacturing machinery. The initiative will make it possible for such a system to detect early signs of wear, aging and fault conditions in the machines.
The Digital Manufacturing and Design Innovation Institute (DMDII, a part of the Manufacturing USA network of federally funded research hubs) is providing $750,000 in funding while the other four entities are matching that amount through a cost-sharing agreement.
The project, titled "Cloud-Enabled Machines with Data-Driven Intelligence," is set to begin Feb. 1 and will be funded by DMDII for 18 months.
"The overall goal of this research is to establish a generic framework for real-time process monitoring, diagnosis and prognosis for smart manufacturing using cloud computing and big data analytics," stated Penn State senior research associate Dazhong Wu, one of the lead researchers of the project. "The outcome of this project has the potential to enable manufacturers to implement artificial intelligence into manufacturing machines."
In order to demonstrate the cloud-based manufacturing systems with data-driven intelligence, both legacy machines and general-purpose computer numeric control machines will be used as test cases. Research will take place at Penn State's Factory for Advanced Manufacturing Education (FAME), a 10,000-sq-ft. integrated high-bay laboratory equipped with modern and legacy equipment.