Author
Alan Richter
Published
March 01, 2013 - 10:30am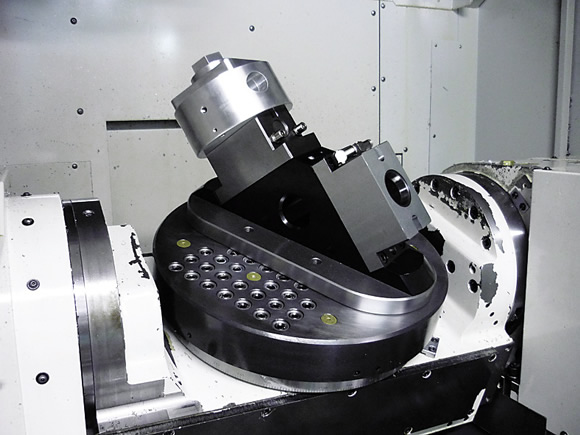 Bringing flexible workholding to 5-axis machine tables
BIG Kaiser Precision Tooling Inc. has expanded its line of 5-axis workholders, which locate and stabilize workpieces without obstructing access to the top and sides of the part. They also allow a clamped workpiece to be flipped into new orientations for subsequent machining operations without unclamping it. The workholders are also for machines with retrofit 4th- and 5th-axis tables.
The 5-axis Duo Bridge, with dual 45° 105/65 base plates, can be mounted directly on the top of a 5-axis table or loaded through a pair of zero-point chucks. Unilock 5-axis riser chucks, extensions and reductions, with a working diameter of 80mm, are available as base plates or as stacking modules in 75mm and 100mm heights. The infinitely adjustable First Grips and Dovetail Grips are only limited by the length of the thread that pulls the jaws together.
"BIG Kaiser's approach to 5-axis workholding seamlessly fits into existing workholding solutions while providing the increased flexibility of Unilock zero-point solutions," said Gerard Vacio, product manager of workholding systems. "Our clients match workholding to the workpiece and maximize the capabilities of their 5-axis machine tools. We can also provide specific solutions for dedicated production environments. We interface with virtually any workholding product that fits in the machine."
BIG Kaiser Precision Tooling Inc.
www.bigkaiser.com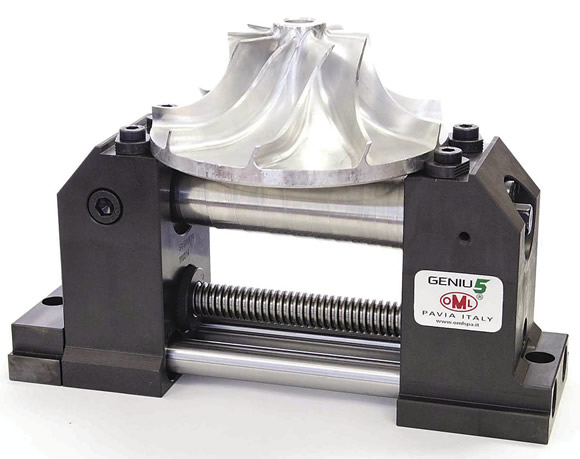 Vise for 5-axis milling on trunnion tables
OML's Genius vise for 5-axis milling in trunnion-table machines is available from Lexair Inc. The vise reportedly maximizes clamping force at the top of the jaws by pulling them closed with a collapsing lead screw, while holding the bottom of the jaws in place with an opposing force screw. By holding the vise jaws apart at the bottom and pulling them closed at the top, the vise pulls the workpiece down against the stops as closing force increases. The vise is available in two sizes and can hold parts with a maximum clamping force of 9,000 lbs. According to the company, the vise secures odd-shaped workpieces, such as turbine blades and blisks, and presents them to the spindle with minimal obstruction, reducing setups and ensuring repeatability of 0.0008".
Lexair Inc.
www.lexairinc.com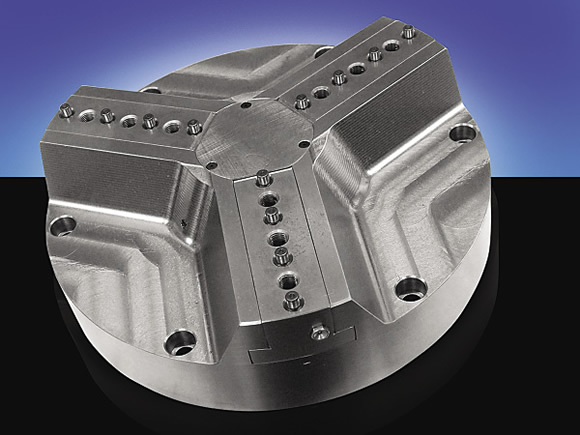 Air chuck is customized
Northfield Precision Instrument Corp.'s Model 1000 10"-dia., 3-jaw air chuck was customized by milling the chuck face to reduce the weight by 15 lbs. According to the company, the standard chuck normally weighs about 60 lbs. and the lighter weight helps maintain the accuracy of the machine. Northfield Precision Instrument designs and manufactures air chucks for lathes, boring machines, grinders and vertical machining centers, with accuracies from 0.001" to 0.00001". Chucks are available from the company in SAE or metric styles from 3" to 18".
Northfield Precision Instrument Corp.
www.northfield.com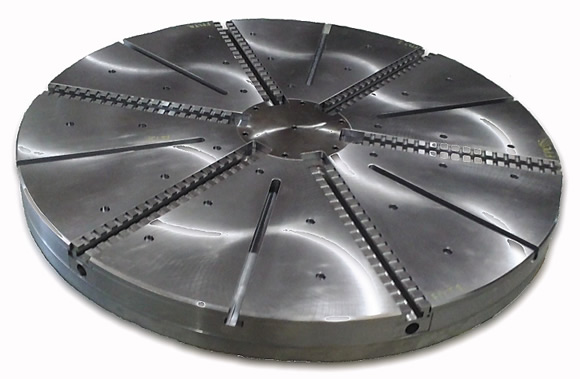 Low-profile chucks are for vertical lathes
Planet Products Corp. offers ProHold series self-centering chucks up to 66" in diameter. The clamping systems for vertical turning lathes allows the chucks to be built with a low profile to increase the available machining envelope, according to the company. The systems are lightweight to enhance table capacity for large workpieces and to reduce rotational inertia. Mechanically or hydraulically clamped chucks are available with a 2-, 3-, 4- or 6-jaw configuration. Product options include steel or aluminum construction, individual microadjustable jaws, T-slots and modular top tooling. Planet Products is AS9100, ISO9001 and ITAR certified.
Planet Products Corp.
www.planet-products.com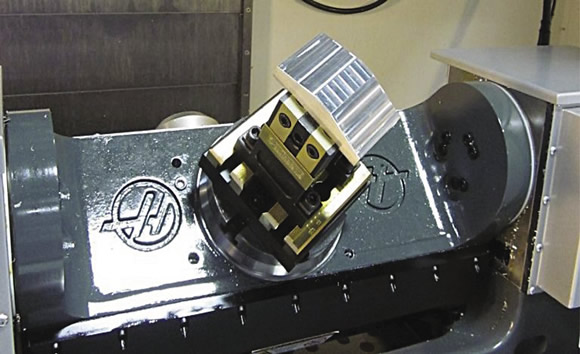 System is for 4- and 5-axis machining
Mitee-Bite Products LLC's Loc-Jaw workholding system is for 4- and 5-axis machining. The rails and gripper towers are serrated to provide a solid and easily adjustable base, according to the company. The system has a clamping range from 0.5" to 4.0", is capable of penetrating 0.060" into the part per gripper and produces more than 6,000 lbs. of holding force. The low-profile grippers hold only 0.100" of material. This allows full access to work surfaces, including the bottom face. A centering disk can be mounted to the base bottom for quick location on faceplates with a centering hole. The base is also configured with two drill bushings for precise locating using the included diamond and tapered pins.
Mitee-Bite Products LLC
www.miteebite.com