Author
Alan Richter
Published
April 01, 2015 - 10:30am
Used vehicles can be a better deal than buying new. One shop has found the same to be true of machine tools.
Instead of investing in the latest machine tool technology to grow while meeting the continual demand of increased productivity, S&S Machine Shop Inc. acquires reasonably priced used machines—including its fleet of nine vertical machining centers—that are rigid and robust and repairs them as needed to achieve those goals. And for more than 30 years, that strategy has paid off—especially when milling. The Boonville, Ind.-based machine and fabrication shop uses its VMCs for most of its metalcutting operations.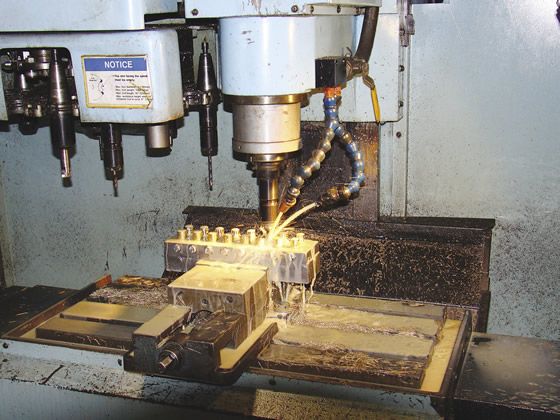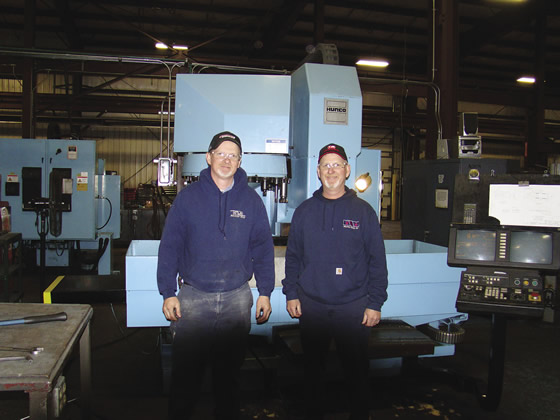 S&S employs 46 workers, has two facilities and primarily serves steel and aluminum mill, automotive, construction, dredging, agriculture and general-industrial customers, as well as the coal mine industry—where it got its start. That was in 1982, when brothers Don and Jim Shigley, then 23 and 20, respectively, purchased 2.5 acres of land in Boonville, reerected a 36 '×56 ' (11m × 17m) pole barn from an area mine and acquired and repaired used manual machinery to get up and running. They worked during the evenings after finishing shifts at other machine shops. In May 1983, they incorporated the business.
Even at that young age, Don, S&S president, had already worked at several different job shops, including a large gear shop in town, and Jim, vice president, was accustomed to the sound of chips flying and the smell of coolant. "In my senior year of high school, I was working in a shop more than I was going to school," Jim said.
They eventually began working exclusively at S&S and expanded it, adding a freestanding 70 '×75 ' (21m × 23m) building and an overhead crane in 1987, and a 12,000-sq.-ft. (3,658-sq.-m) addition a decade later. The company also grew through acquisitions, buying a tool shop, which S&S retained and operated separately, and the Ralph West Co. in 2007, both in Boonville. Started by Ralph West in 1956, the latter made the Posi-Clamp for quickly connecting power cables in mines, and S&S retained the building, staff and manufacturing processes. This includes machining the central pin on a VMC.
A Vertical Approach
By that time, S&S was well acquainted with the benefits of CNC milling, having purchased a 1999 Hurco VMC with a 50-taper spindle in 2002. "Years ago, we just had manual mills and put in one CNC and thought, 'Wow, this is wonderful!'" Don said. "It saves a lot of time."
Although it has a Bridgeport VMC, which is one of two VMCs at S&S Machine Shop-South in Chunchula, Ala., the rest of the 3-axis machines are from Hurco Cos. Inc., Indianapolis. "We just kept buying them as work kept coming in," Jim said. The sources for the VMCs include equipment auctions, used machine dealers and other shops.
Don added that S&S continues to operate all the VMCs the shop has acquired and favors Hurco machines because the builder provides good service and is located just a few hours away. "They are rigid machines and we're just running the heck out of them," he said. "We're using the Hurco VMCs for just about anything we can get on them." In addition, standardizing on one make of machine has its benefits. "If workers learn programming on one, they can run them all."
S&S primarily mills 4140 steel, often heat treated to a hardness from 28 to 32 HRC, and some mild steels. Being a job shop, S&S machines parts ranging from small bolts to 18 '-long bars, the latter of which are milled in sections after being manually repositioned. A common run is from six to 20 parts, so the company hasn't felt a need to integrate automation, such as parts loading/unloading, into the machines, Don noted.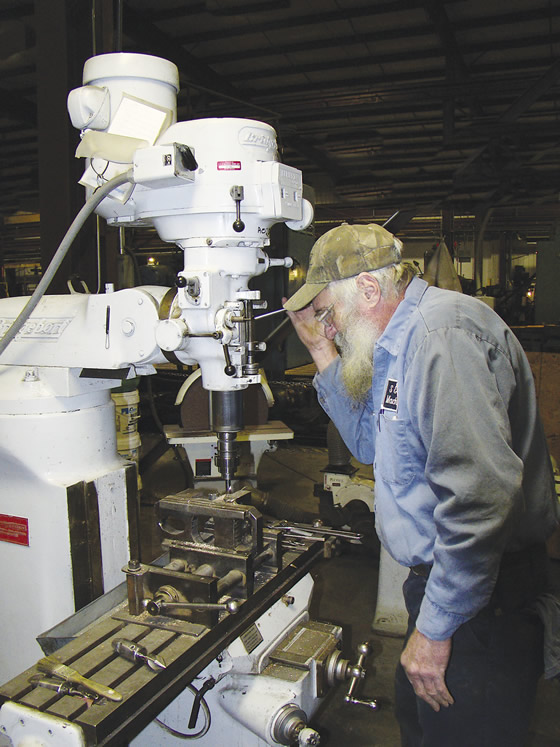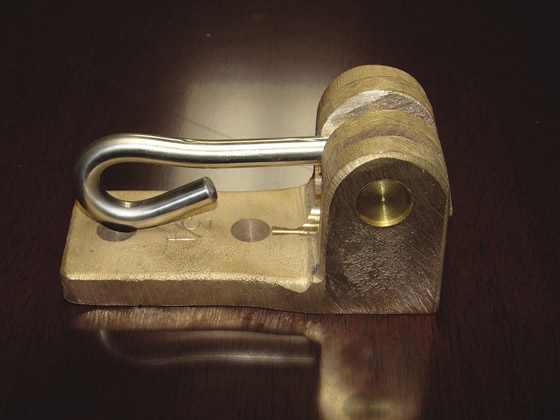 Jim emphasized, however, that the company's niche is larger parts many other shops can't handle, such as a 15,000-lb. weldment. As a result, the Shigleys are discussing adding a gantry mill to more efficiently handle long-length parts.
Depending on the application, tolerances can be as tight as 0.0003 " to 0.0004 " (0.008mm to 0.010mm). According to Don, some of the more challenging parts are for steel mills, because the mills are typically designed in Germany and custom-built. "They are well-engineered," he added, "so we're making parts to supply those mills; they expect the same quality and that's what we're striving for."
For one milling application, however, S&S had to perform the work away from its machine tools, Don explained. After S&S built various components for the production of Toyota vehicles, such as jig fixtures that align the hinges on a vehicle, at its nearby plant in Gibson County, Ind., the automaker requested that the shop rebuild an aluminum housing for a traverser conveyor. The shop did it in-house to the customer's satisfaction, but the automaker wanted the remainder of the project, which involved more than 100 traverser conveyors, done on-site. This required S&S to design and build a machine that could do the milling at the auto plant and work on weekends, holidays and shutdowns over the course of 3 years to machine all the conveyors.
Consolidation Time
With three shop locations in Boonville, Don and Jim felt it would be easier to manage the company with everybody under one roof and purchased a 17-acre site with a 100,000-sq.-ft. building that previously housed an aluminum smelting operation. Moving into the building, however, required more than simple house cleaning. The 14-month renovation began in the fall of 2010 and included stripping the sheeting off the building, installing new utility systems, replacing the doors, adding insulation and equipping it with gas radiant heat, which proves effective at keeping the shop comfortable—even on the frigid February day when this author visited. "The building was a total rebuild," Don said.
While completing the renovation, S&S became ISO 9001:2008-certified, which covers a company's quality management system.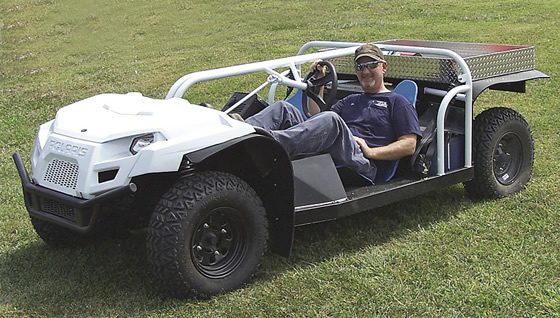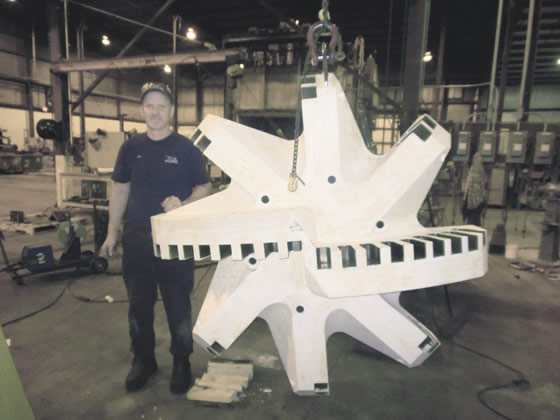 With the renovated facility completed, the shop continued its growth by purchasing a 4-acre site with a 40,000-sq.-ft. (12,192-sq.-m) building in Alabama and launched S&S Machine Shop-South in the spring of 2012. Don explained that S&S started the southern shop to serve a startup steel mill in Mobile, Ala., with Sales Manager Jon Scherzinger being instrumental in establishing the project. "We were doing work for them, driving back and forth 600 miles each way for a couple years and decided that we'd better look into putting a shop down there."
In addition to machining parts, the southern shop, as well as the one in Indiana, upgrades existing equipment and designs and builds new equipment. Having a distant second location was challenging at first, Don noted, but having a trustworthy manager, Derric Abney, who's familiar with the steel industry, keeps the operation moving forward. "Our niche is service, so he's at that steel mill a couple times every day checking on their needs. That is driving additional work, filling the shop and driving a lot of work up here, too."
Driving in a Coal Mine
While S&S continues to diversify, being in "the heart of coal mining country" allows the shop to still effectively serve its original customer base, Don said. In addition to making parts for mining equipment, S&S started a side business early in the decade to offer zero-emission electric mine utility vehicles.
It began with a two-person prototype vehicle that S&S created by modifying a Polaris Ranger off-road electric vehicle (see photo on pages 58-59), with some of the components being machined on VMCs. "We cut it in half, took the floorboard and seat frame out, built a new frame and lowered it for underground mining use," Don said.
After word got out, not only did some mines want to purchase that vehicle before it was completed, but Grantsville, Md.-based Pillar Innovations LLC, which has a location in Evansville, Ind., wanted to have S&S build them exclusively for Pillar. Since then, four-person and ambulance models were added to the line, and S&S has produced more than 150 of them. "It's a nice little sideline," Jim said.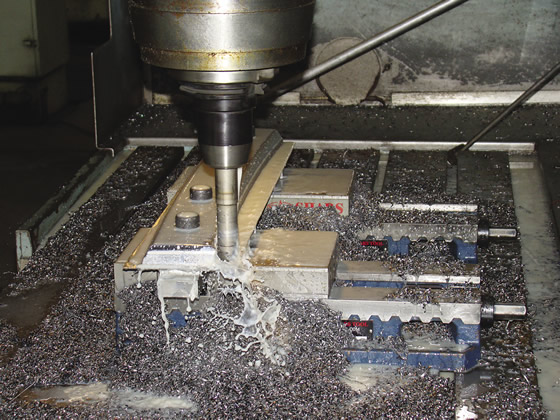 He added that for the four-person model, the vehicle might require new springs to account for the additional weight load. In addition, the vehicle height frequently changes, depending on customer requirements, with some down to 42 " (1.07m) high, and the color scheme frequently varies.
"It seems like everybody wants a little something or other different on it," Don said.
As S&S continues to thrive, its workforce has remained intact. "We're fortunate to have very little turnover," Don said. "We attempt to keep a team environment. I'm proud of my guys."
When it does need new talent, Don noted Southern Indiana Career and Technical Center, an area technical high school, and Vincennes University offer machining programs to develop some of the required skills. "We've also homegrown some," he added, but not specifically referring to his two sons who work at S&S: Craig, estimating and design, and Chris, engineering. "We were working with high schools and doing apprenticeships at one time, but the high schools kind of let their programs die off, so to speak."
However, Don pointed out that administrators with the Warrick County School Corp. in Boonville recently launched a program to promote the trades and he is involved with that.
With room to grow at its main facility, S&S is planning on installing a 10-ton (9,072 kg) crane and 30-ton (27,216 kg) crane to handle large parts more easily and safely. It is also considering adding to its VMC lineup, Don noted. "We are always growing or adding something."
Nonetheless, the shop keeps its focus on the most important assets. "You can have all the machinery in the world sitting out there on the floor," Jim said, "but if you don't have good employees, the machinery is no good for you." CTE
For more information about S&S Machine Shop Inc., call (812) 897-5343 or visit www.ssmachineshop.com.
---
About the Author: Alan Richter is editor of CTE. Contact him at (847) 714-0175 or alanr@jwr.com.