Author
Alan Richter
Published
October 01, 2014 - 10:30am
Completing a part on one machine in a single setup reduces machining time, boosts throughput and can increase part accuracy by maintaining the concentricity between multiple part features. Seeing a need, KOMET of America Inc. offers the KomTronic U-axis system to turn complex contours on a machining center when working with a stationary workpiece, replacing separate machining on a lathe, said Mike Hunter, business development manager for the toolmaker.
The system replaces time-consuming circular machining, or "bottle boring," he explained. The process involves entering the mouth of a bore that is smaller than the interior of the workpiece with a tool that has a retractable cutting edge. The tool circular interpolates the part feature, moving outward and down at the same time. "It's hard to control tolerances that way," Hunter said. "Our tool has an accuracy close enough to do trumpet profiles for pistons and connecting rods."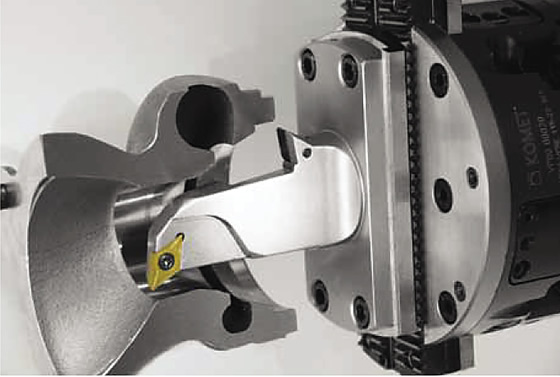 Courtesy of KOMET of America
The U-axis system consists of a compact facing head with a single slide, or pusher, which is driven by a servomotor and threaded spindle. The power supplied to the electronics and the KomTronic drive system is transmitted contact-free and inductively to the U-axis system, Hunter noted. Similarly, the data is exchanged inductively with the U-axis system, and the ring-shaped inductive transmission unit on the U-axis reportedly ensures proper data and energy exchange in every angular position. "The U-axis is feeding off the transmitter that's bolted to the spindle," he said.
The system is suitable for standard vertical and horizontal machining centers, lathes and special machines as long as a machine's CNC "talks the same language" as the U-axis system, Hunter noted. The array of applications includes grooving part features, turning valve seats, undercutting differential housings, boring coolant passages, tapering tie rods, generating bearing seats and turning internal and external contours, such as a spherical "door handle" shape.
For more information about KOMET of America Inc., Schaumburg, Ill., call (847) 923-8400 or visit www.komet.com.
About the Author:
Alan Richter is editor of CTE. Contact him at (847) 714-0175 or alanr@jwr.com