Author
Alan Richter
Published
September 01, 2015 - 10:30am
Milling metals hardened to 52 HRC and harder with solid-carbide cutters doesn't require a heavy-duty, high-performance machine tool when a machinist employs trochoidal milling and applies cutting tools with an appropriate substrate, coating and geometries.
Steve Archambault, senior applications engineer at WIDIA Products Group, Latrobe, Pa., explained that trochoidal milling is a technique where the cutting tool, either a solid or an indexable one, takes a light DOC while following a circular motion, enabling users to engage more of the flute length in the workpiece than conventional milling while increasing the surface footage. When machining a 52 HRC workpiece via conventional milling, for example, the surface footage might be 80 to 125 sfm (24.4 to 38.1 m/min.), whereas trochoidal milling can achieve 500 to 600 sfm (152.4 to 182.89 m/min.).


VIDEO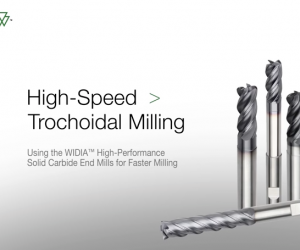 WIDIA demos high-speed trochoidal milling


Despite being a fairly well-established technique, misconceptions about trochoidal milling persist. "A lot of people say it can't be fast because you're only in the cut 50 percent of the time, based on the circular motion," Archambault said. "That's not true." This is because a tool might be going one speed when cutting and, as it is coming around to take the next cut, the tool is programmed to go five times as fast while traveling through air. "Eight-five percent of the time you are actually in the cut."
Although Archambault estimates that trochoidal milling can reduce cycle times by 20 to 30 percent, he emphasized that the bigger benefit comes from extending tool life. In a titanium milling application, for instance, one customer was conventionally milling with the full diameter of a ½" (12.7mm) VariMill solid-carbide endmill. "They were happy with it," he said. "We tried trochoidal milling and got five times the life on that cutter."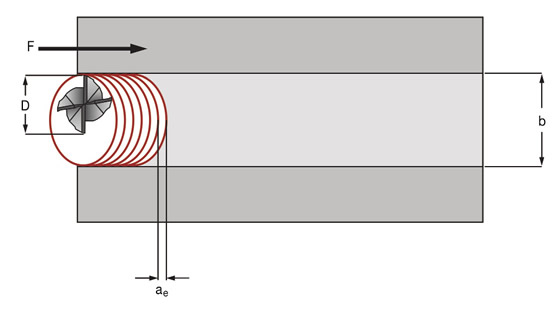 Trochoidal milling a full slot requires a tool that has a diameter (D) approximately 70 percent of the width of the slot (b) being cut, where (F) is direction and the WOC (ae) is approximately 5 to 15 percent of the tool diameter, depending on the material and its hardness. Illustration courtesy WIDIA Products Group.

Archambault noted the VariMill series is effective for trochoidal milling materials as hard as 60 HRC, and the toolmaker recently introduced the 7-flute VariMill II ER. "More flutes makes it even faster." The ER stands for eccentric relief, in contrast to the primary relief and secondary relief found on most endmills, he added. "It's one continuous form for the cutting edge clearance. That relief makes the edge much stronger."
For workpieces up to and above 65 HRC, WIDIA offers Vision Plus solid-carbide endmills. Archambault explained that those tools have a negative rake and an AlTiN coating, allowing them to effectively hard-mill with only an air blast or coolant mist rather than flood coolant because the coating oxidizes at a high temperature and creates a heat barrier. "The coating doesn't work unless you get it hot," he said, "and the heat tends to stay in the chip."
—Alan Richter