Author
CTE Staff
Published
August 01, 2009 - 12:00pm
Many companies no longer operate the apprenticeship programs once common in the manufacturing industry. However, in the late 1990s, the Chesapeake Machine Co. reactivated its apprenticeship program to meet its growing need for skilled machinists. Today, it still operates the program, which offers apprentices full-time employment during the 4-year program and includes a minimum of 144 hours of class work each year. Alan Rooks, editorial director of Cutting Tool Engineering, spoke with Tom Rukstelis, machine shop supervisor at Chesapeake Machine, to find out how the program works.
Founded in 1981, Chesapeake Machine, East Baltimore, Md., serves a diverse base of regional, national and international customers. It offers turnkey project management, including original equipment manufacturing, industrial maintenance and repair and contract manufacturing. One ongoing contract is for containerized water purification systems for the U.S. military. Its work is split evenly between machining and fabrication. Many jobs involve large parts, so all machining and fabrication bays in the 32,500-sq.-ft. plant are equipped with overhead cranes.
Rooks: What were the factors that led your company to restart its apprenticeship program?
Rukstelis: Chesapeake Machine had an apprenticeship program until the early 1990s. The company sent several guys through the program and we retained them—they're still working here today. In the late 1990s, the business took off as we expanded into new markets. We wanted to add more machinists but had a hard time finding qualified people. We're a job shop and a metal fabricator, and we deal with workpieces on the larger end of the scale. The candidates we were getting from employment services and ads in the paper were not fully qualified machinists. They were operators and the like, and they wouldn't fit in well with what we do here. One of the problems is that machining is no longer taught in the public school systems around here, and vocational schools deal more in computer technology. There are some automotive classes left, but the welding and the machine shop aspects of it are pretty much nonexistent.
Since we couldn't find any good candidates, we found ourselves running two shifts and guys would be working 12-hour days, sometimes 6 days a week. We're all getting older and it was wearing on everybody. One of the guys that works here had a son who just happened to be interested in this kind of work, and we hired him. After that, we recruited a young man who was probably one of the last ones to go through the Baltimore school system's machine shop program, and we brought him onboard. Through the grapevine, we also heard about two guys who had relatives who work here and found out they might be interested in working here. We brought them in to see what kind of aptitude they had. It turns out that the children of blue-collar people seem to have a natural knack for the business.
As a result of our success recruiting these people, we decided to reopen our apprenticeship program in December 2006, and re-registered it with Maryland's department of licensing and registration. You have to be an accredited school or a registered workplace if you want to be able to award journeyman papers. The apprentices are paid while they are in the program.
Rooks: How did you set up the apprenticeship program?
Rukstelis: We went about it a different way by using an accredited correspondence school so that the apprentices could learn at the shop. Me and some of the older guys at the shop had to go to a community college 2 nights a week for 4 years to get our journeyman papers [in a traditional program], but we decided on the correspondence school because we can keep a better eye on them here at the shop. What they learn here is really no different than what they would in a community college.
Rooks: Who supervises the apprenticeship program?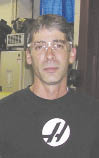 Tom Rukstelis, machine shop supervisor, Chesapeake Machine Co.
Rukstelis: We brought in Garry Mathias, who retired from Chesapeake a few years ago. He guides the apprentices through the program. One day per week, they sit down with Garry and review the books. They also move around the shop and learn aspects of each machine.
Rooks: When the apprentices are not working on the correspondence course or learning with Garry, are they running machines?
Rukstelis: Yes. They're working on jobs that will eventually be sold. After we started the program, we expanded the sales department so we could pursue more apprentice-type work. That way, even if we don't make our normal hourly rate on a job, we're not losing that much and they are learning.
Rooks: How long does it take to get an apprentice operating a machine?
Rustkelis: We start out with the basics of shop safety, but after that it does not take long to get them onto a machine. We try to get them out there making chips as fast as we can, even if it's just taking a piece of scrap metal and learning how to drill holes and mill slots.
Rooks: In addition to completing the course work, do apprentices partner with experienced machinists to learn different operations?
Courtesy of All images: Chesapeake Machine
Jerome Green (left), an apprentice at Chesapeake Machine Co., chases Acme threads with Instructor Garry Mathias.
Rustkelis: It depends on our workload. If it's light, then the apprentices spend some time with the machinists. They start on a Bridgeport, then move up to lathes and other machines. If work is available, we urge them to use what they've learned and make a product.
Rooks: What happens if an apprentice cannot complete the course work or is ineffective as a machinist?
Rustkelis: You can tell early on if someone is not going to be able to complete the program, but that doesn't mean that we let them go out the door. We try to find another job for them. We have an assembly department where they can learn how to weld and paint, so we can offer them a job there and see how they progress. We had that situation once and it turned out better for everybody.
Rooks: What do the students invest in the program?
Rustkelis: They have to purchase their books through a payroll deduction, but if they successfully complete the course, they get that back. So, if they are successful, it costs them nothing. CTE
Related Glossary Terms
milling machine ( mill)


milling machine ( mill)

Runs endmills and arbor-mounted milling cutters. Features include a head with a spindle that drives the cutters; a column, knee and table that provide motion in the three Cartesian axes; and a base that supports the components and houses the cutting-fluid pump and reservoir. The work is mounted on the table and fed into the rotating cutter or endmill to accomplish the milling steps; vertical milling machines also feed endmills into the work by means of a spindle-mounted quill. Models range from small manual machines to big bed-type and duplex mills. All take one of three basic forms: vertical, horizontal or convertible horizontal/vertical. Vertical machines may be knee-type (the table is mounted on a knee that can be elevated) or bed-type (the table is securely supported and only moves horizontally). In general, horizontal machines are bigger and more powerful, while vertical machines are lighter but more versatile and easier to set up and operate.

payload ( workload)


payload ( workload)

Maximum load that the robot can handle safely.