Author
Alan Richter
Published
December 01, 2022 - 11:30am
When additive manufacturing was used almost exclusively for prototyping and other non-serial-production applications, part traceability and material authentication were not relevant. That situation changed about five years ago when additive manufacturing technology started being used much more for production applications, said Cody Burke, co-founder and COO of SmartParts in New York City. Print Parts Inc., an additive manufacturing service bureau that his business partner Robert Haleluk founded in 2017, launched SmartParts in 2020.
"We were keen on figuring out how the additive industry can really take off for production and what the largest barriers will be," Burke said. "We identified traceability as a key aspect to getting the technology into real production applications."
Although a variety of part traceability solutions are available for traditional manufacturing processes, including bar coding, laser etching and adding serial numbers and radio frequency identification, he said those technologies are not particularly efficient or effective for additively manufactured parts, which tend to have complex geometries and can be microscale.
"For example," Burke said, "there are patient-specific 3D-printed parts that go into human bodies. How do you put serial numbers or bar codes onto those parts? How do you tell the difference between a part that came from two different machines in two different locations?"
To overcome those challenges, SmartParts reports that it developed an integrated solution that combines advanced material taggants, hardware and software to connect manufacturing data to additive materials and parts.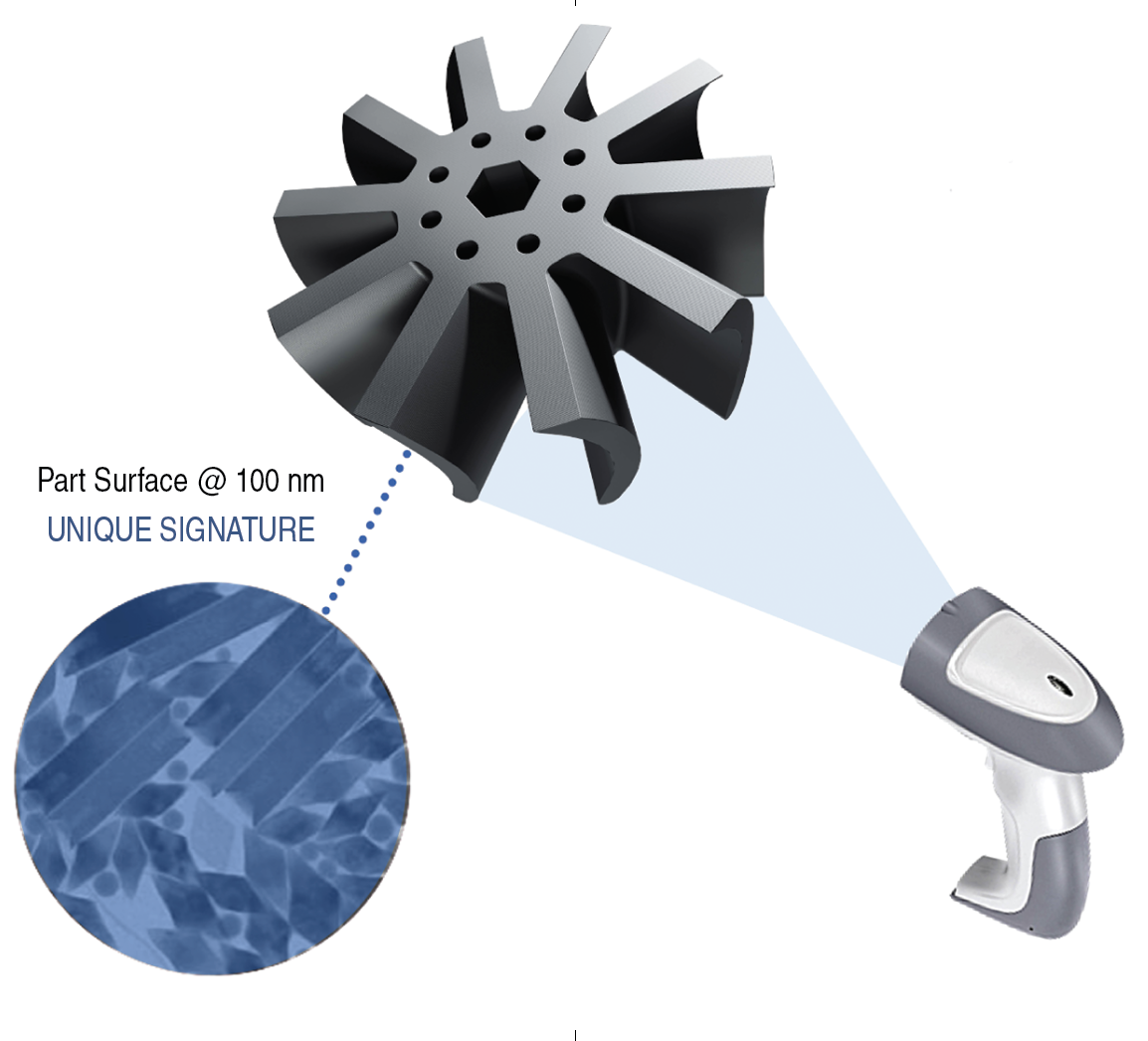 Burke said at the core of the solution is SmartParts' Intelligent Materials, which are particle taggants that are added into base materials at low concentrations of parts per million or even parts per billion. The particles are encoded with a unique identifier to create an authentication system for various materials from polymers to metals.
"We are material agnostic," he said.
Burke said the company can control particle size and shape to a high level of fidelity and obtain the optimal response for a specific additive material. For instance, particles added to a metal powder might be spherical and 20 µm (0.0008") in diameter so they mix evenly with the powder, which would be significantly different from particles added to a resin.
He said some applications, such as ones for the aerospace industry, might stipulate that an additional element cannot be added to the base material. In those cases, the company can apply its technology as a coating, dye or paint to the part exterior to accomplish the same result.
"It's not as elegant because it's not embedded in the material from the beginning," Burke said, "but it still adds a level of traceability that additive manufacturing has not experienced before."
He said scanners are the second part of the technology. Once the taggants are in a material, a hand-held scanner uses infrared energy waves to elicit a response from the particle in a predetermined infrared radiation wavelength. The technology isn't limited to infrared radiation waves, however, with such options as ultraviolet waves, X-rays and CT scans.
"We are currently focused on IR," Burke said, "but we are certainly capable of using the whole spectrum."
Software is the third part of the solution, in which a cloud-based platform stores manufacturing data. According to the company, a complete digital and chronological record for materials and parts is linked to registered taggant IDs that are accessible through the SmartParts Build Manager or with integrations to an existing manufacturing execution system or enterprise resource planning platform.
"When you strip everything away and get down to the core value proposition of SmartParts, it's that we link physical assets to digital records," Burke said. "Adding unique identifiers into a material or a part is only half the solution. The real value is unlocked by linking the unique ID to the digital information."
To help pursue integration strategies, the company applied to participate in the Sixth Sense program that Hexagon AB launched in January. Hexagon states that Sixth Sense is an open innovation platform where ambitious, scaling startups can connect with world-class companies to solve some of humanity's biggest challenges.
Because Hexagon has done an extensive amount of work creating digital records and digital twin data, Burke said it made sense for SmartParts to partner with Hexagon and aid in providing a "missing link" for those digital records.
"We saw a ton of synergies with Hexagon as an organization," he said, "and we were honored to have been chosen and awarded a winner in the program."
SmartParts is soliciting additive manufacturing original equipment manufacturers, additive manufacturing material companies, additive service providers and producers of additively manufactured parts to join a beta program, and Burke said it is generating a lot of enthusiasm.
"Frankly, people didn't know it was possible to have this level of embedded traceability in materials and parts," he said. "Once people hear about it and get exposed to the technology we're building, we are getting high levels of interest from people wanting to be involved." 
---
For more information about SmartParts, view a video presentation at https://qr.ctemag.com/1dhdg
Related Glossary Terms
inner diameter ( ID)


inner diameter ( ID)

Dimension that defines the inside diameter of a cavity or hole. See OD, outer diameter.

lapping compound( powder)


lapping compound( powder)

Light, abrasive material used for finishing a surface.

sawing machine ( saw)


sawing machine ( saw)

Machine designed to use a serrated-tooth blade to cut metal or other material. Comes in a wide variety of styles but takes one of four basic forms: hacksaw (a simple, rugged machine that uses a reciprocating motion to part metal or other material); cold or circular saw (powers a circular blade that cuts structural materials); bandsaw (runs an endless band; the two basic types are cutoff and contour band machines, which cut intricate contours and shapes); and abrasive cutoff saw (similar in appearance to the cold saw, but uses an abrasive disc that rotates at high speeds rather than a blade with serrated teeth).