Author
John Saunders
Published
August 18, 2020 - 10:00am
The emergence of COVID-19 has forced businesses, including manufacturers, into uncharted territory in terms of health and safety. As companies reopen, they grapple with how to implement viable operating procedures while minimizing the risk of infection for employees and customers.
For the economy to regain its footing while the virus is still at large, a combination of health and safety controls must be in place. In addition to supplying personal protective equipment for employees, businesses are implementing what the Occupational Safety and Health Administration calls engineering controls — items that physically alter a work environment to reduce the risk of infection.
Sneeze guards commonly hover above salad bars and buffets but are becoming a prolific, crucial part of retail existence — or for any industry with face-to-face interactions, for that matter. With demand growing for physical barriers, manufacturers are rising to meet it. Case in point: A local company providing sneeze guard shield panels needed machined polycarbonate bases.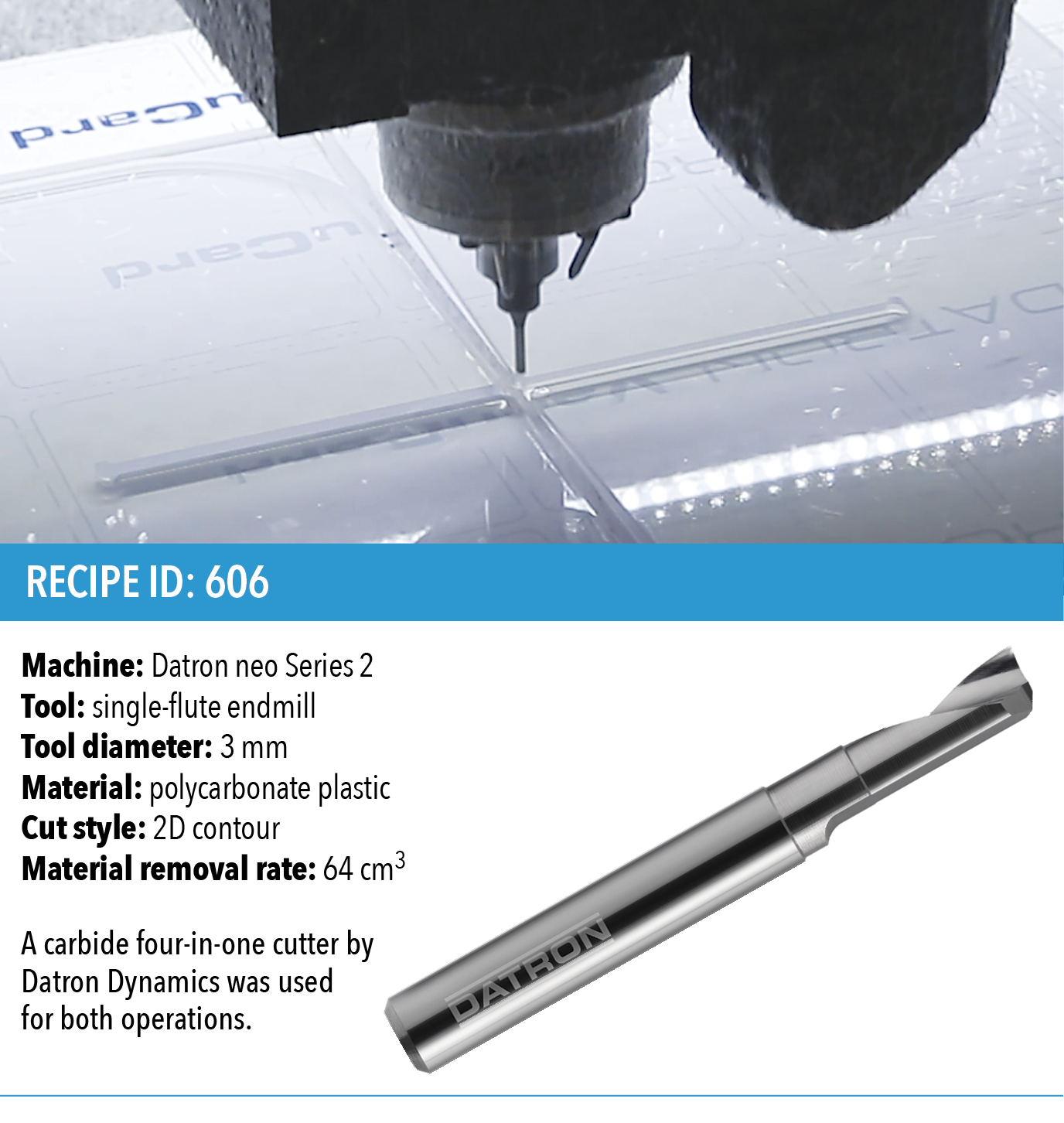 The call came in. Retail businesses and medical offices needed sneeze guards as soon as possible. Material was — and continues to be — scarce, so we used the polycarbonate drops that our client had on hand. Within hours, we had worked up a speeds-and-feeds recipe to machine the drops. As is so often the case with job shop work, we wanted to push the machine and cutting tool as hard as we could to minimize cycle time, just not at the risk of ruining tools or material.
That's where a maximum 40,000 rpm spindle and a 3 mm (0.118") dia. tool came in. With the Datron neo Series 2's built-in vacuum workholding, we were able to hit cycle-start once to complete two machined parts.
Polycarbonate isn't difficult to machine. However, there are tricks to maximize the speed and the quality of the finish. We used a carbide four-in-one cutter by Datron Dynamics Inc. of Milford, New Hampshire, for both operations. The first operation roughed out the perimeter shape and the middle slot that perpendicularly accepts the upright sneeze shield panel. The slotting operation was run at 36,000 rpm and 0.2 mm (0.008") feed per tooth in 3 mm axial step-downs, resulting in a blistering 7,112 mm (280") per minute feed rate.
The finishing operation smoothed out the edges and ensured a burr-free finish. The finishing pass was run at 0.13 mm (0.005") feed per tooth at the same 36,000 rpm at a full 9.52 mm (0.37") axial DOC and 0.13 mm radial DOC.
Plastic is a poor conductor of heat, so managing heat is key to successful speeds and feeds. The single-flute endmill provided ample clearance to minimize heat from re-cutting chips, and the machine's air blast feature further aided chip evacuation.
Besides being functional, the bases needed to be free of sharp edges and burrs for safety. Contouring the profiles of bases provided the added benefit of a finished, professional aesthetic, which was a win-win scenario for the end customer.