Author
Alan Richter
Published
December 01, 2016 - 04:15pm

END USER: lllinois Carbide Tool Co. Inc., (800) 323-2414, www.crobaltusa.com, www.brakedrumtool.com.
SOLUTION PROVIDER: Agathon Machine Tools Inc., (203) 730-8741, www.agathon.com.
CHALLENGE: Keep up with increasing production demands for carbide brake lathe inserts.
SOLUTION: A 4-axis grinding machine that enables lights-out production.

More production sometimes requires fewer machines. As orders for its carbide brake lathe inserts increased at least 20 percent during the last 18 months, Illinois Carbide Tool Co. Inc. transitioned from six grinding machines with obsolete technology to a newer CNC grinder and a brand-new CNC grinder, said Mike Mini, company owner and manager.
The Waukegan, Ill., manufacturer has two operating divisions: Brake Drum Tool Co., which produces inserts, tool bodies and cutting tools for the automotive industry, such as cylinder boring tools; and Crobalt, which manufactures a high-cobalt cast alloy used in metalcutting and woodworking tools and wear parts.
Mini explained that automotive repair shops apply the brake lathe inserts to resurface brake drums and rotors. However, the six semiautomatic grinders the company was using to make these inserts were built in the 1980s and were unable to keep up with increasing production demands because they were slow and would consistently break down. Once out of service, the troubleshooting and the search for repair parts would commence. Because of their older technology, it could take up to 3 or 4 weeks to get a grinder back up and running. "There were usually only about four out of the six running at a time," he said.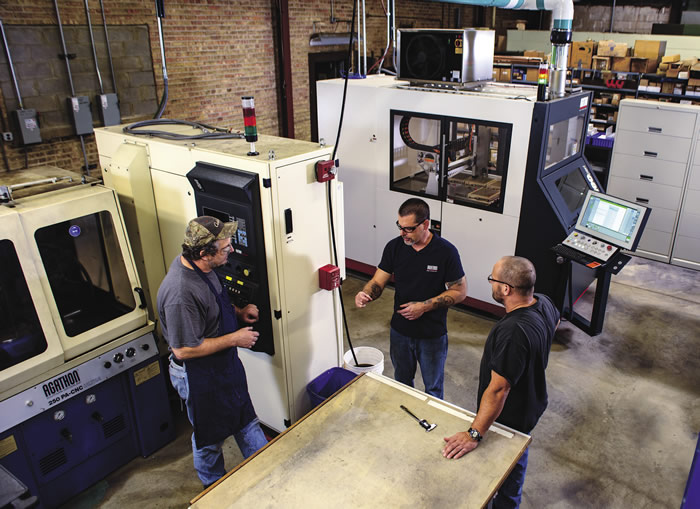 Left to right: Mark Wawiorka, operator and technician; Chuck Best, CNC operator and technician; and Dan Quinn, operations manager; discuss setup and operation of Illinois Carbide Tool's two Agathon grinding machines: a 250 PA-CNC Ultra (foreground) and a Leo Peri. Image courtesy Presage Professional Inc.

Mini added that the person with the most experience operating these grinders could repair about 85 percent of the problems, but obtaining parts was a challenge and not an effective use of company resources. The inserts in these grinders had to be manually loaded and unloaded by the operator into the machine's single magazine. The operator had to manually dress the grinding wheels, check that a machine was operating properly so an insert's IC tolerance of ±0.001" (0.0254mm) was being held while ensuring that the center screw hole was concentric to the insert's triangular shape.
"One person would be hard-pressed to keep three or four machines running at a time," Mini said.
"When you have older technology and you're having problems with a grinder," he said, "you hate to spend the money for these repairs because you're throwing good money after bad. You start looking for solutions in the latest grinding technology."
One of Crobalt's long-term cutting tool customers primarily runs grinding machines from Agathon Machine Tools Inc., Bethel, Conn. When this customer offered Illinois Carbide Tool a used Agathon Model 250 PA-CNC Ultra grinder in 2014, the company purchased it.
"It was a major initial step in enabling us to get our production up to where it needed to be at a critical time," Mini said.
As insert demand continued to increase, the company purchased a new Leo Peri 4-axis grinding center from Agathon earlier this year. According to Mini, the new machine is ideal for producing the company's carbide inserts, which do not require K-lands or special features, eliminating the need for a 5-axis grinder. "A gantry loads and unloads inserts, enabling the one-shift facility to run lights-out production," Mini said.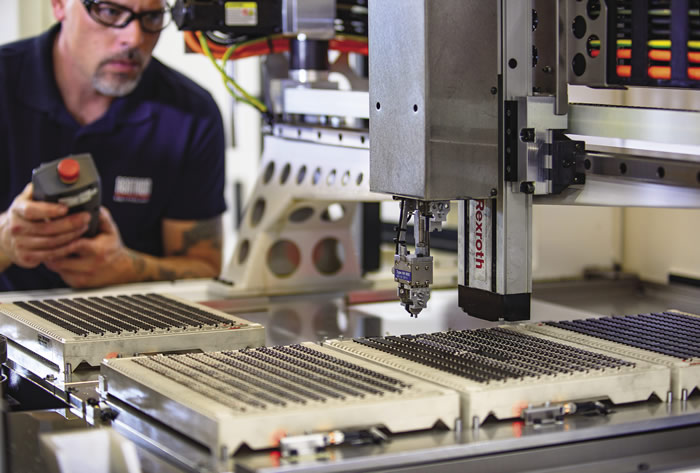 Chuck Best, CNC operator and technician at Illinois Carbide Tool, sets parameters for the Leo Peri grinder's pick-and-place robot. Image courtesy Presage Professional Inc.

The grinder interfaces with up to six standard pallets and these pallets can be purchased for specific sizes of inserts. Complete automation of the periphery grinding process by the new grinder achieves insert quality that was previously unobtainable by the older technology, according to Mini. "We currently are not producing on Sundays, but we certainly could if the need would arise."
The new Agathon grinder has totally replaced the semiautomatic grinders. Improvement in the quality and precision of the insert's IC grind means rejects are virtually eliminated, according to Mini. Should a problem occur, the machine will automatically cease grinding and go into a standby mode.
"After only a few weeks of initial orientation on the new grinder, our experienced CNC operator, Chuck Best, was able to have the grinder running at maximum efficiency, and lights-out operation is now standard operating procedure for four or five nights out of the workweek," Mini said.
The new Agathon Leo Peri grinder has changed the entire production dynamic at Illinois Carbide Tool and its divisions, Mini said. "In addition to carbide indexable insert grinding, we are utilizing the new Agathon to grind our cast alloy woodworking inserts for our Crobalt customers. This is something we could not have done on the older-technology grinders."
He added that the company continues to explore the Leo Peri's capabilities.
"We did retain two of the older-technology grinders as emergency backup [machines], and the others are in storage for possible sale, or we may find someone who wants to purchase one for parts," Mini said.