Author
William Leventon
Published
February 01, 2023 - 07:00am
An expanded line of Swiss-style machines offers three different multi-axis configurations aimed at applications requiring precise, high-speed production of small parts.
Manufactured by Mazak Corp. in Florence, Kentucky, the Syncrex series now includes 16 models and four machine sizes that accommodate maximum bar stock turning diameters of 20 mm, 25 mm, 32 mm and 38 mm. Each of these different-size machines comes in seven-, eight- and nine-axis configurations. Also available are Syncrex 9X models capable of full five-axis contouring when the b-axis tool post is used.
Syncrex 20 and 25 systems are traditional sliding-headstock machines with a ball spline-connected guide bushing and main spindle, said General Manager Kevin Bates. The 32 and 38, however, use a dual-drive system for the collet and guide bushing, making them convertible machines that can be run without a guide bushing.
When a single motor drives both the guide bushing and collet, "they're synchronized through the ball spline drive, reducing vibration and giving better accuracy," he said.
In addition, the machines produce less material waste than traditional Swiss lathes, said Syncrex Product Manager Leonard Lanute. The key, he noted, is the position of the collet.
In conventional Swiss machines, "the collet can only get so close to the back of the guide bushing, so you're going to have a longer remnant," he said. In Syncrex machines, however, "the front of the collet can get right to the back of the guide bushing, so we can seriously reduce the remnant" — possibly by as much as 6", he said.
All Syncrex machines are constructed on Mazak's high-damping composite casting. The HDCC, Bates said, is a solid-polymer composite base that provides a number of advantages over cast iron, including greater rigidity, better vibration-dampening characteristics and less thermal growth. The results are improved part quality, longer tool life and better surface finishes, according to Mazak.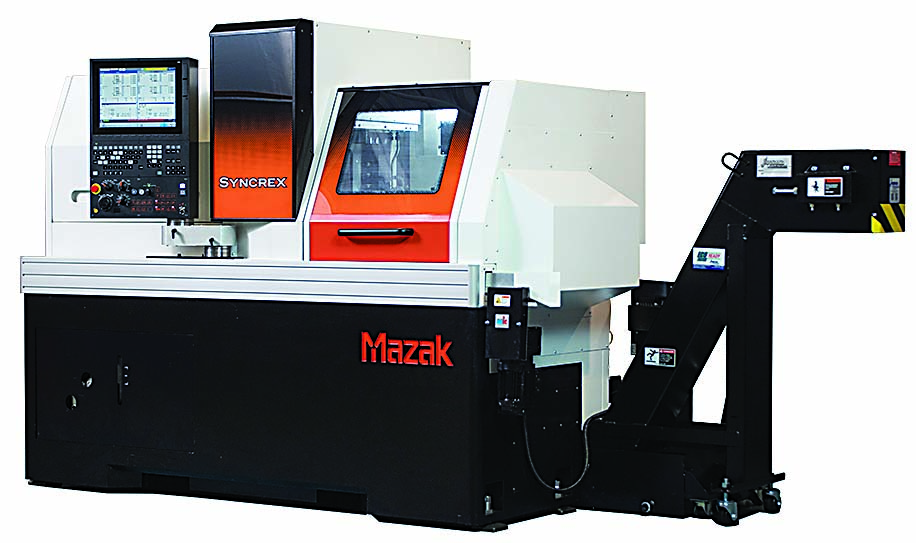 In a standard configuration, Syncrex machines accommodate up to 36 tools: 20 static and 16 live. The machines also feature what he describes as a unique in-machine automated tool setter.
"To our knowledge, Syncrex machines are the only Swiss machines in the industry to offer this type of technology," Bates said. "It will allow you to touch off all your tools using an automated program to help reduce setup time."
In fact, he said, the automated tool setter can cut setup time to around 15 minutes, about half the time it normally would take.
For control, Syncrex machines come with Mazak's Mazatrol SmoothSt CNC. Optional features include the Mazak Swiss Setup Assist, aimed at making job setups faster and easier, and Mazak Dynamic Chip Control. MDCC oscillates a machine axis to break chips into smaller, more manageable sizes.
"When you're turning many different materials, you can't always break the chip, so it wraps around tools and makes the machine less productive," Lanute said. "By activating the MDCC option, you create a chip that's much more controllable, which allows you to maintain the productivity of the machine."
Mazak also offers an optional MT Tablet with Syncrex machines. This creates a twin-screen system, with operators using the MT Tablet to work with offline programming software, such as Autodesk PartMaker or Esprit at the machine.
With Syncrex machines, Bates said Mazak supplies only G code programming, so there's no option for so-called conversational programming that makes it easier for operators to produce programs by using a series of prompts to get key program data, such as part geometry and workpiece material.
Since Mazak's customers may expect this option, he said, "we make sure we're pointing out that (Syncrex systems) don't have the conversational side that you would see on a traditional Mazak machine."