Author
William Leventon
Published
May 02, 2023 - 12:30pm
A big six-axis robot capable of lifting very heavy products in automated production lines also offers enough freedom of movement to meet the needs of a wide variety of handling applications.
That's the pitch from Fanuc America Corp. in Rochester Hills, Michigan, for its M-1000iA industrial robot, which offers a 1,000 kg maximum payload capacity at the wrist with full articulation.
"When you get to these really large payloads, loading and handling parts this size can be dangerous and really hard work for people," said Richard Varner, senior engineer for the general industry and automotive segment. For operators and technicians, "allowing a large robot like this to handle repetitive tasks like loading and unloading is safer and also frees up time for other value-add tasks."
He said the high strength of the M-1000iA can be attributed to the electric servomotors on its J2 (lower arm) axis and J3 (upper arm) axis.
"We use our own servomotors that are optimized for robotic applications," Varner said.
Also featuring a 3,253 mm horizontal reach and a 4,297 mm vertical reach, the M-1000iA is Fanuc's largest robot arm with serially connected arm segments, or links, rather than the parallel links typical of heavy-payload robots. Serial links give the M-1000iA a wider range of motion in both vertical and longitudinal directions. For example, they allow the arm to stand upright and rotate backward, which is impossible for parallel-link robots, according to Fanuc America.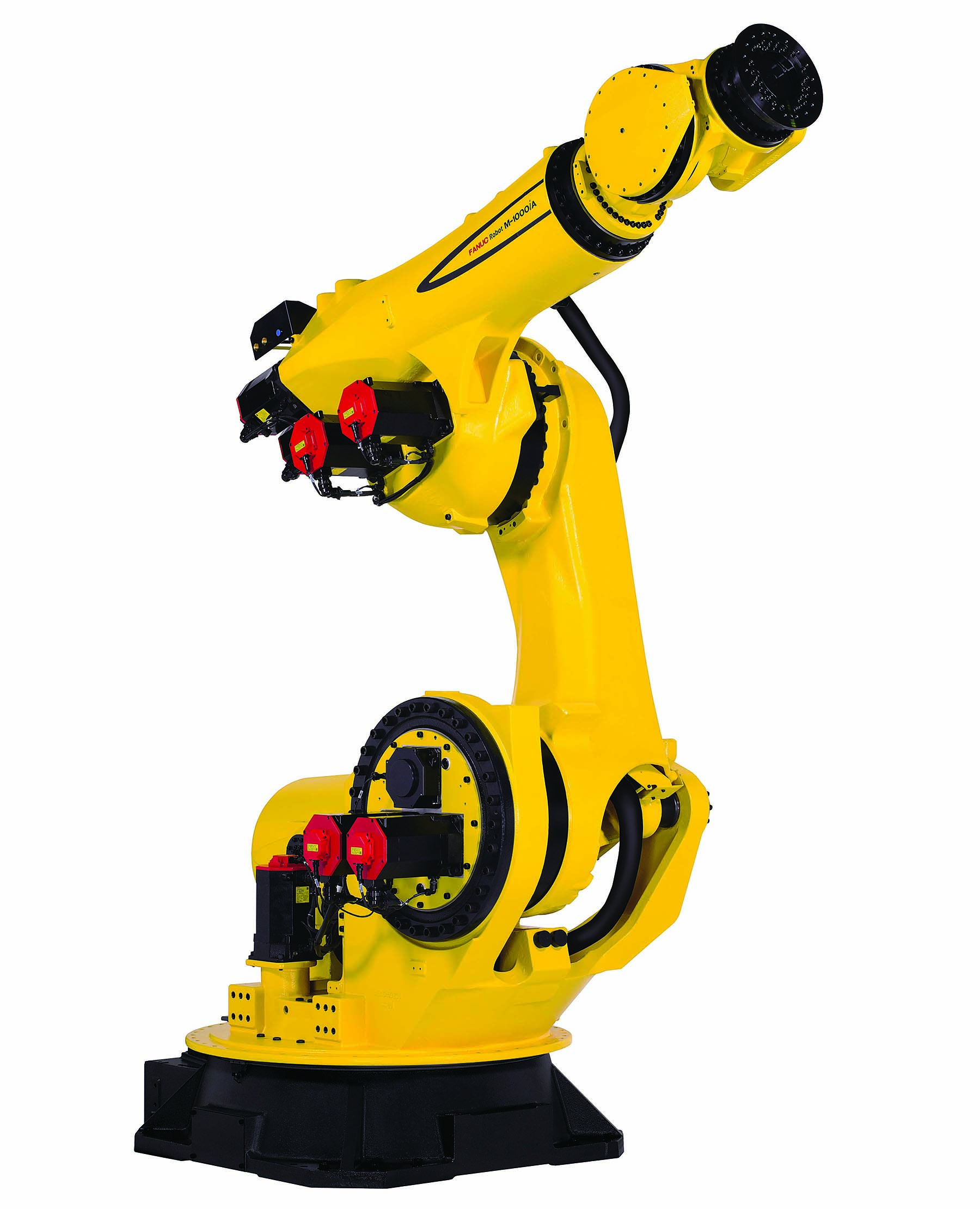 "On some of the higher-payload robots, you'll see two vertical arms in the J2 area to provide extra rigidity," Varner said. "Serial links give you more flexibility, which has more value in certain applications."
The M-1000iA supports Fanuc's latest R-30iB Plus control, as well as the conventional iPendant teaching device. Once taught a point, he noted that the robot is capable of 0.1 mm position repeatability.
"Every time you teach the robot a point, it's going to go to that point within ±0.1 mm," Varner said, adding that this allows precise part loading and unloading, along with the use of tight-tolerance workholding devices, such as clamps, chucks and tombstones.
For optimal operation, he pointed out that industrial robots like the M-1000iA should be placed in environments where the temperature ranges between zero and 45 degrees Celsius. If put in a warmer environment, the robot may not be able to work as hard without overheating, he noted, while colder ambient temperatures can adversely affect the robot's lubrication and sealing.
If a customer proposes placing the robot in a location where temperatures stray outside the recommended range, "we usually want to take a closer look at it to make sure the robot is going to be successful in that environment," Varner said.
He also advises customers to take into account the size and weight of the robot when deciding where to put it. In addition to having sufficient floor space in a potential location, this means making sure that the floor is strong enough to handle the weight of the robot itself, plus a 1,000 kg payload.
The size of the M-1000iA matters when it comes to maintaining the robot as well.
For example, "you might have to change grease on the J3 axis, which is 8' in the air," Varner said. "So you need to account and plan for things like that."