Author
Alan Richter
Published
September 01, 2000 - 12:00pm
Shrink-fit toolholders can reduce runout and increase tool life at any speed.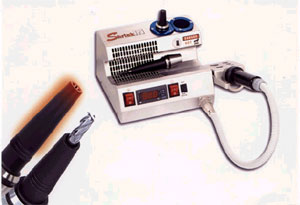 Iscar Metals Inc.'s ETM/ITS ShrinkIN collet chucking system enables solid-carbide cutters to be inserted into and released from ER32 and ER40 shrink-fit toolholders. After the unit heats the collet nose, causing the bore in the nose to expand in a matter of seconds, the cutting tool's shank is inserted into this expanded bore. The collet is then cooled to an ambient temperature, which takes only a few minutes and causes the bore to shrink around the shank. This shrinking results in a secure, rigid and even clamping of the shank.
If you wanted to use a shrink-fit toolholder in a machining operation, you could heat up a conventional oven to 500° F or so, place the shrink-fit toolholder in the oven, wait awhile until the heat causes the holder to expand enough to accept the tool's shank, insert the tool, grab the holder with a gloved hand and set it somewhere to let it cool.
Of course, this process assumes you can spare about an hour to change a tool.
A quicker method would be to purchase a shrink-fit induction heating system. It allows you to place a cutting tool in a toolholder and be ready to go in about a minute.
Shrink-fit, or thermic, toolholder systems have been around for about 15 years, but their use has become more prevalent in the last few years as machine tool speeds have increased. This is because high-speed machining requires a balanced tool/toolholder combination with a runout of no more than 0.0002", which a shrink-fit toolholder can provide.
Other types of toolholders can be balanced to achieve an acceptable level of concentricity and runout for high-speed machining, but the balancing process is more time-consuming and complex, said Glen Togo, toolroom supervisor for Aerospace Dynamics International (ADI), Valencia, Calif.
"It's a pain in the butt to balance a set-screw holder," Togo said. He added that toolholder balancing usually is not a critical issue when machining at speeds below 10,000 rpm.
ADI incorporated shrink-fit toolholders into its operation about two years ago to produce aluminum aircraft parts on machine tools with 3-spindle gantries at speeds up to 10,000 rpm and feed rates up to 400 ipm. The precision machine shop manufactures its own carbide endmills.
A shrink-fit toolholder works in conjunction with a specialized heater to expand the holder's bore so that it accepts the tool's shank. At room temperature, the shank's diameter is slightly larger than the bore. Therefore, as the heated toolholder cools, the bore shrinks around the tool shank to provide 360° concentric clamping power with a holding force of 10,000 lbs. or more. The toolholders are dynamically balanced to G2.5 at 20,000 rpm.
Shrink-fit toolholding creates an almost monoblock, or integral-shank, tool with a concentricity of 0.00012" to 0.0002". Less runout means increased tool life, a more consistent chip load and improved surface finish.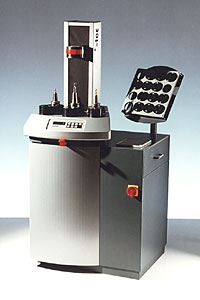 Kelch Inc.'s i-tec XL shrink-fit induction heating system has three places for heating tools, as well as three cooling boxes. The device features programmable heating to ensure that the toolholder doesn't overheat and a built-in water-based cooling jacket around the adapter flange to cool the holder during the shrinking process. The system automatically calculates the heating time and the output of the induction coil.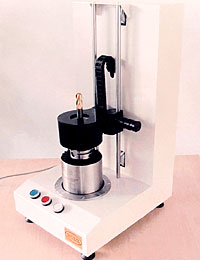 The ThermoGrip thermic tool-clamping system from Bilz/RMT Tool Co. is an economically priced unit that heats, in less than 10 seconds, the clamping area of the toolholder. This reduces heat transfer through the rest of the chuck body and shank. ThermoGrip can be used with HSS and solid-carbide tools. The holders are dynamically balanced to 15,000 rpm and are available with HSK, DIN, V-flange and other types of shanks.
Loyd Harris, head of the CNC department for Hofmann Tool, St. Peters, Mo., said his company started using a thermal shrink system about four months ago and, since then, has experienced a fourfold increase in tool life.
"A distributor brought in the system for us to test and I was just amazed at the improved tool life," Harris said of the ShrinkIN system from ETM/Iscar Metals Inc., Arlington, Texas.
Hofmann primarily uses the shrink-fit system with TiAlN-coated, 4-flute, solid-carbide, 1/4" ballnose endmills. The endmills create tight-radius cavities when making die-cast molds out of H-13 hardened steel with a hardness of Rc 52. The molds are produced on a Mori Seiki SV-500 vertical machining center with a spindle speed of 20,000 rpm and a feed rate of 500 ipm.
Harris noted that the improved concentricity allows all four flutes of an endmill to cut equally, rather than having a protruding flute do more than its fair share of the cutting.
In addition to extending tool life, Harris said that a shrink-fit toolholder maintains a more consistent chip load and leads to better surface finishes. "The polishers are not having to work so hard on the molds after they are machined," he said.
Including the toolholders, Harris estimated that Hofmann has invested between $12,000 and $15,000 in the system. He projected a payback period of about six months, based on the extended tool life.
Although Harris was initially concerned about how long a shrink-fit toolholder would last, he said he hasn't had to scrap one yet. He added that the finishing tools are changed after every job, but one holder with a roughing tool went two months without a tool change.
"I use shrink-fit toolholders every chance I get," Harris said.
Toolholder Life
The life of any toolholder partly depends on the severity of the operations it performs. If the machining operation doesn't "kill" a shrink-fit toolholder, it has a virtually unlimited life, said Harold Cook, CEO of Tooling Innovations, Dana Point, Calif. He explained that's because the heating/cooling process doesn't take the holder past its tempering point, where the holder's physical properties permanently change.
"Usually toolholders last longer than tool shanks," Cook said.
Cook developed the Shrinker® technology for thermic tool clamping, which is licensed to 14 companies. According to Cook, Shrinker toolchangers can heat/cool all types of shrink-fit toolholders, whereas some systems accommodate only a specific toolholder brand.
According to Keith Wiggins, product manager at Kennametal Inc.'s shrink-fit induction heating system, the Latrobe, Pa.-based company's heat-shrink toolholders maintain their high concentricity and elasticity for a minimum of 5,000 heat/shrink cycles, assuming the induction heating system is used properly. He said the heating system's highest temperature for expanding a toolholder is 644° F (340° C), which is far below the temperature that could cause a microstructure change in the material. He added that the system heats the holder to a default-temperature setting that typically only reaches 392° F (200° C).
Rather than look at the number of heat/shrink cycles a toolholder goes through, Bill Keefe, product manager for Command Tooling Systems LLC, Ramsey, Minn., said machinists should pay attention to the length of time a toolholder is used. He said all toolholders should be evaluated after three or fewer years of service, depending on use.
One of Command's customers evaluates the life of its shrink-fit toolholders based on the length of time they're used, because the holders experience a limited number of heat/shrink cycles. Instead of removing a solid-carbide endmill from its Command C6Y4 shrink-fit holder when it needs to be resharpened, Keefe said the manufacturer has the tool reground while still in the holder. He added that the machine shop runs a tool until it is no longer serviceable and then replaces it, greatly reducing the number of tool setups.
Keefe said that a machine shop that wants to regrind its tools without removing them from the holder would probably need to have its own cutter grinder, since most tool repair companies won't accept the combined tool/toolholder.
Keefe added that job shops that don't own shrink-fit toolholding systems are still able to use shrink-fit toolholders. He said some people send their cutting tools to manufacturers and distributors of thermic systems to have the tools set, balanced and shrunk-fit into the toolholders.
Tooling Innovations' Cook said the industry might eventually see leasing of the heating/cooling equipment to smaller job shops that are hesitant or unable to invest in a shrink system. Creative lessors could even accept a percentage of the savings a job shop realizes through increased tool life or reduced cycle time as payment for leasing the thermal-shrink system.
"My thought is that the Shrinker machine would pay for itself," Cook said.
It wasn't longer tool life that attracted Arden Engineering Inc., Orange, Calif., to shrink-fit toolholding, said Dan Meisenbach, the milling shop's supervisor and toolroom manager. Even though Arden experiences a 100 percent increase in tool life when using shrink-fit toolholders, Meisenbach said tool rigidity was the critical issue when the manufacturer of structural airframe parts incorporated the Shrinker technology into its operation about 12 years ago.
He said Arden was looking for a way to shorten tool overhang when running 2"-dia. endmills. "Shrink-fit toolholding gave us the best way to do that," he said.
According to Meisenbach, rigidity increased because the shrink-fit toolholder assembly can be made shorter and stubbier than other types of holder assemblies, without any part of the holder extending past the V-flange. He said that with shrink-fit toolholders, the tip of an endmill is 3" from the gage line, whereas the gage length is 5" with other types of toolholders.
The shortest possible shrink-fit holders have to be custom-made, but standard holders are still stubbier than conventional endmill toolholders, said Meisenbach.
Initially, Arden heated all its shrink-fit holders in a conventional oven, but eventually purchased an induction heating unit. An oven still heats 10"-dia. milling cutters because the tool's diameter is too large for the induction heater, he said.
Arden has about 8,000 CAT-50 holders, of which 3,000 are the shrink-fit type. The company roughs titanium with 2"-dia., M-42 HSS endmills at a speed of about 100 rpm and a rate of 60 sfm, and runs 1"-dia. carbide endmills in aluminum at a speed of 13,000 rpm and a feed rate of 400 ipm.
Depending on the application, Meisenbach said some of the tools are reground in their holders and some are removed for resharpening. Arden resharpens hundreds of endmills daily and replaces about 40 each day.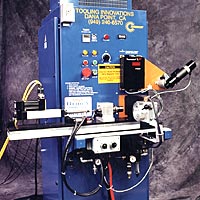 Designed especially for use with shrink-fit HSK toolholders, Briney Tooling Systems claims that the presetting system is the first to permit tool setting within 0.0005". The system includes a Speroni presetting machine, a PC interface, a clamping and presetting assembly, an induction heating unit and a cooling system. Briney developed the system for an automotive production machining line.
When the machine shop initially sought a solution to its rigidity problem, Meisenbach said Arden tried using integral-shank tools, but because so many endmills are replaced on a daily basis, tool manufacturers couldn't meet Arden's demand.
In addition, he said integral-shank tools were heavy and cost about $1,000 apiece—roughly four times the cost of a shrink-fit holder.
"With a shrink-fit toolholder, it's like making an integral-shank tool with two pieces instead of one," Meisenbach said.
Not So Fast
With their short design and lack of set screws or other asymmetrical features, shrink-fit toolholders are inherently well-balanced, making them ideal for high-speed machining. But that doesn't eliminate the application of shrink-fit holders in machining operations with speeds below 10,000 rpm.
Chris Nall, senior manufacturing engineer at Defense Research Inc. (DRI), said his company uses shrink-fit toolholders on a vertical machining center, with speeds ranging from 3,000 to 8,000 rpm, to make fins out of 718 Inconel for air-to-air missiles. In addition to a doubling of the life of solid-carbide endmills, he credited the toolholders for a 33 percent reduction in cycle time.
DRI, Anniston, Ala., began using a shrink-fit system in production about five months ago. Nall projected that the system will pay for itself in just six months.
DRI's shrink-fit toolholders primarily hold 1/4"- to 1/2"-dia. endmills, but the company sometimes mounts 5/8"-dia. tools in larger holders. Nall said that shrink-fit toolholders are suitable for running just about all the tools between 1/4" and 5/8", regardless of the machine's speed.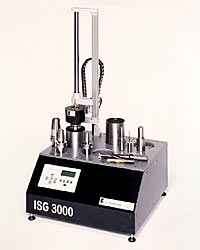 Kennametal Inc.'s shrink-fit toolholding system has a tabletop induction-heating unit that's programmed for both carbide and HSS cutting tools. The system heats tools in less than 10 seconds and cools them in less than 60 seconds. The unit features five cooling ports, allowing operators to change three or four tools a minute.
"I'm not doing high-speed machining, but if I was I know I'd like these toolholders even better," Nall said.
Wichita, Kan.-based Raytheon Aircraft Co. doesn't perform much high-speed machining either, but the manufacturer of aerospace parts incorporated the Shrinker technology into its operation three years ago to increase the material-removal rate when machining, said Rob Luallen, process manager for the company's machine shop.
Although spindle speeds reach 15,000 rpm for some of the machining, he said most speeds are in the 8,000- to 12,000-rpm range for cutting steel. He added that he primarily uses 3/4"-dia., solid-carbide endmills.
Raytheon also uses shrink-fit toolholders to secure indexable tools fitted with carbide inserts that run at speeds from 4,000 to 6,000 rpm and feeds of 50 to 60 ipm. For this speed range, the toolholders are not balanced because balancing doesn't appear to be an issue at speeds below 8,000 rpm, said Luallen.
Luallen said he had a couple of problems when he first tried the shrink-fit system. The first involved carbide endmills with highly polished shanks. He said that Raytheon briefly experimented with tools having mirror-like shanks, but found that they were slipping in the toolholder, so the company stopped using them.
The second problem was HSS tools sticking and staying in the holder when they were being changed. The heating unit's temperature was not set high enough, so the heat went into the cutter as well as the holder, causing both to expand at the same rate, Luallen said. This wasn't a problem with carbide, because carbide expands at half the rate of HSS. He said the problem was corrected by properly setting the temperature to a higher level.
On the other hand, Togo said that ADI avoids using HSS tools in its shrink-fit system because the tools are too difficult to remove from the holder. He added that even carbide tools are hard to remove at times. Nonetheless, Togo said that he hasn't experienced any tool pullout or tool failure after using Shrinker toolholders for two years.
In contrast to others interviewed for this article, Luallen said he didn't notice a change in tool life when using shrink-fit toolholders, but he did experience a significant improvement in surface finishes.
"With shrink-fit toolholders, you don't beat up the material," he said. "You're able to 'finesse off' the material rather than hogging it off."
The price of thermal shrink-fit systems continues to drop. They now run anywhere from $2,000 to $15,000, depending on the system, which is expanding their use.
Meisenbach predicted that within 20 years, 80 to 90 percent of the U.S. toolholder market will be shrink-fit.
Cook agreed that the market for shrink-fit toolholders is growing, but said that there'll always be a place for other types, such as hydraulic holders. "It wouldn't surprise me if 70 percent or more of the toolholders are shrink-fit in the next five years in the U.S."
Suppliers of Shrink-Fit Toolholding Systems
Bilz/RMT Tool Co., (800) 227-5460
Briney Toolholding Sys., (517) 269-9558
Carboloy Inc., (810) 497-5000
Command Tooling Sys., (800) 328-2197
ETM/Iscar Metals Inc., (817) 258-3200
FL Toolholders, Inc., (734) 591-0134
Kelch Inc., (847) 459-9600
Kennametal Inc., (800) 446-7738
Lyndex Corp., (800) 543-6237
OSG Tap & Die Inc., (630) 790-1400
Parlec, Inc., (800) 727-6545
Production Dynamics/Marquart, (219) 464-7938
Richmill USA Inc., (562) 699-5008
Tecnara Tooling Sys. Inc., (562) 941-2000
Tooling Innovations, (949) 240-6570
Tooling Systems Division, (888) 873-2808
Transatlantic Connection Inc./Rineck (815) 282-6070
Valenite Inc., (800) 544-3336