Author
Cutting Tool Engineering
Published
April 01, 2016 - 10:30am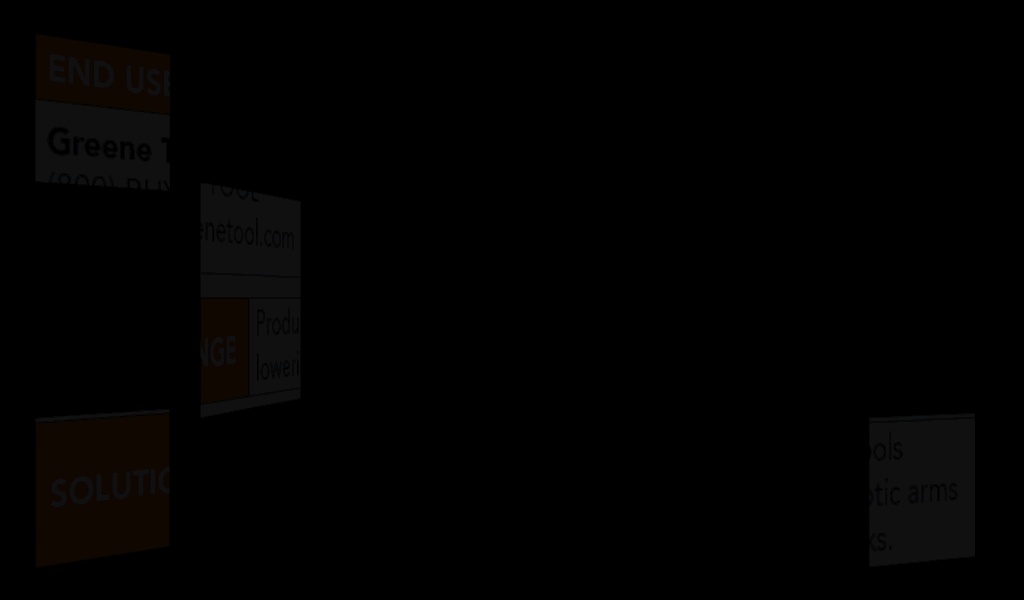 Customer requests for quicker delivery of microscale specials caused Tom Greene, owner of Greene Tool Systems Inc., Dayton, Ohio, to look for a grinder that could help the toolmaker meet that demand.
The technologies incorporated into the FX7 Linear tool and cutter grinder from ANCA Inc., Wixom, Mich., captured Greene's attention at IMTS 2014. Already an owner of two larger ANCA machines, Greene said his business is under constant pressure from customers to meet tighter tolerances, and he was receiving a growing number of requests for small-diameter tools.
Previously, the company couldn't produce tools around 2mm to 3mm (0.079" to 0.118") in diameter, Greene said. Now, he added, thanks to the responsiveness of the linear drives and "everything else, we can do drills down to around 0.050" (1.27mm)."
The grinders' LinX cylindrical linear motors have no mechanical moving parts, so there's no loss of machine accuracy over time because of wear, ANCA reported. Being cylindrical, the motor is designed to be fully sealed and impervious to contaminants.
Greene said linear drive technology is "awesome because I don't need chillers to chill the drives, and the machine's ability to flute and give us good finishes is incredible." The drives are "just excellent for a smaller machine. They're accurate and they're repeatable."
In addition, not needing a chiller reduces energy consumption and minimizes any change in the ambient temperature. "One of our challenges with lights-out manufacturing is the change in ambient temperature causing part size changes during loader runs," Greene said. "It's not a good day when half of a loader run is scrap because the temperature drastically changed in the plant during the off shift. ANCA's linear drive system does not generate excessive heat."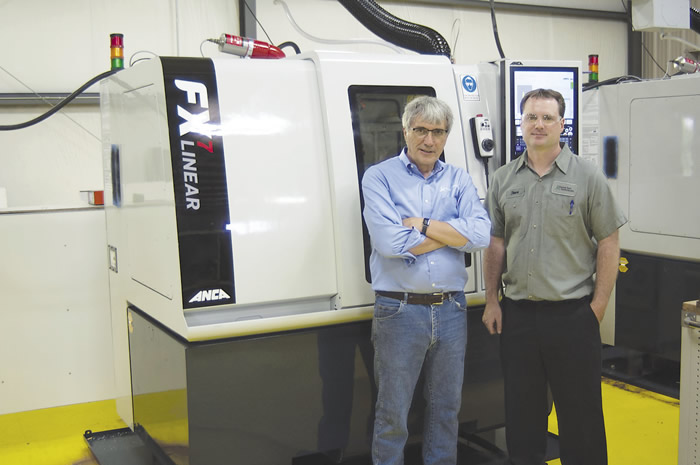 Tom Greene (left), owner of Greene Tool Systems, stands with Plant Manager Steve Mader in front of one of the toolmaker's two ANCA FX7 Linear tool and cutter grinders. Image courtesy ANCA.

The FX7 is a new design, and "I was convinced by Pat McCluskey, ANCA co-owner and designer of the FX Linear machines, that this is the wave of the future," Greene said.
Although the FX7 Linear performs best when producing tools with diameters less than 12mm (0.47"), according to ANCA, it can grind tools up to 200mm (7.9").
Greene said the company previously bought big machines that cost $300,000 to $400,000 to run small tools. But after breaking down its mix of jobs, the shop realized it didn't need to run a lot of the small tools on such large machines.
"We found that there was a good market for small, precision tools in our area, so we bought two of the new FX7 Linear machines and filled them up right away," Greene said. He also expects the grinders will help cut down the long lead times customers experience when tools are produced on some of his other machines.
"When you manufacture a cutting tool, at the end of the day, it's all about how fast you can get the first good part inspected," he said. "Our run sizes can go anywhere from six to 300 parts, but a lot of it is low runs, so we pay particular attention to setup time."
Greene said all four of the shop's ANCA machines make the setup of parts, grinding wheels and chucks go a lot faster than on the company's other-brand machines. But he's especially pleased with the built-in, six-wheel robotic wheel changer and part loader on the FX7 Linear machines, because they allow Greene Tool to break into a run, pick up another set of wheels to run a small number of tools and quickly get back into production on the previous run.
"Normally, when you take a grinding wheel out of a machine, set it on the bench and then put it back into the machine, you can't count on it being exactly the same," he said. "But if we have six wheels for most of our parts already sitting in the machine, we don't have to play with offsets, because we know exactly where the grinding points on the wheel are."
This gives more production flexibility during the day, and, at night, the grinders can run lights out—all of which helps keep costs down.
"A lot of times, small endmills and other microtools are relatively inexpensive, and with a smaller, less-expensive machine that's very accurate, it helps us stay competitive with the world market," Greene said.
Related Glossary Terms
grinding


grinding

Machining operation in which material is removed from the workpiece by a powered abrasive wheel, stone, belt, paste, sheet, compound, slurry, etc. Takes various forms: surface grinding (creates flat and/or squared surfaces); cylindrical grinding (for external cylindrical and tapered shapes, fillets, undercuts, etc.); centerless grinding; chamfering; thread and form grinding; tool and cutter grinding; offhand grinding; lapping and polishing (grinding with extremely fine grits to create ultrasmooth surfaces); honing; and disc grinding.

grinding wheel


grinding wheel

Wheel formed from abrasive material mixed in a suitable matrix. Takes a variety of shapes but falls into two basic categories: one that cuts on its periphery, as in reciprocating grinding, and one that cuts on its side or face, as in tool and cutter grinding.