Author
William Leventon
Published
May 03, 2022 - 11:00am
If you have been relying on vertical machines but want to see what a horizontal machining center can do for your shop, the MH 320A is made for you.
A compact HMC sold by Sudbury, Massachusetts-based Methods Machine Tools Inc., the MH 320A has a footprint measuring just 3.5 m by 3.2 m (11.6 ft. by 10.4 ft.), including a chip conveyor.
This makes the machine "one of the smallest, if not the smallest, in its class," said Bernie Otto, director of technical support.
At this size, he said the MH 320A is a good choice for shops used to small vertical milling centers.
"By moving to a horizontal machining center of this size," Otto said, "we're giving them that familiarity of a smaller footprint and the advantage of better chip management (because) your chips will fall naturally away from your part."
He additionally pointed out that the MH 320A offers a number of features not normally found in such a small package.
Typically, Otto said, "machines like this are designed to be entry-level, whereas ours has more high-end components."
These include a Fanuc 0i-MF control, as well as Fanuc motors and servodrives.
Weighing 6,600 kg (14,550 lbs.), the machine also includes a Big-Plus 40-taper, direct-drive spindle.
"With a heavier machine and a 40-taper spindle capable of 15,000 rpm, you're going to get better part finish," Otto said, adding that the 40-taper spindle enables more versatility than a smaller, lower-horsepower 30-taper spindle that limits the size of parts that can be produced and how heavy a cut a machine can take.
Another notable feature is a step-column design that adds rigidity along the spindle axis by providing two different lateral support points. This allows the spindle to be pushed with greater force into a hard material without causing spindle deflection that hurts cutting accuracy, he said.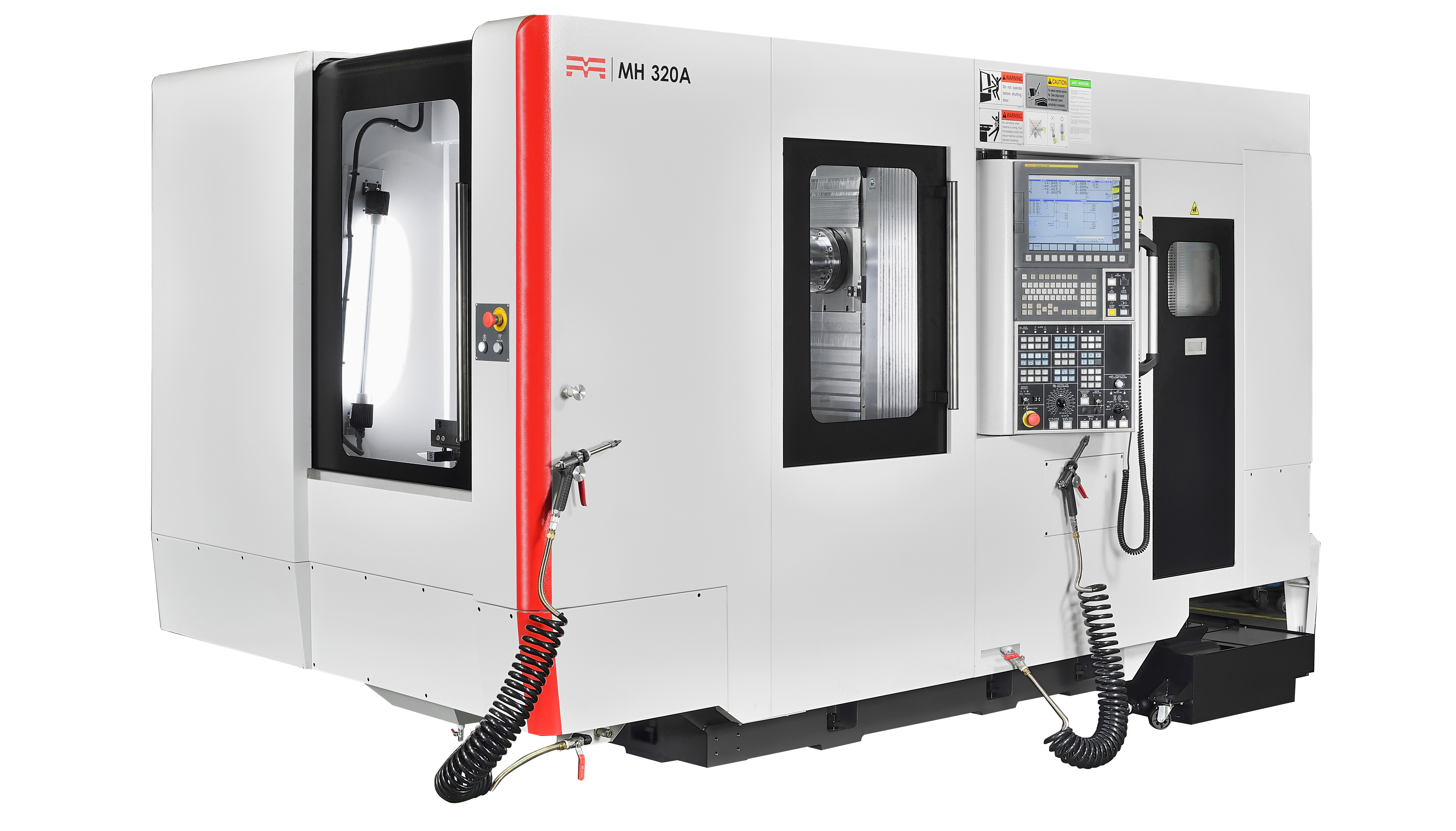 For added versatility, the machine is equipped with a 40-tool automatic toolchanger that can accommodate big and heavy tools. If users want to put in a large-diameter tool, however, the pockets on both sides of that tool must be empty. As for heavier tools that are outside the normal weight range, Otto explained that the machine automatically will slow down the tool-changing movement to keep the resulting inertia within the specified limits of the ATC's electric motor.
To lower cycle times and increase throughput, the machine also comes with a PC2 automatic pallet changer, with each of the two pallets spanning 320 mm (12.6"). With this two-pallet APC, one pallet can be inside the machining cabinet as workpieces are being cut while the other pallet is at the ready station, prepared for machining and waiting for its turn to go inside. In addition, he noted that the pallets can rotate 360 degrees, giving the benefit of a rotational fourth axis that allows multiple workpiece sides and surfaces to be machined.
Besides the additional throughput made possible by the dual-pallet APC, Otto said users of the MH 320A who switch from vertical machines may see their part output rise by 40% simply because the horizontal machine allows them to add more workholding. But in this case, he added, the compact horizontal machine doesn't take up much more floor space than a vertical.
As an example of the big impact that the small MH 320A can have on machining operations, he cited a customer that had purchased many small vertical machines from the company in the past.
This customer, which had one or two people running four vertical machines, bought four MH 320As with their dual-pallet APCs to significantly boost output "without adding more bodies" to the process, Otto said.
Now, with the four additional MH 320As, "those same two guys are running twice the (number of) machines and getting four times the amount of parts out," he said.