Author
Alan Richter
Published
October 01, 2013 - 10:30am
Job shops often fret that machinists and other skilled workers will jump ship when competitors lure them away with increased pay. However, shops don't have to worry as much about that scenario if their company culture fosters a respect for employees that they reciprocate. Linda Tool, a manufacturer of machined components and assemblies, is one such company.
Company President Michael DiMarino recalled how one worker informed him of another shop's job offer with a salary that was more lucrative than Linda Tool could justifiably match. The worker also told DiMarino about his desire to eventually retire from Linda Tool. In the end, he accepted Linda Tool's lower counteroffer.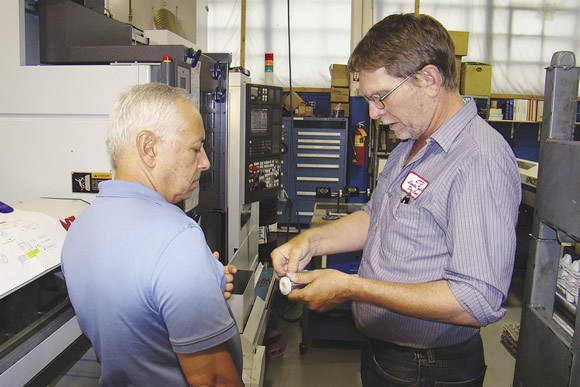 All images courtesy A. Richter
Linda Tool President Michael DiMarino (left) and Production Manager David Holmes discuss a component with a hole about 17 diameters deep that was produced using a special drill (below) from Allied Machine & Engineering Corp. The drill allowed the company to move a previously outsourced gundrilling job to an in-house lathe.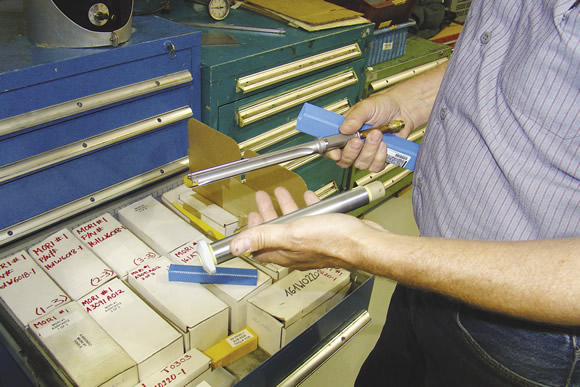 According to DiMarino, retaining skilled workers is critical to surviving an economic downturn and thriving once the business cycle improves. Otherwise, the workers are usually no longer available and replacements are difficult, if not impossible, to find.
"Those who want to make sure the bottom line looks good and want to chop heads right away are the ones who will have difficulty restarting," he said, noting the company hasn't laid off a worker since 1983. "Laying off is a tragedy; firing is a necessity. If someone doesn't fit, there's no sense in wasting time. Machine tools are very expensive, but the people who run them are priceless."
'Everybody Loves Brooklyn'
Rudy Cataffo founded the company in 1952 as Linda Tool and Die Corp. but the Die portion was laid to rest over time as the operation transitioned from a tool and die shop to a manufacturer of precision machined components and assemblies for various industries, including machine building, aerospace, energy, electronics and medical. Volumes range from prototypes to a couple thousand parts.
DiMarino came on board as an employee in 1975 when the company had three employees and operated only manual machines. Understanding the value of productivity-boosting equipment, as company president he invested in CNC technology and began growing the shop, which now has about 10 times the 1975 headcount. DiMarino purchased the shop in 1988.
Although properly zoned for machining, the previous facility's configuration in a multistoried building wasn't conducive to Linda Tool's evolving operations and, along with that area of Brooklyn's gentrification, DiMarino decided to move the company to the Red Hook area of Brooklyn 9 years ago. "I chose to stay in Brooklyn because most of my staff is from Brooklyn or Staten Island," he said.
Since the move, Linda Tool has continued to invest in machining technology and purchased at least one major piece of equipment annually, including three new Mori Seiki multitask machines, with the third one scheduled for delivery this year. This will enable the shop to continue to reap the benefits of machining parts complete in a single setup while reducing the total number of machines.
DiMarino estimates a multitask machine tool replaces two and a half conventional machines. Linda Tool also has 5-axis capability, with two machines configured for 3+2 machining, and plans to soon have simultaneous 5-axis technology for effectively machining increasingly complex part geometries.
To enhance chip evacuation and cooling of the tool/workpiece interface, Linda Tool purchases ChipBlaster 1,000-psi coolant systems, which are coupled with the ChipBlaster's MistBlaster mist collectors. All the machines have mist collectors, DiMarino pointed out, and HEPA filtration in the return-air plenums of the air conditioning system catches what the mist collectors do not.
The technology that has been put in place allows Linda Tool to have the capability to machine a variety of materials, including alloy steels, titanium, Inconel and aluminum bronze.
The shop's metamorphosis includes achieving ISO 9001:2008 – ANSI/ISO/ASQ Q9001-2008 and AS/EN/JISQ 9100:2009 certifications in 2009. "It's a discipline throughout my shop that we need to maintain," DiMarino said about the quality standards.
He added that the shop's quality assurance manager monitors the quality-related processes for all of the jobsto determine if any "holes" exist. "We plug them up accordingly and without burdening [the jobs] with costs, because that'll kill them," DiMarino said, noting input is also sought from those running the jobs. "Our idea might be fine on paper, but for the guy who's turning the wrench, it may not be feasible at all. We usually put together a good method of improvement."
Back to School
In line with the company's drive for continuous improvement, DiMarino participated in the inaugural Goldman Sachs 10,000 Small Businesses Program, which was conducted in conjunction with LaGuardia Community College. The program took place during the Great Recession of 2008 to 2010, when business slowed markedly. "We were in the midst of the downturn and I needed to spice this place up with something," he said. "We were determined not to lay off anyone."
DiMarino explained that he applied for the program when working with the college's Procurement Technical Assistance Center, which helps businesses market their goods and services to federal, state and local governments by simplifying the steps necessary to successfully sell to government purchasing agents. After completing the application and being interviewed by four Goldman Sachs partners, he was accepted into the program, which is geared toward effectively operating a business and managing finances.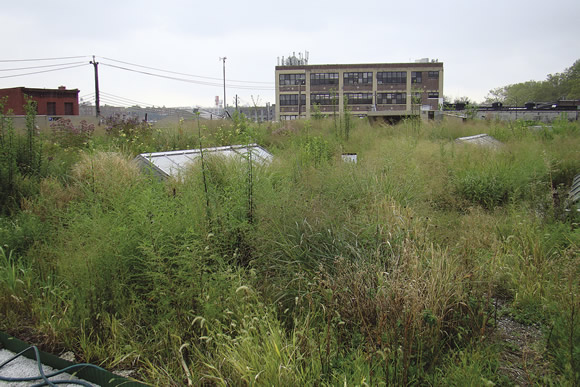 Linda Tool's green roof helps maintain temperature and humidity in the shop and offers a view of the cranes at the nearby former shipyard (below). The roof consists of a concrete roof deck, 2 " Styrofoam roof insulation, root barrier mat, filtered drainage mat, coconut biodegradable mat, 6 "- to 8 "-thick Gaia Soil and native sedum plants.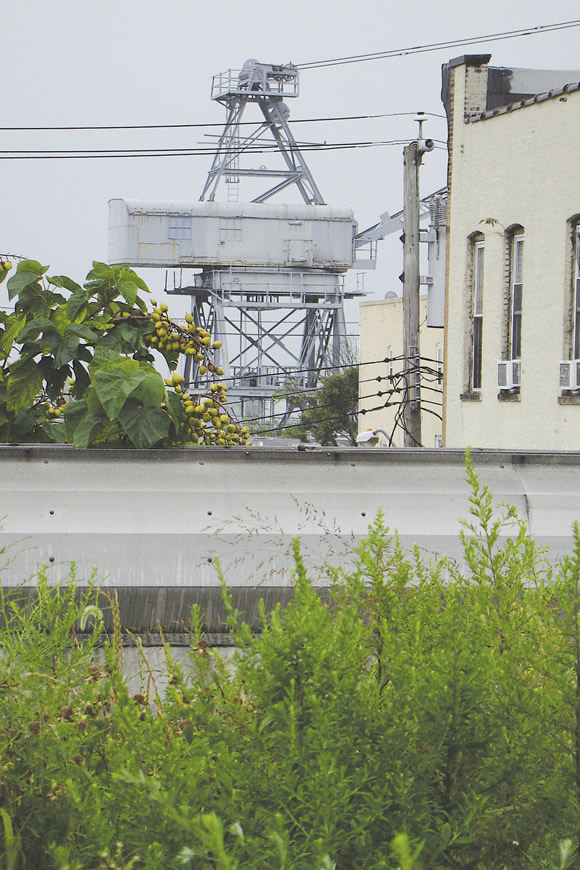 "It's like a mini MBA program," he said. "It was eye-opening in what we were exposed to during the program. Every aspect of properly running a business was pretty much covered and covered by a great group of people, both fellow students as well as the instructors. The growth of my business network has been exponential due to that program."
DiMarino added that he's still in contact with the "fellow scholars" from the program and has conducted business with five or six of them, as well as some of the instructors.
As a result of the exposure he gained from participating in that high-profile program, DiMarino was invited to participate in the New York City metropolitan area pilot of the CEO-UBS Small Business Advisory Program, a 6-month joint venture program between the William J. Clinton Foundation's Clinton Economic Opportunity (CEO) initiative and UBS Wealth Management Americas. The two organizations worked with 10 small businesses in New York to promote entrepreneurship and offer business-to-business mentoring. "It's amazing the marketing benefits I've gotten because of that [Goldman Sachs program]," DiMarino said. "Stuff like that gets around."
DiMarino's mentor was retired Vice Adm. Edward M. Straw, who is a former president of global operations for Estée Lauder, helps young entrepreneurs raise money as founder and managing partner of Osprey Venture Partners and serves on six corporate boards of directors. "As the mentee, you have to have a hunger for it and work hard at it," DiMarino said. "It's not a handout."
One piece of advice DiMarino received to increase profits was to bid directly with the Department of Defense and military contractors rather than through prime contractors, which facilitate the bidding and handle the paperwork. Bidding directly eliminates having to pay the distributor's markup. "We're starting to put together an administrative staff that can handle heavily administered jobs," he said. "On some of these jobs you do more paperwork than you do metalcutting."
Vice Adm. Straw explained that he took DiMarino to the Defense Logistics Agency in Fort Belvoir, Va., which buys consumable repair parts for all the services, introduced him to the people there who deal with small businesses and convinced him to hire somebody who understands the agency's requests for quotes on items according to the federal part number. "I'm pretty proud of that effort," Straw said. "The program didn't have a first prize but we were informally told we had done a better job than any of the other teams working in this project and we got to go to dinner with Bill Clinton, which was a real hoot."
DiMarino added he is still in contact with Vice Adm. Straw—"a great guy."
Straw said: "He calls me and asks for advice any time he wants. We have lunch probably once a month, so we've gotten to be really good friends. He's a patriot of the highest order."
Greening the City
As a hunter and fisherman, DiMarino tries to keep the great outdoors beautiful. Therefore, he noted Linda Tool operates in an eco-friendly manner, reusing cardboard and plastic containers for shipping when possible and recycling cardboard, paper, bottles and metal chips. In addition, the company uses aqueous-based cleaning and degreasing fluids and a semisynthetic coolant that reduces waste coolant by 60 percent compared to its previous coolant.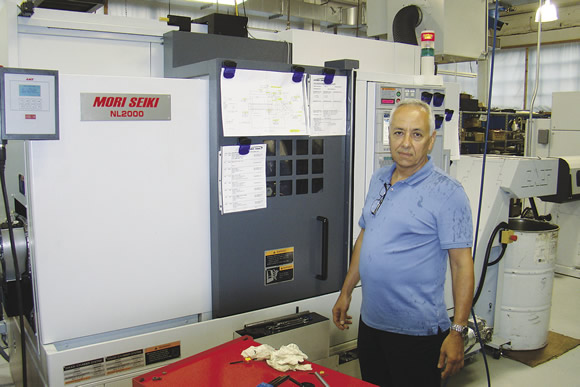 Michael DiMarino continues to invest in machining equipment, such as the NL2000 "next-generation" lathe from DMG / Mori Seiki.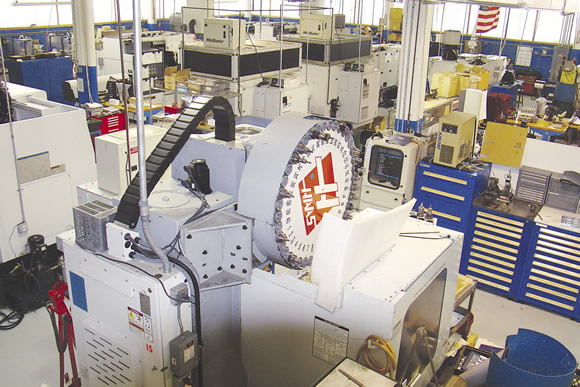 A partial overview of Linda Tool's 12,500-sq.-ft. facility.
Other environmental initiatives include installing high-velocity hand dryers to reduce paper waste in the locker room, and lighting the shop with high-bay LED lights from LED Waves, Brooklyn, to substantially reduce electrical consumption and maintenance. The LED lights have a life of 100,000 hours vs. 35,000 for fluorescent lighting, which is the other energy-efficient choice, according to DiMarino.
In 2009, a "green roof" was installed on the building to help insulate the shop and cool it by soaking up solar energy that would otherwise heat the roof surface. The green roof reduces air conditioning and heating oil usage by 22 percent and 16 percent, respectively, while helping to keep the shop environment controlled at around 72° F with about 40 percent humidity. "I didn't know anything about green roofs in 2008 and in 2009 I had one," DiMarino said. "It is to date the most unique green roof in New York City."
The roof consists of 6 " of engineered Gaia Soil and 7,000 native sedum plants. It was made possible with a federal grant administered by Southwest Brooklyn Industrial Development Corp.
The roof even helped attract a worker. DiMarino explained that someone in Austria saw an interview he did with the BBC, which took place on the roof. The viewer e-mailed DiMarino that he would like to see it if he ever visited New York. When he eventually arrived to see the roof, he mentioned his involvement in the machine tool business. "We interviewed him and he's been here 2 years now," DiMarino said. "He's a fabulous guy."
Training is Key
Others don't necessarily arrive at Linda Tool with the required skills. DiMarino noted the CNC milling lead man began by sweeping the shop floor. "He could only just about operate a broom then, and now is a whiz on the equipment."
According to DiMarino, training is critical to achieving machining success, but effective training requires finding people with the ambition and willingness to work and learn rather than just wanting a paycheck. "When they have a hunger for training, they can learn a lot," he said.
DiMarino added that he works with the New York City Department of Small Business Services and Commissioner Robert Walsh to obtain grants for training programs, has workers train with machine tool dealers and wants to start an apprenticeship program. In the meantime, Linda Tool remains busy, working two shifts and Saturdays and running lights-out machining when needed. "The guys are working close to 60 hours a week," he said. "I've been blessed with a great crew." CTE
For more information about Linda Tool, visit www.lindatool.com or call (888) 462-1029.