Author
Kip Hanson
Published
June 08,2018 - 04:30pm
So you just bought an industrial internet of things-capable machining center or CNC lathe. It's connected to the company network, the firewall is set up, and data is spilling all over the place. 
Now what? Must you hire a team of data analysts to decipher what your shiny, new machine tool tells you? And what about all your older, less technically advanced CNCs? 
Many manufacturing people might argue that it's no good tasting a little slice of the IIoT pie if you can't eat the whole thing.
---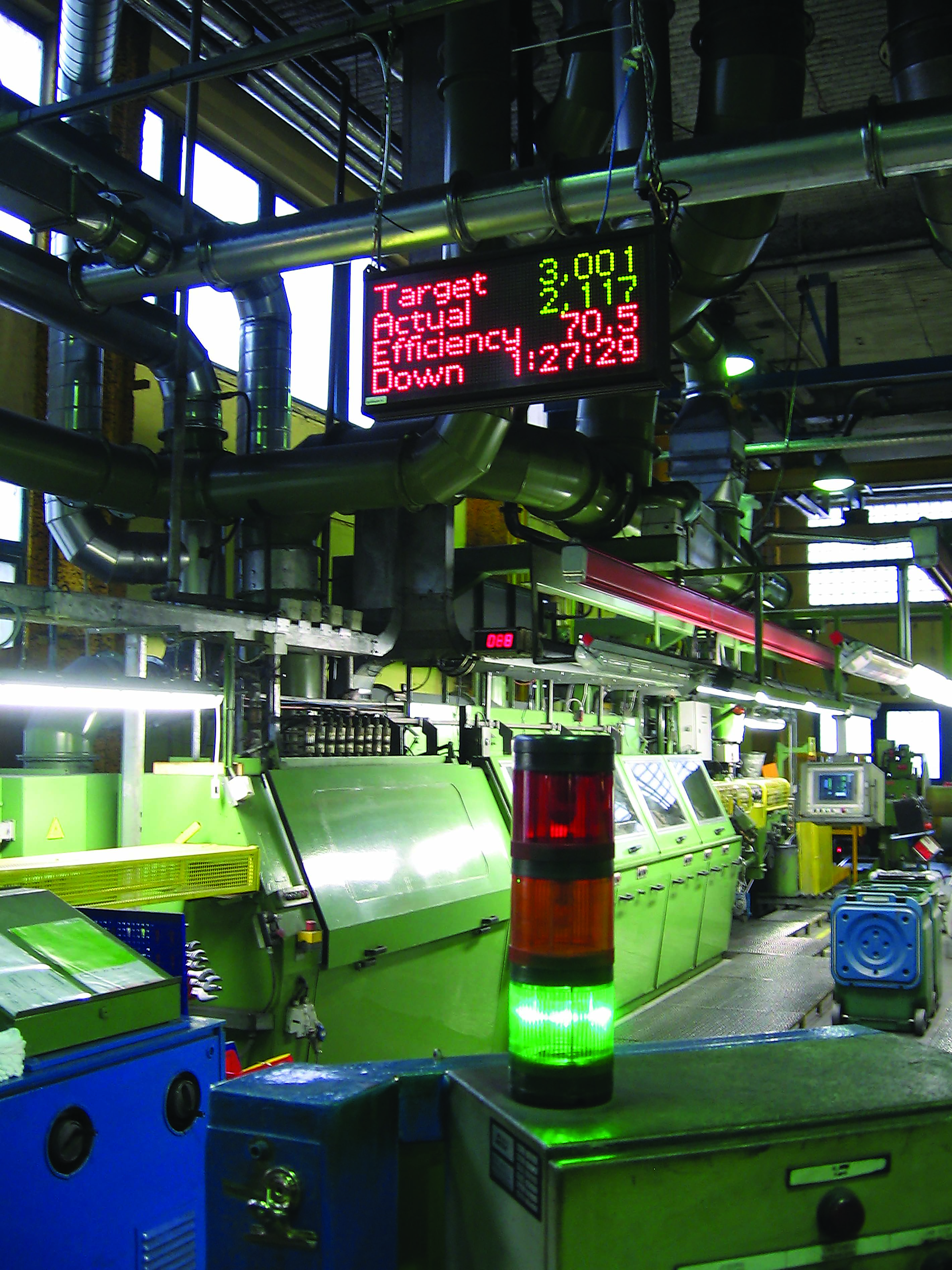 Andon displays provide a real-time view of current production status. Image courtesy of Vorne Industries
---
Like it or not, Industry 4.0 is here. The networked nature of our cars, appliances and, yes, machine tools will only increase. Choosing to ignore that fact won't keep you from producing parts, but it could mean that at least some of those parts end up being produced at a more efficient, technologically savvy machine shop next month. That's because analyzing shop-floor data will soon be every bit as important as collecting timecards and raw material invoices and calculating what your parts actually cost to produce.
A Thousand Points of Light
The IIoT is admittedly a big nut to crack. One popular CNC machine tool builder advertises that its customers have read/write access to 6,000 data points. Another boasts that its machinery contains up to 60 embedded sensors, able to monitor everything from the spindle temperature to how much power is being drawn on the axis motors. Machine tool apps seem as ubiquitous as those available for a smartphone. 
With all these choices, how do you begin to monitor your machine tools?
---

Automated machine monitoring provides valuable overviews
of the entire production floor. Image courtesy of SensrTrx
---
"We look at monitoring as a way to solve a business problem," said Bryan Sapot, CEO of machine analytics provider SensrTrx, St. Louis. "Typically when a company comes to us, they have something specific in mind that shop-floor data will help them fix. Maybe they have excess downtime. Maybe there's one machine that they just can't get good parts off of consistently. Analyzing the data coming off that machine tool helps us to work backwards and figure out the best way to solve the problem."
Sapot said there's no need to hire an analyst, though. Machine analytics software should be easy enough to use that any technically minded person can create simple, metric-based dashboards. In turn, everyone from the maintenance people to the president should be able to understand these dashboards and instantly see what's going wrong and where they should focus their efforts to correct problems.
Those efforts often bring big returns. One of Sapot's customers, which has several production cells used to machine castings for Honda and Subaru, was able to increase overall equipment effectiveness by 31 percent in just 60 days. After implementing a machine monitoring solution, another customer eliminated paper timecards while gaining greater visibility to scrap, machine downtime and other profit killers. 
Cut Big Data Down to Size
In the first example, Sapot noted, the customer quickly identified several areas in which it could increase machine performance and realized that its workholding was causing problems. It reconfigured the cell, adjusted the tooling and saw an immediate benefit. "Machine monitoring shines a light on the issues that cause inefficiency and bad parts," he said, "then allows you to more easily align all the different people needed to resolve these issues."
---

Seeing machine downtime as it occurs helps reduce its negative effects. Image courtesy of SensrTrx
---
Gathering production data isn't limited to new machine tools. You can be sure that your vintage vertical machining center with the noisy spindle bearings has tales to tell, but how do you get the control to share those secrets? 
Adrian Pask, vice president at Vorne Industries Inc., Itasca, Ill., said it's easier than you might think. "We've sold more than 20,000 XL Productivity Appliances in 45 countries. (The Productivity Appliance is a bolt-on LED "scoreboard" that relays performance data plantwide in real time.) We use a standardized hardware device to connect with any machine tool control, relay, proximity switch or PLC from any manufacturing process. All we need is a 5- to 25-volt input to capture the data, which is then pulled into the local server that's included in our solution. Installing one takes a couple hours and can be done by anyone with a high school education in electronics."
Once collected, the data can be displayed above or near machine tools, giving operators a real-time view of their performance versus key productivity metrics. The data can also be used to build reports and dashboards for management.
---
Dashboards are a great way to analyze multiple machine metrics simultaneously. Image courtesy of Vorne Industries
---
Pask said shops with new IIoT-ready machine tools may already have the builder-supplied software needed to analyze machine data. Shops with an eclectic mix of old and new equipment benefit most from Vorne's solution, Pask said. "Even in the world of machine builder app stores and whatnot, I would still start with a standard platform that can be used across all of the equipment. It just makes things easier. And while there are lots of complex PLC-integrated solutions available, our goal is to be the easiest." 
Beyond Monitoring
It's also important to identify your needs before diving in. Tracking overall equipment effectiveness and downtime is a straightforward activity for Vorne and similar machine monitoring systems, Pask noted. However, for a shop that needs to manage maintenance activities and shop-floor assets—possibly feeding that information to the company's enterprise resource planning system—production-tracking software like a manufacturing execution system (MES) is needed. 
PA Group USA, a Microsoft Dynamics implementation partner in Chattanooga, Tenn., offers a good place to start. Bob Buechel, vice president of business development, said MES brings many benefits to the table beyond basic machine monitoring.
"Using an MES to integrate machine data with the company's other software systems creates a vertical software package, starting with the machine tool all the way through to the shipping door," he said. "You're transacting on the floor when a machine starts on a production order, which feeds data up into the planning and scheduling system." 
---

Identifying the shop's top losses helps prioritize problem-solving efforts. Image courtesy of Vorne Industries
---
Buechel explained that if the MES sees that a machine is down, management is immediately made aware of the reason so that appropriate action can be taken. In addition, customer service can automatically be alerted to any production delays, giving the information needed to notify the customer. 
"And, of course, machine data such as bearing temperatures or spindle loads are easily recorded and analyzed," Buechel added. "The sky's the limit really."
There are many ways to achieve that skyward leap, Buechel said. Newer machines and equipment that can communicate via a standardized vocabulary like MTConnect are simple enough to connect, but protocols such as virtual desktop infrastructure and open platform communications are other alternatives. There are also many hardware devices available that turn even the most "nontalkative" machine into a virtual chatterbox.
"That's the age-old debate: how to get the data from the machine," Buechel said. "Worst case, you'll have to build a custom software interface, although in most situations that's not necessary." 
However a company goes about it, Buechel said, gaining visibility to the machine tool solves a lot of problems. It allows the capture of diagnostic data for preventive maintenance purposes. The data can be used to analyze and improve manufacturing processes. It can also be used to build web-based portals, making production data visible from anywhere in the world.
Probably the coolest use Buechel has seen for this data is machine learning, something he said is aimed at eliminating problems before they happen. 
If you can deduce a pattern that occurred on a machine that caused product quality to go off the rails—the wear characteristics of a certain tool, for example, or an abnormal spindle temperature—you can, in essence, change the future. "It only takes one instance of avoiding a scrapped job or damaging a $100,000 machine tool to recoup your investment," he said.