Author
Alan Richter
Published
March 06,2018 - 11:15am
Baker Industries Inc. reports that it has installed an Emco Mecof Powermill 5-axis vertical milling center—the first of its kind in the U.S. and one of the largest milling centers in the Midwest. The Macomb, Mich., company invested $3.4
million in the 11-month construction and build project.
"Our willingness to proactively make investments to support our customers' needs has allowed us to achieve continuous growth year after year," stated Kevin Baker, president of Baker Industries.
The machine was purchased primarily to machine large assembly tools, bond tools and layup tools for OEM and Tier 1 customers. It became fully operational in January, said Rachel Burke, director of marketing for Baker Industries. "It's raring to go."
She added that the company selected the Powermill in part because of Baker's positive experience with the Emco Mecof Ecomill horizontal machining center that it purchased early last year. In addition, the Powermill is far from being a commodity machine tool. "Quite frankly, there are just not a lot of machines out there that are able to cut aerospace tools of the size that we need," Burke said.
---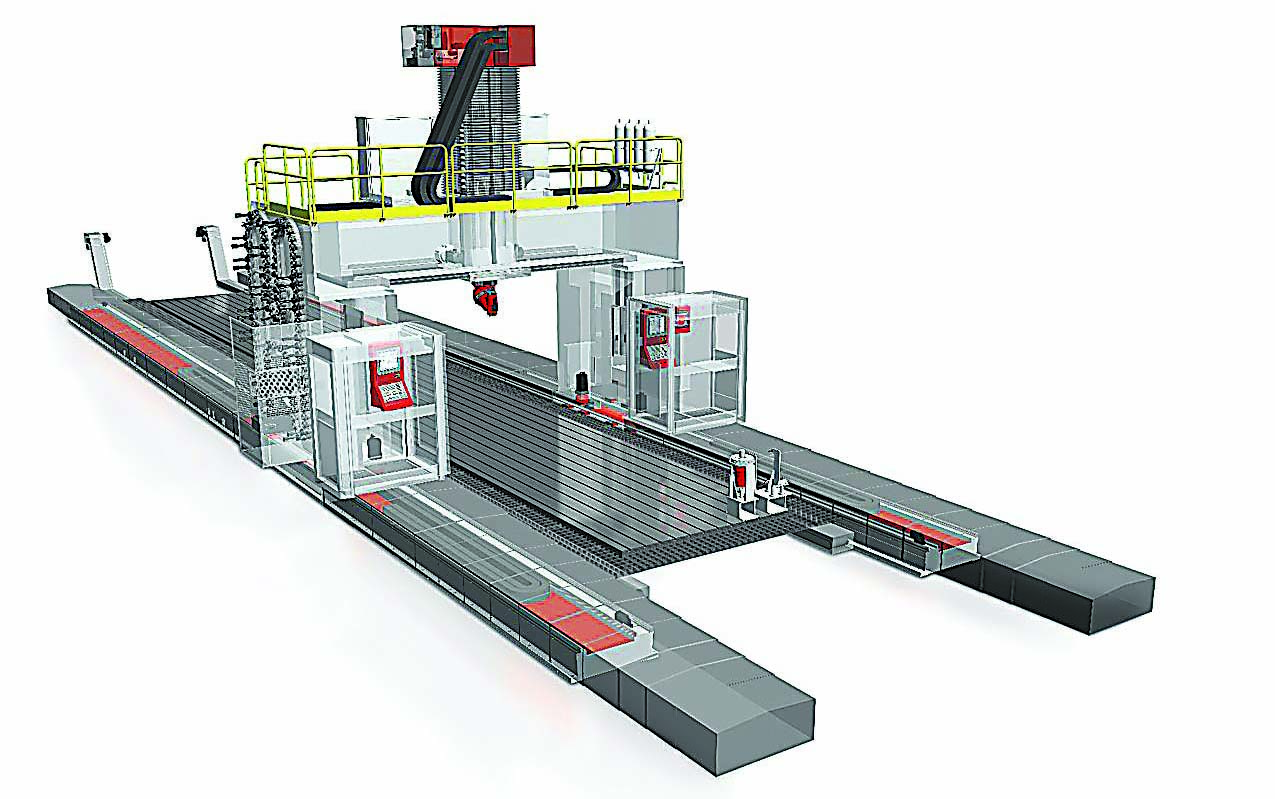 The Emco Mecof Ecomill horizontal machining center's platform is large enough to hold seven full-size SUVs or two semitrailers.  Image courtesy of Baker Industries.
---
The 52'×20'×10' (15.8m × 6.1m × 3.0m) work envelope is large enough to accommodate seven full-size SUVs, according to Baker Industries. Parts weighing up to 2.6 million lbs. (1.2 million kg) can be processed on the machine's stationary table. The machine offers an X-axis travel of 46' (14m), a Y-axis travel of 20' (6m) and a Z-axis travel of 8' (2.5m).
Although the machine has cut several parts set up on the table at one time, Burke said the company's other 38 CNC machines are capable of handling less-than-massive parts.
The heavy-duty machining potential of the new 5-axis VMC is exemplified by its bifurcated cross rail, which has ram and saddle riding, and guiding inside the cross rail.
To prepare the plant to accommodate the machine, Baker removed about 436,000 lbs. (197,766kg) of 10"-thick (254mm) concrete in 4'×4' (1.2m × 1.2m) sections. The total material excavated from the 45'×75'×7' (13.7m × 22.9m × 2.1m) pit weighed close to 1.2 million lbs. (544,311kg).
Once the contents of the pit were removed, roughly 1.94 million lbs. (879,969kg) of crushed stone and concrete were poured into it, spread and tamped down. All concrete was poured the same day to eliminate any seams in the foundation; nearly 60,000 lbs. (27,216kg) of steel reinforcement framework was added to support the structure.