Author
William Leventon
Published
August 01, 2023 - 11:00am
Besides combining vertical and horizontal five-face milling with vertical turning capabilities, a machine tool from Taiwan-based You Ji Machine Industrial Co. Ltd. is designed to provide rigidity and high torque.
So says Lorain, Ohio-based Absolute Machine Tools Inc., which has added the machine, called the VMT-1000+Y vertical mill/turn center, to its line of large vertical turning lathes from You Ji Machine Industrial. The VMT-1000+Y offers five-sided and 4+1-axis milling and turning of workpieces in a single setup.
"Traditionally, a standard vertical lathe had either two or three axes," said Klaus Miller, vice president of sales at Absolute Machine Tools. "Not until the last five or six years did they come up to five and even six axes sometimes."
Absolute Machine Tools points out that the simple design of the five-axis VMT-1000+Y doesn't require belts and gears for the axes. Instead, servomotors drive 2"-dia. Class 3 precision ballscrews during machining.
Also notable are the heavily ribbed Meehanite castings used to make the machine's vertical column and base. These castings minimize thermal distortion and dampen vibration, according to the company.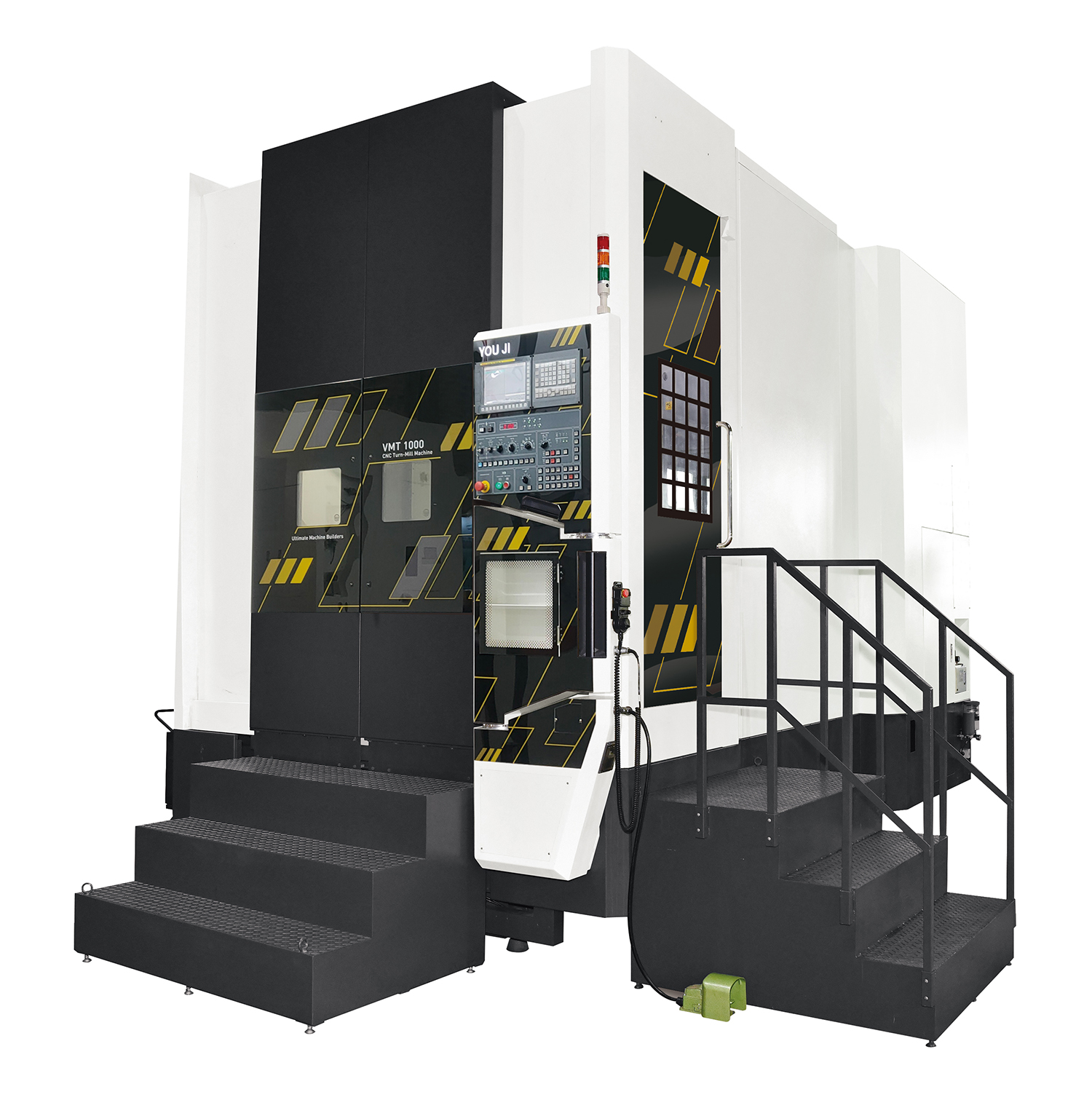 In fact, Miller said one of the main selling points of the machine is its construction. Featuring a rigid box guideway structure, the one-piece unit is built like a boring mill-type column, he noted.
"This is not a light-duty machine," he said. "It's an extremely heavy machine, far heavier than other machine tools like this."
For smooth operation, the machine includes a forced lubrication system. In addition, the mating surfaces of the box guideways are hand-scraped and coated with Turcite-B.
Another feature touted by Absolute Machine Tools is the machine's 20 hp, 50-taper milling spindle. Powered by a two-speed ZF planetary gearbox spindle drive, the 30 hp double-wound Fanuc P series main spindle motor delivers more torque at lower speeds than a 50 hp single-wound motor, according to the company.
The VMT-1000+Y also includes a standard 24-tool arm-type automatic toolchanger with a 55-lb. tool weight capacity.
Offering a standard turning diameter and maximum turning height of 39.4" (1,000 mm), the machine is suitable for medium-to-large-size workpieces.
"It's a rather large machine with large capacities," Miller said.
He noted that the VMT-1000+Y is ideal for machine shops that ordinarily would move parts from a vertical turning lathe to a boring mill.
"It saves time when you no longer have to do a secondary milling operation in another machine tool," Miller said.
As for applications, he reports that the VMT-1000+Y is becoming popular with pump manufacturers. For this, he credits the vertical turning and milling capabilities, which make it possible to machine multiple sides of a part in one setup.
In addition to pump manufacturers, Miller said a number of companies that make gearboxes and valve bodies have either purchased the machine or shown "very serious interest" in it.
Although Absolute Machine Tools has provided VMT-1000+Y quotes to high-volume manufacturers, he believes that the machine is a better fit for high-mix, low-volume machining operations because it eliminates the need for multiple setups.
In those operations, "you can machine a part complete in one (or) maybe two setups at most," Miller said.
On the downside, he pointed out that combining milling and turning in a single machine can slow production. The reason, he explained, is that shops that have separate machines for milling and turning can do both simultaneously, but the processes must be done one at a time by an individual mill/turn machine.
With a machine like the VMT-1000+Y, however, Miller said shops are better able to deal with the labor shortage in the machining industry.
"The upside," he said, "is that you only have one setup and you only need one operator."