December 10, 2019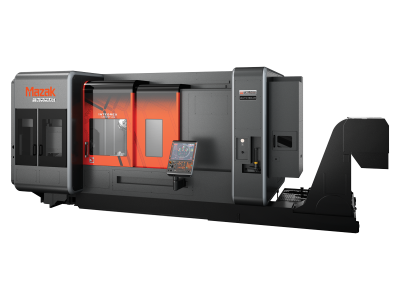 Mazak Corp. offers the Integrex i-200ST AG hybrid multitask machine for Done In One gear production. Equipped with the Auto Gear (AG) package, the machine efficiently processes mid-size complex components with the added versatility of twin spindles, milling spindle (S) and a lower turret (T), as well as a full range of Smooth Technology solutions.

Unlike conventional gear machining, which requires specialty tools, single-purpose machines and redundant workholding, Mazak's AG package gives manufacturers the ability to perform complete part processing for a wide variety of gear types. The machine can produce datum features, chamfers, edges and other part features in a
single set up, reducing the need for redundant workholding and work-in-progress inventory.
The Smooth gear cutting software package included on the Integrex i-200ST's Mazatrik SmoothX CNC includes Smooth gear skiving, Smooth gear hobbing, Smooth gear milling and Smooth gear measuring for the production of both external and internal spur, helical and spline-type gears. This assures complete geometric freedom without added complexity as operators can use Mazak's powerful HMI solution to easily create programs on the control. The AG package pairs well with the highly productive Integrex i-200ST platform, which features two turning spindles
that provide equally high levels of performance thanks to 5,000 rpm speeds and C-axis turning control. Both spindles have a bore capacity measuring 3" (76 mm) in diameter.
For C-axis contouring versatility at either turning spindle, the Integrex i-200ST AG uses a vertically mounted milling spindle that provides 30 hp (22 kW), 12,000 rpm and a rotating B-axis range of ±120 degrees for 240 degrees of motion. Mazak's unique roller cam drive for the B axis ensures higher accuracy and rigidity while providing zero
backlash.

The lower turret on the Integrex i-200ST AG model comes standard with space for nine turning tools. The lower turret, working in combination with the machine's milling spindle, may be applied to either side of the machine headstock to reduce machining cycle times.
Mazak incorporates its MX hybrid roller guide system into the Integrex i-200ST AG for durability and reliability, resulting in long-term accuracy. The MX hybrid roller guide system dampens vibration to extend tool life, handles higher load capacities, accelerates and decelerates more quickly to reduce cycle times, consumes less oil for more environmentally friendly operations, and lasts longer with less required maintenance.
For a compact multitask center, the Integrex i-200ST AG provides an ample Y-axis travel of 9.8" (249 mm) and vertical X axis of 24.2" (615 mm), with 4.92" (125 mm) below centerline. The machine accommodates parts up to 25.9" (657.8 mm) in diameter. And because its tool magazine is located at the front, machine operators can do programming and tool setup with minimal required movement. Additionally, all machine lubrication points and gauges are gathered behind a single panel for ease of viewing and maintenance.