Author
Alan Richter
Published
October 01, 2016 - 12:30pm
Seco Machine is not a contract manufacturer, machine shop, moldmaker or urethane parts producer—it is hybrid of all of them. The North Canton, Ohio, company also offers ancillary services, such as assembly, warehousing, specialty packaging, coatings and production sawing.
"I don't believe we have a single customer for which we just do machining," said General Manager Steve Seccombe.
Of course, that wasn't always the case.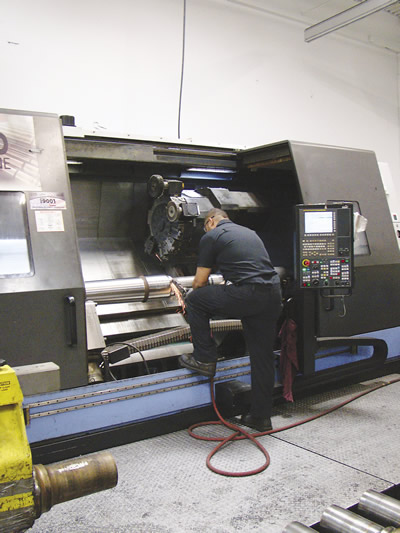 A rail axle is refurbished at Seco Machine. Image by A. Richter.

From Short to Long Term
Steve explained that his father, Richard, started Seco Machine in 1985, after working as a plant manager for a company that, after being sold, forced him to retire at age 62. At the time, Richard was working on a backing-ring project for the railroad industry that the new owners of the company didn't want to pursue, so he purchased two used machine tools to produce prototypes in a corner of an old plant in Canton.
"It was almost like a pet project," Seccombe said, noting he was a junior in high school at the time and worked in the shop along with his brother. "Tom and I were just free labor," Steve said of his sibling. Richard Seccombe retired from Seco in 2002; Thomas Seccombe is now the company's operations manager.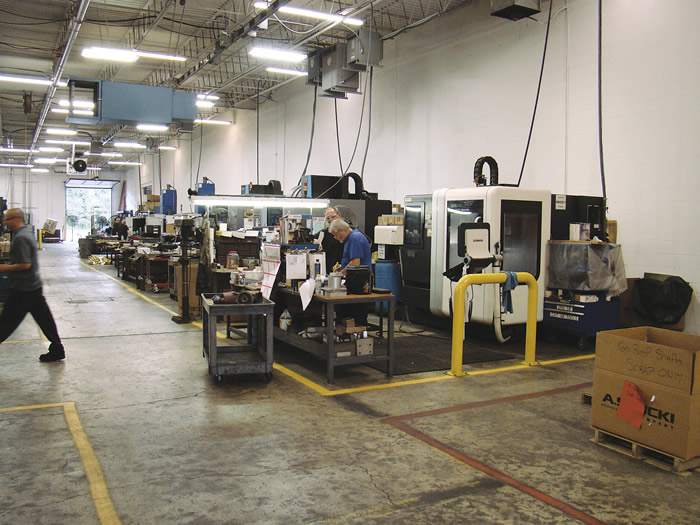 A Deckel Maho DMU 50 is at the heart of Seco's department for making aluminum molds (below). Images by A. Richter.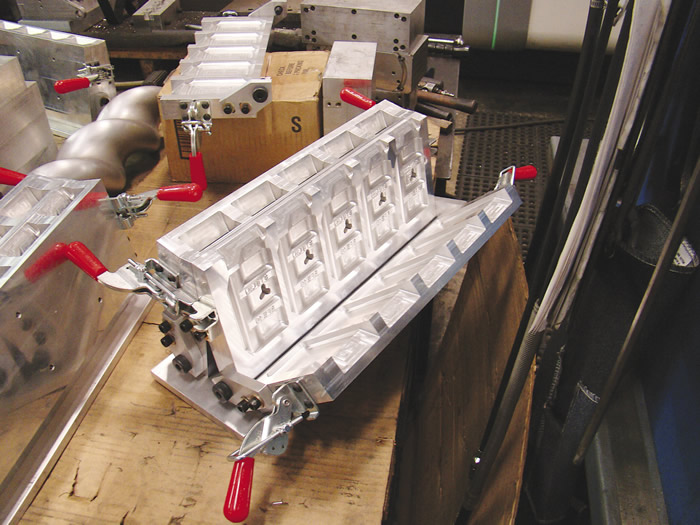 That prototype job was for The Timken Co., which is still a major customer, Seccombe said. After making the prototypes, Timken requested Richard Seccombe to run the first production batch of parts, because Timken wasn't ready to do so. Then Timken asked him to produce the second batch. "That was 30 years ago."
After about a decade, Seco Machine needed a larger facility and had a new 35,000-sq.-ft. plant built in North Canton. Seccombe said designing the facility enabled the company to re-engineer its production and quality processes. "It gave new life to our employees and new life to our customers, because it was a nicer facility to bring customers to."
Time for a Change
Partly as a result of being hit by the Great Recession in 2009, the Seccombe family sold Seco Machine to A. Stucki Co., Moon Township, Pa. Stucki is a 105-year-old organization that provides products and services to the freight and industrial markets. Because Stucki wasn't interested in owning the real estate, Seco Machine moved into one bay of a seven-bay, multiple-tenant building at its current location and proceeded to grow its machining operations while adding urethane parts production—about 75,000 parts per month—and moldmaking.
"We've slowly pushed most of the other tenants out," said Anne Kocher, Stucki's director of marketing. "It's all connected now." She added that Seco has 60 employees at its 75,000-sq.-ft. location.
Stucki's vice president of the industrial/commercial group, Daniel J. Mihalcak, said Stucki purchased Seco Machine because Stucki needs machining for a lot of its components and wants machined parts delivered in a suitable time frame, particularly when the business cycle is up and its competitors require more machined parts as well. Numerous other companies are under the Stucki umbrella, too, such as a foundry to cast parts and a manufacturer of large springs for freight cars and locomotives.
"Those are very big pieces of the puzzle that allow us to react quickly to customers and get them refurbished or new products," Mihalcak said.
He added that Stucki's philosophy is to let the previous owners of a company Stucki purchases continue to operate it autonomously. "Let's face it, these guys (Seco) are the experts," he said. "They cut their teeth growing this company from a family business."
As Seco Machine continues to grow, it plans to break ground on a new 100,000- to 120,000-sq.-ft. facility, which Mihalcak estimated should be completed in a little over a year. The larger, designed-from-the-ground-up plant will enable the company to continue its diversification effort; rail represents about 60 percent of the business. In addition, the new facility will allow Seco to automate more of its processes, which is especially important when serving automotive and military customers, he said. "Automation is the only way to be competitive."
Seco operates three robotic work cells, ranging from "down-and-dirty turning" to high-capability machining with a main spindle, subspindle and cutting tools driven by the Y-axis, according to Seccombe. "We could do almost anything in that one machine," he said of the latter cell, "while reducing setups and changeovers."
'Worst of Both Worlds'
Austempered ductile iron, which is used heavily in the rail industry, is Seco's "signature" workpiece material. "Ductile iron is the base, with some additives," Seccombe said. "It has some wonderful, unique properties."
More specifically, the desirable properties of ADI are due to its unique matrix of acicular ferrite and carbon-stabilized austenite, called Ausferrite. Small quantities of alloys such as nickel, copper and molybdenum are added, followed by austempering heat treatment. The result is a material that offers the low-cost manufacturability of ductile iron casting and yields near-net-shape, abrasion-resistant parts.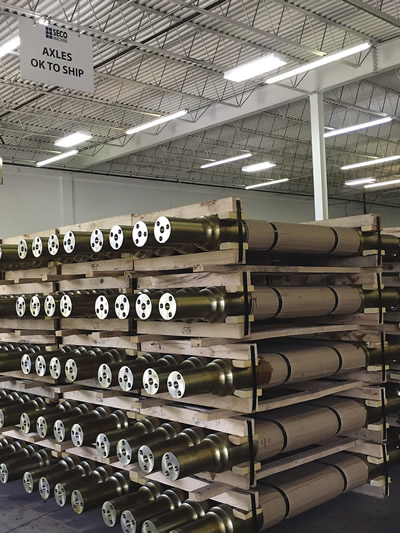 Image courtesy Anne Kocher, Stucki.
Axles ready to ship (above) and ones ready for refurbishing (below).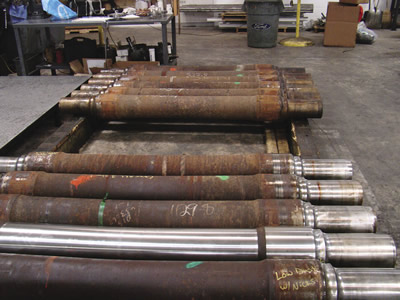 Image by A. Richter.

Although ADI parts are usually quite durable, machining the material can wreak havoc on cutting tool life. "We always joke that it's the worst of both worlds," Seccombe said. "It's abrasive to the tooling and it's very hard. You can deal with one of those, but it's hard to deal with both."
The hardness of ADI parts can vary on purpose. For example, there is a 100-HB difference in hardness when a dominant part and a submissive part work in concert, Seccombe explained. This variance enables the part with the lower Brinell hardness number to function as a wear part. "Otherwise, the two will fight and you'll get galling," he said.
To find an effective cutting tool solution for a job, Seco Machine tries offerings from multiple manufacturers—with varying degrees of success. "More than once, whether it's CBN or some oxide coating, we're told it's an expensive insert but it will run all day—and we [only] get four pieces out of it," Seccombe said.
"Needless to say, the cutting tool people love us," Mihalcak quipped.
Seco Machine also analyzes its tools using 3D graphs that have a target-area plateau to determine how much tool life is possible based on the various machining parameters. "As long as you're anywhere on the plateau," Seccombe said, "you're getting about as much as that tool can do."
The target for ADI, however, is smaller than it is for the other materials the company machines, including stainless steel, regular ductile iron, aluminum and 4140 steel. "If you hit the target, you're getting 25 pieces per edge," Seccombe said about ADI. "If you miss the target, you're getting two or three pieces."
Adding to the challenge is variations in castings. "We can run for 6 months, running in the middle of that target, getting 25 pieces, and all of the sudden we will get a load of castings and get six and have to start all over," he said.
Seccombe described Seco Machine's traditional volume as middle production, being less than automotive quantities but higher than job-shop levels. After becoming part of Stucki, the "sweet-spot" volume has continued to increase while having to add equipment and personnel to handle more job shop work. "We always made gages and fixtures and things like that in-house," he said, "but now we're doing it for 17 other plants as well."
Mold to Order
Since joining Stucki, Seco Machine also has become adept at making molds for its low-pressure urethane line. Seco will even make molds for external customers, but doesn't market that service because its internal requirements typically consume all of its capacity, according to Seccombe.
Traditionally, he noted, molds for urethane were made of steel and served as heat sinks. That required putting a lot of time and energy into heating a mold so it would stay warm. "We had better luck rethinking that and going with aluminum," Seccombe said.
With an aluminum mold, the heat primarily goes into the part instead of the mold. This significantly reduces the amount of energy required to pour urethane into the mold. "We would rather have a lighter, less-inductive material and be able to put that heat directly into the part," he added.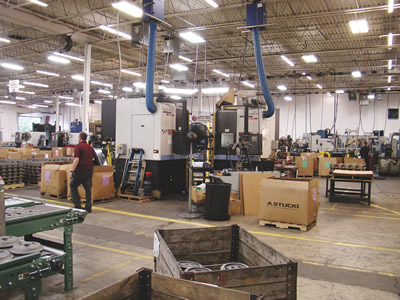 Overview of Seco Machine's shop. Image by A. Richter.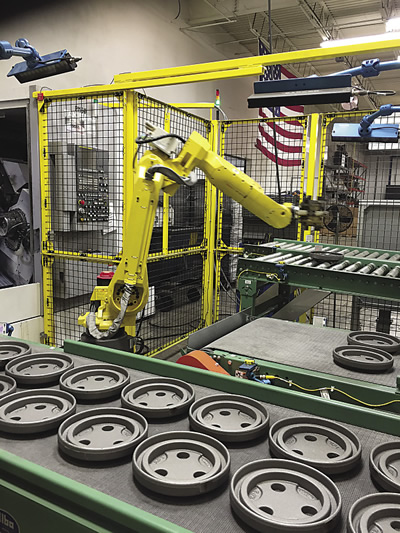 A robot tends a work cell. Image courtesy Anne Kocher, Stucki.

To produce the molds, Seccombe said Seco employs full 5-axis machining as opposed to positional 5-axis machining. In addition, Seco switched from cast aluminum mold components to billet aluminum bar stock when it took over the pour line from Stucki. "Take any piece of aluminum that is cast and it's going to move as you machine it," he said. That movement might require weeks of hand working to get pieces to fit properly so they hold the liquid. In contrast, Seco can complete a three- or four-part mold in a day.
"We premachine one side for fixturing and then machine the other five sides in the 5-axis machine," he said. "They are watertight right out of the machine."
And sometimes urethane meets a different type of metal, such as an iron casting. "We can bond urethane directly to a machined component as part of the pour process, as opposed to finishing parts and gluing them together," Seccombe said. The urethane then serves a wear component and is replaced when the part is refurbished, saving costs compared to refurbishing metal-to-metal parts.
Another money-saving method Seco Machine introduced was to perform three axle processes—one for new axles, one for refurbished axles and one for axles with too much damage for refurbishing but that could be turned to the next smaller size—on a standard lathe instead of a special axle lathe. Seccombe explained that the American Association of Railroads governs production processes for the rail industry and said the work must be done on an axle lathe.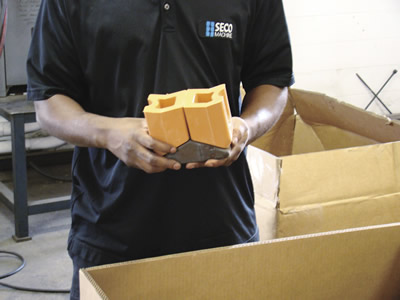 Seco Machine can bond a urethane wear part to a metal component. Image by A. Richter.

"We said, 'We've been turning shafts forever and don't understand why a standard lathe won't work,'" Seccombe said, adding that an axle is just a big shaft. "We had a machine that was barely able to [hold one shaft but we] proved it out. Traditionally, that's been done not only on three different pieces of equipment, but at three different plants." Seco performs all three axle processes in one machine.
He added that Seco has three of those lathes. "They are 700mm machines, with 24" chucks."
Even for refurbishments, Seco holds a ±0.0005" (±0.0127mm) tolerance for the journal bearing on a 9'-long (2.7m) axle, probing it end to end. "That's a very tight tolerance considering it's a used piece of steel," Seccombe said. "It's really making silk out of a sow's ear."
For more information about Seco Machine, call (330) 499-2150 or visit www.secomachine.com.