Author
William Leventon
Published
April 05, 2022 - 04:00pm
Automation expertise is not required to bring a robot into your shop.
That's one of the main selling points of LoadMate Plus, a robot cell for machine tool tending. LoadMate Plus will fit nicely into machining operations even if knowledge about robots is lacking and money for new hires is tight, said Rob Brodecki, services product manager at Vernon Hills, Illinois-based Mitsubishi Electric Automation Inc., which developed the cell with input from the company's "diamond partner system integrator," Absolute Machine Tools Inc. in Lorain, Ohio.
"A lot of times (shops) are short on staff and looking to automate, but finding a robot programmer can be difficult or costly," he said. LoadMate Plus "fits a lot of job shops and smaller-to-medium-size manufacturers that might not have the budget to go out and hire somebody new to handle the robots."
Suitable for use with a variety of machines, including mills, lathes and drilling/tapping equipment, LoadMate Plus also is billed as a tool that will boost production at high-mix, low-volume machine shops and free up operators by automating the task of loading and unloading parts from a machine tool.
"You can have it running when you don't have people scheduled to be working," Brodecki said. "Or if you do have people who would normally be scheduled for (a particular) time, you can make them more efficient by moving them to other tasks that a robot couldn't do."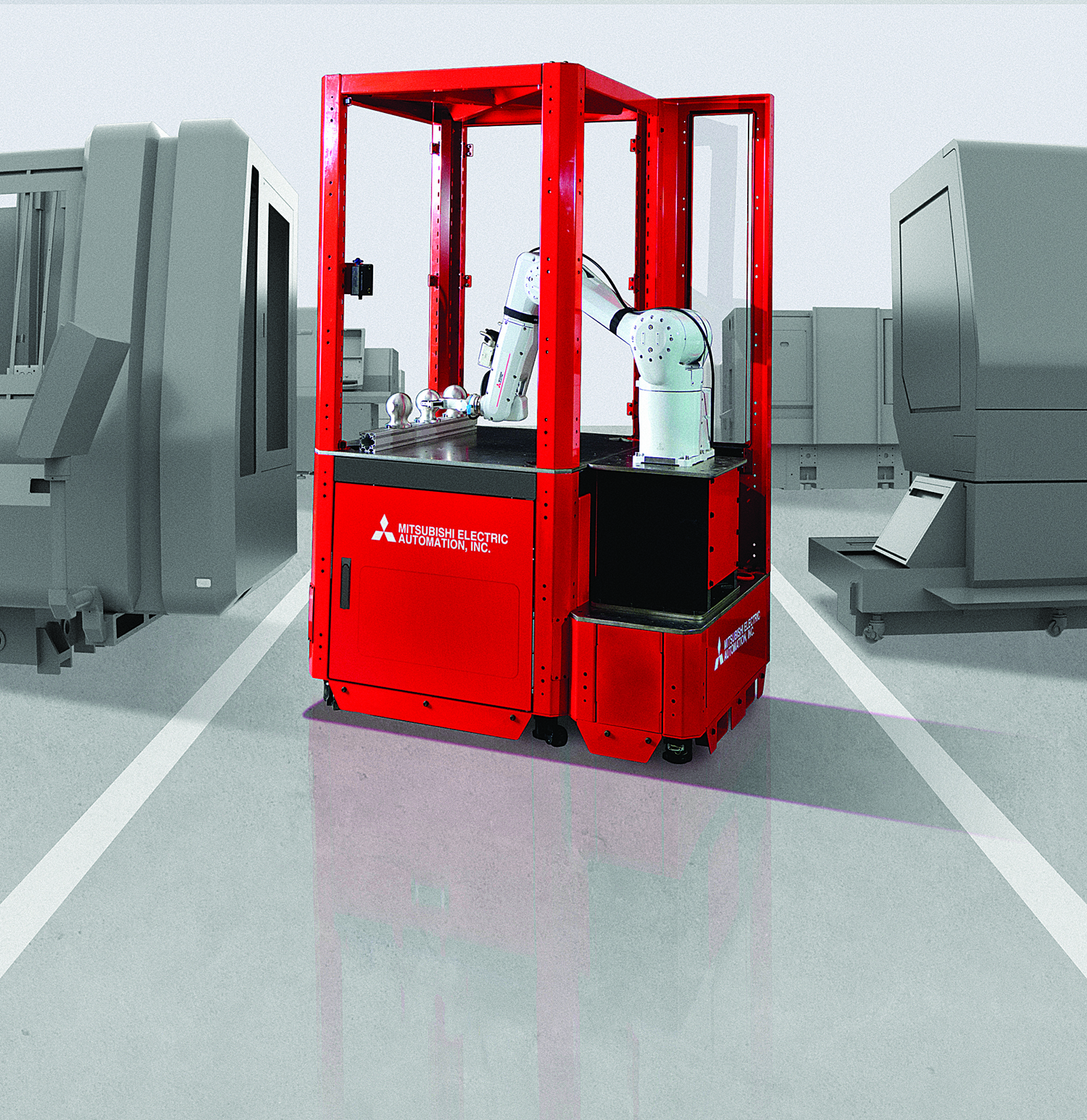 Besides allowing machines to run unattended, he pointed out that LoadMate Plus keeps production going at a consistent pace, unlike processes dependent on humans, who sometimes slow down or stop loading and unloading entirely to take a break.
The LoadMate Plus cell accommodates a number of Mitsubishi six-axis RV series robots ranging in load capacity from 7 to 20 kg (15 to 44 lbs.) and offering reach up to 1,388 mm (54.6"). Featuring a wheeled stainless steel base, the portable cell can be moved around a facility from one machine to another as jobs require. Once in place next to a machine or between two machines, the cell can be secured in position with built-in ratchet pads or an optional floor-mount latching system. The cell also comes with a side table extension and a clear polycarbonate enclosure that includes a safety door with an interlock switch.
Integrating the LoadMate Plus cell with a CNC machine can be a one-step process that requires only an Ethernet cable. When the cell is paired with Mitsubishi's M8 series CNC, operators can use a feature called Direct Robotic Control to control and program the robot from the same screen used for the machine tool.
DRC provides "special menus and screens that operators can manage," Brodecki said. "They can control and program the robot using those, or they can create full robot programs just using G code."
This makes it easier for low-volume, high-mix shops to deal with the challenges posed by constant change.
"If you need to change things like pickup and drop-off points, you can use menu screens on the CNC instead of having to pull out a teach pendant or have a separate HMI just for the robot," Brodecki said. (If a shop prefers, however, a teach pendant and/or a separate human-machine interface can be used with the cell.) And when jobs change, "you don't need to hire somebody who can completely reprogram the robot. Your existing operators who understand CNC and understand G code can program the robot for new parts as they come in." 
---
For more information from Mitsubishi Electric Automation about LoadMate Plus, view a video presentation at  cteplus.delivr.com/2ugcq
Related Glossary Terms
computer numerical control ( CNC)


computer numerical control ( CNC)

Microprocessor-based controller dedicated to a machine tool that permits the creation or modification of parts. Programmed numerical control activates the machine's servos and spindle drives and controls the various machining operations. See DNC, direct numerical control; NC, numerical control.