Author
William Leventon
Published
September 11, 2023 - 10:00am
As part of a move into automation, a company widely known for making tool grinding machines is offering a pair of innovative robotic systems from two Japan-based firms.
Rollomatic Inc. in Mundelein, Illinois, a subsidiary of Swiss manufacturer Rollomatic SA, is selling an automated handling system from Omron and an industrial humanoid robot from Kawada Robotics Corp.
Besides alleviating labor shortage problems, the systems help "minimize the burden of tasks that can be automated and free up minds to handle the sort of tasks that only humans can complete at this time," said Cole Marrinan, applications engineer at Rollomatic Inc.
Known as SmartMoMa, the Omron system consists of an automatically guided vehicle, or AGV, and an intelligent six-axis robotic arm. Capable of maneuvering autonomously in a production environment, the system can load and unload parts without human intervention. The system also allows automatic movement of tool cassettes between different grinding machines, as well as eventual transportation to post-grinding stations for tasks, such as measuring, laser marking, cleaning, packaging and labeling.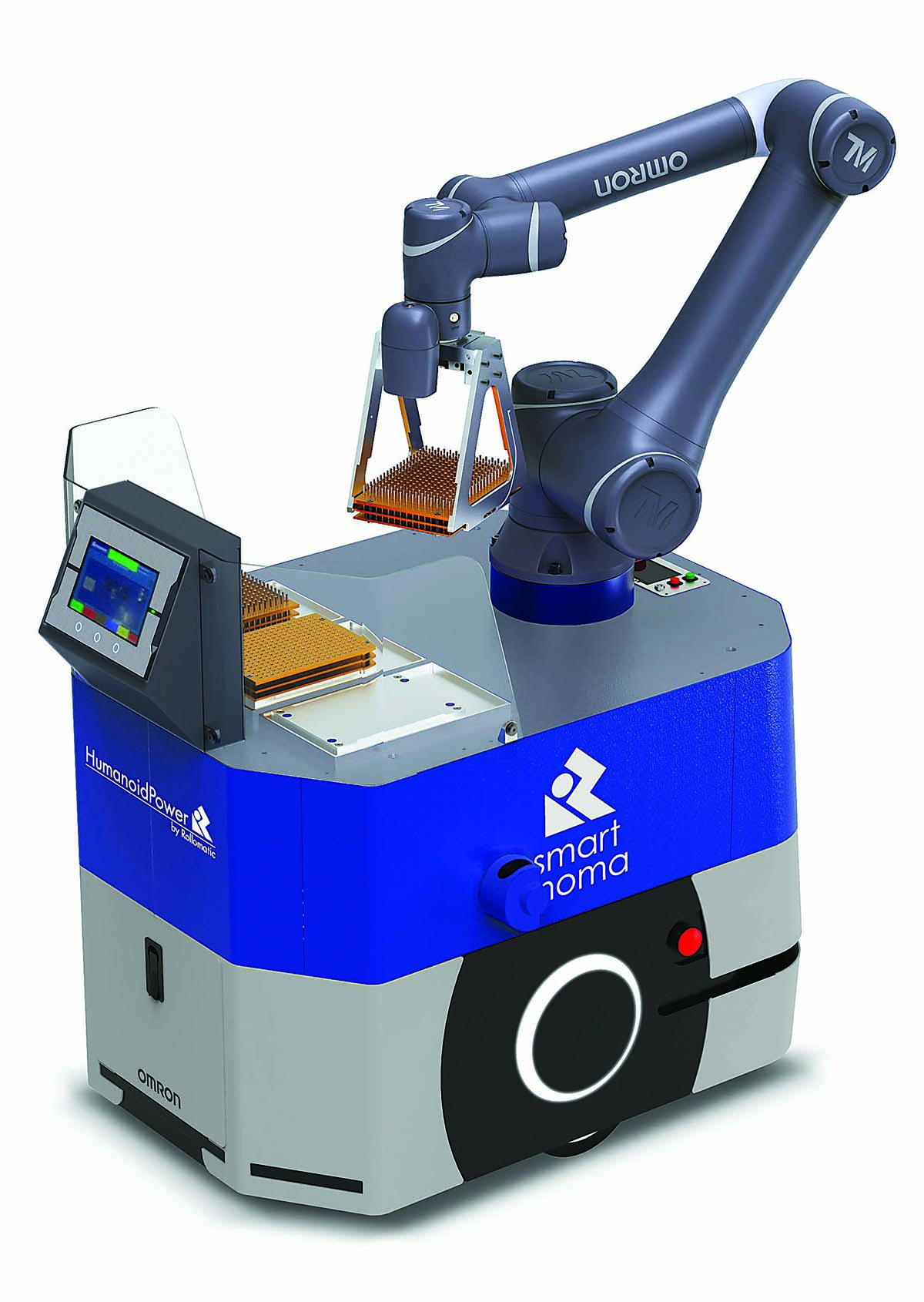 As it moves around on a shop floor, the AGV "doesn't need fencing, magnetic strips or anything else to guide it along a set path," Marrinan said. "It can roam from one station to another on a path that you create, but also interact with moving objects on that path. So you don't necessarily need light curtains or something of that sort. It can sense pedestrians and stop and let them pass."
The system pairs the AGV with an Omron TM arm that can use specific gripping systems for different handling applications.
"Because it can carry another set of grippers, (the system) can change out the gripper from the vehicle itself," Marrinan said. "So instead of just picking up a pallet or tray of tools, it can also pick up an individual tool and put it in a measuring device."
As for Nextage, Rollomatic describes it as a new kind of industrial robot that — given its size and waist-up resemblance to a human frame — can be placed along production lines in locations where a person normally would be stationed. Using its camera-equipped head and two arms, it is capable of taking over tedious, repetitive jobs, as well as those in harsh environments. Examples of tasks it autonomously can perform include cassette loading, pre- and post-grinding tool inspection, laser marking, placing finished products into packaging tubes and affixing labels to these tubes. Users control and teach Nextage what to do with a user-friendly visual interface.
Featuring four integrated cameras and 15 axes, Nextage can handle more complicated tasks than a six-axis arm, Marrinan noted. In addition, he said the robot can use both its arms to multitask and do other complex jobs that usually would require the integration of two conventional robots.
With a vision system in each arm, he said Nextage can reach out and take photographs of any nearby position. He also pointed out that images from the two head cameras may be combined to create depth perception — allowing the robot, for example, to identify parts even if they're not lying perfectly flat.
Marrinan said Rollomatic sees the selling of Nextage and SmartMoMa not so much as the act of a distributor but as part of the company's effort to provide turnkey automation cells to manufacturers of precision parts.
"These robots were chosen primarily to help with pre- and post-processing in the grinding industry," he said. "But we'll also be branching out into providing (automation) solutions to the rest of the manufacturing world."