Author
CTE Staff
Published
December 18, 2021 - 10:45am
Machine shops are like families and communities. When tragedy strikes, everyone pulls together, picks up the pieces and starts putting lives and livelihoods back together. This was the case in August 2018 for T.D.C. Engineering Inc. in Campbellsport, Wisconsin, when an EF1 tornado, which has wind speeds from 138 to 177 kph (86 to 110 mph), that was the width of a football field ripped through the shop. Eighteen additional tornadoes hit the state the same day.
Luckily for owner Tim Grahl and his 10 employees, all but one of them had gone home for the day, and the remaining worker was able to shelter in the bathroom — the only part of the building left standing. T.D.C. Engineering's lathes, wire and sinker electrical discharge machines, surface grinders, tooling, fixtures and six machining centers were all gone. Two small machines initially were considered salvageable, but he said they ultimately were scrapped along with the rest.
However, he looks on the sunny side.
"It was bad," Grahl said, "but it could have been much worse. We were quite fortunate."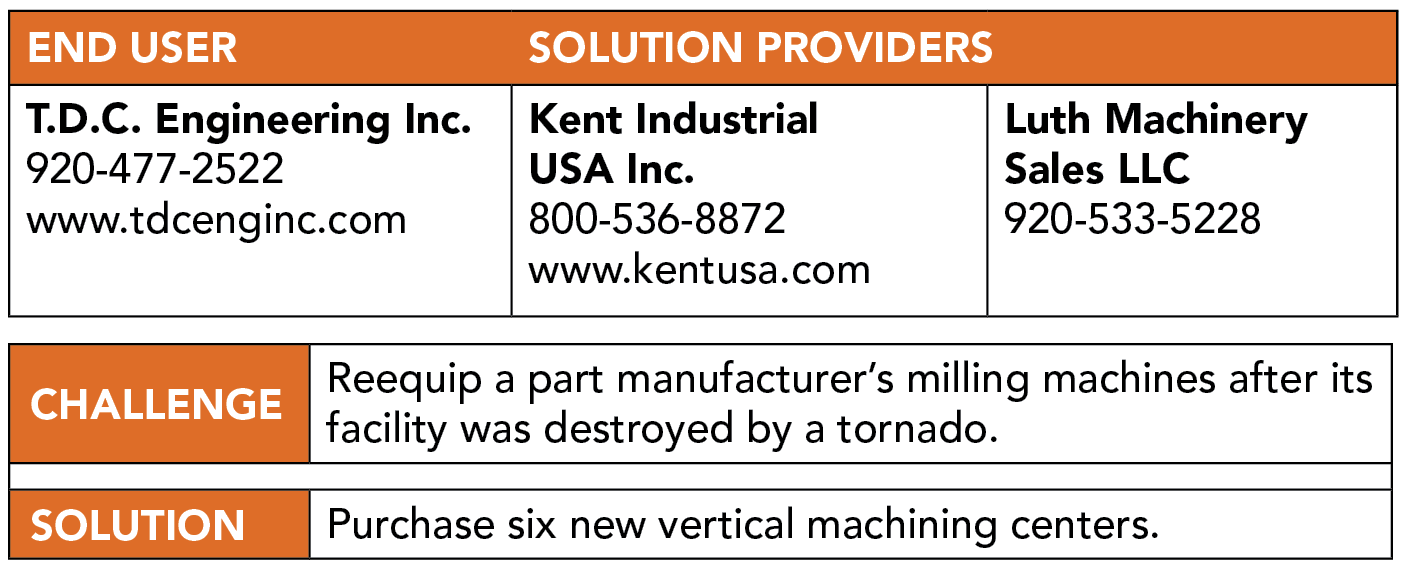 The shop moved to a temporary facility near Fond du Lac, Wisconsin, while the building was rebuilt. Because of the smaller size of the makeshift location, T.D.C. Engineering was able to replace only half its machine tools, and the machining centers weren't from the same builder as the previous ones.
"There were some nice things about the original machines," Grahl said. "But ever since the builder went out of business and then changed hands several times, the brand has gone downhill. We actually updated three of our machines a few years ago but didn't like their new control at all. They should have just stuck with what they had."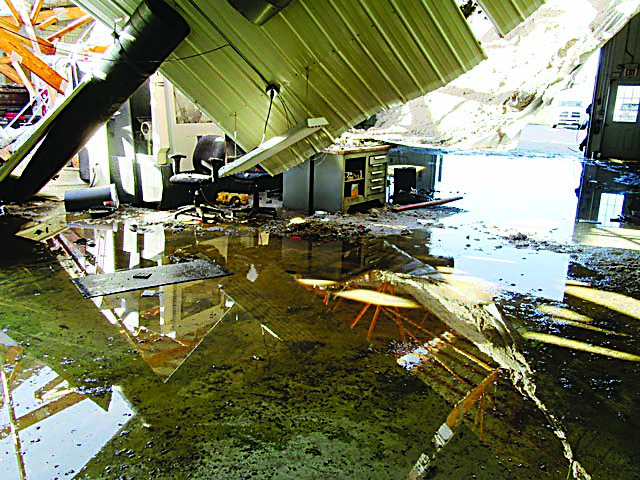 A tornado destroyed T.D.C. Engineering's machine shop. T.D.C. Engineering's new facility (left) has six Kent Industrial USA VMCs. Image courtesy of T.D.C. Engineering
As a job shop, T.D.C. Engineering machines a variety of parts, such as valve bodies, metering pins, shafts and sprockets, from various materials, including steel, stainless steel, aluminum and plastic, and needs CNC machines to suit the diversity. The mix of work includes parts for Mercury Marine, tooling for Kohler Co. and large components for several Texas customers that perform offshore oil exploration.
Instead of sticking with the familiar, Grahl heeded the advice of Jeff Luth, owner of Luth Machinery Sales LLC in Campbellsport, and purchased two new vertical machining centers built by Tustin, California-based Kent Industrial USA Inc.
As many machinists could attest, changing to a new brand of CNC equipment with a different control can be challenging. Everything is unfamiliar, with a host of screens to navigate, commands to master and functions to learn. Assuming that a shop has a decent CNC system and a properly written post-processor, the programming changes aren't that difficult to handle. But few shops willingly would give up the machine tool brand they've built a business on for an unknown.
"It was a bit of a shift for us at first," Grahl said, "especially learning the Fanuc control, but now the guys really love it."
After work was completed on the new facility, which is about 18.3 m (60') longer than the previous one, he purchased four more Kent Industrial USA VMCs, for a total of six: three KVR-4020A machines with a 1,016 mm × 508 mm × 508 mm (40"×20"×20") travel and three KVR-2418A machines with a 609.6 mm × 457.2 mm × 508 mm (24"×18"×20") travel. The shop plans to add a seventh — hopefully, before the year is out.
"It's hard to get them right now," Grahl said.
Each machine is equipped with a chilled, 10,000 rpm, 11.2-kW (15-hp) spindle; roller-type linear guideways; and a Fanuc 0i-MF CNC with a color display. According to Kent Industrial USA, the VMCs come standard with a fourth axis pre-wired, a high-capacity coolant system with a built-in skimmer, chip flush and an auger-style conveyor, Ethernet connectivity, and wash-down and air hose connections upfront for operator convenience.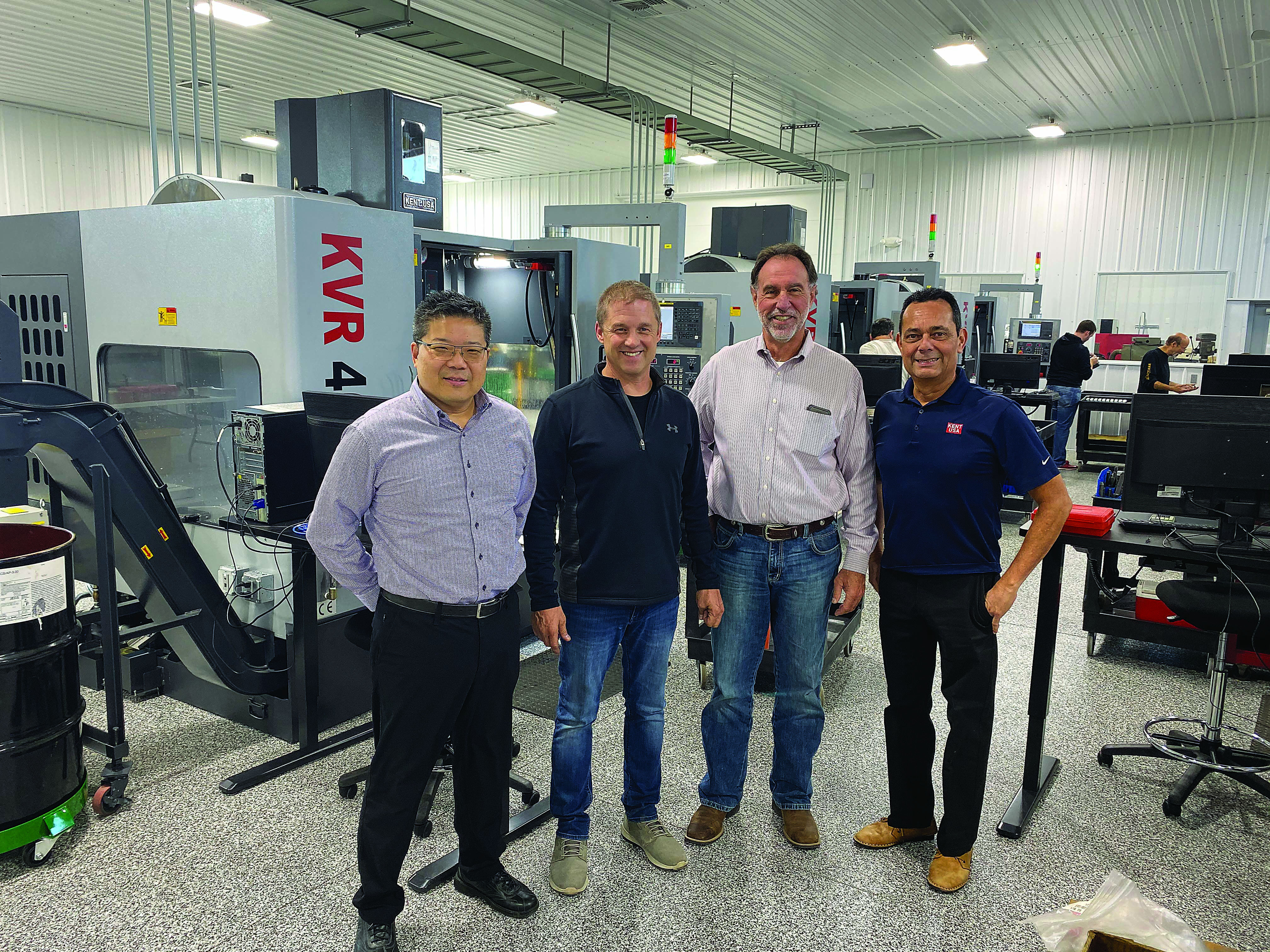 From left to right are Bill Young, CEO of Kent Industrial USA, Tim Grahl, owner of T.D.C. Engineering, Jeff Luth, owner of Luth Machinery Sales, and Eddie Torres, regional sales manager at Kent Industrial USA. Image courtesy of  T.D.C. Engineering
"On our old machines, we would have paid extra for those features, never mind the fact that the base price would have been $20,000 to $30,000 more," Grahl said, noting that the Kent Industrial USA machines cost about $100,000 each.
In addition, he said the AICC II high-speed contouring function on the control helps the shop boost productivity, along with other benefits.
"We get better tool life, can hold closer tolerances and get much better surface finishes with the new machines, especially with 3D milling," Grahl said. "There's a noticeable difference in the way surfaces blend together."
He said T.D.C. Engineering did experience a hiccup when one of the machines dropped a few tools shortly after installation. There was a problem with the fingers on the tool arm that prevented tools from being gripped properly, but Kent Industrial USA replaced the arm.
"Other than that," Grahl said, "we've had no problems at all."
He said the machines also can run unmanned after a shift ends, depending on the job at hand.