Author
Cutting Tool Engineering
Published
July 01, 2016 - 12:15am
Deep-hole drilling is virtually an art unto itself, with a host of complexities and considerations inherent to the process. Greg Forman, technical director of toolmaker Precision Cutting Tools Inc. (PCT), Santa Fe Springs, Calif., answered questions to provide some insight into drilling holes greater than 5 diameters deep.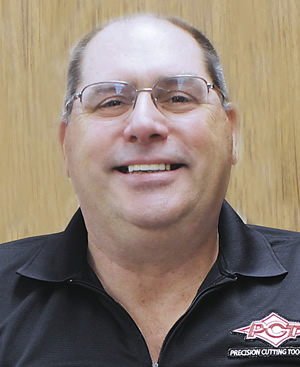 Greg Forman, technical director of Precision Cutting Tools Inc. Images courtesy PCT.

Cutting Tool Engineering: How can chip control and productivity be addressed when deep-hole drilling?
Greg Forman: Different flute helixes and point combinations can handle a specific material's chip formation. Deep holes have previously been handled with tubular-body gundrills that have single straight flutes and create small, sliver-like chips. When used with slow programmed feed rates, they control chip evacuation very effectively across many material groups. Solid-carbide and carbide-tipped, straight-flute drills offer a second cutting edge that, compared to gundrilling, can increase productivity. However, chip formation gets trickier, which limits the materials that can be handled effectively compared to using gundrills. Carbide-tipped, spiral-flute drills help in limited applications, but the inherent design of the thin carbide tip does not allow for the more-aggressive point geometries required to break the chips in many materials.
CTE: When should twist drills be applied for deep-hole drilling?
GF: There is an increasing opportunity to introduce solid-carbide twist drills when the customer moves deep-hole drilling from a gundrill machine to a CNC machine that allows more-aggressive speeds and feeds. However, depending on the material, a twist drill's smaller flute area can be restrictive compared to straight-flute drills and gundrills, potentially lacking the ability to bend and break chips into a controllable size and shape for evacuation. If chip control is not consistent, intermittent chip packing and recutting can severely decrease tool life and increase the risk of catastrophic failure. That said, with many new "designer" carbide grades available for spiral-flute, deep-hole drills, we are not finding any material limitations.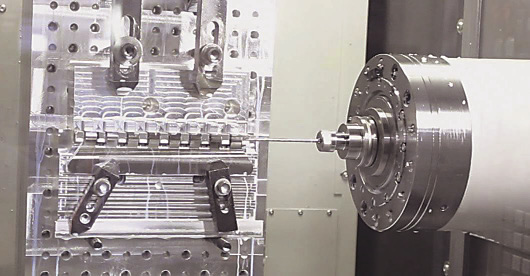 PCT offers carbide twist drills as an alternative to gundrills when deep-hole drilling.

CTE: What specific considerations must be taken into account when deep-hole drilling with twist drills?
GF: Collecting the details of the application is key. Not only the material, its hardness, hole tolerance, number of holes, presence of cross-holes and surface finish requirement, but also the machine condition, coolant pressure and volume, coolant-mixture ratio and toolholding method. With this info, we can then determine the flute shape, point geometry and coating combination that will break the chips into manageable shapes that can be evacuated most effectively.
CTE: What type of lubrication is best for twist drill applications? What coolant application challenges exist?
GF: High-performance oils with extreme-pressure additives work the best, but the expense of purchasing and disposing of oils is becoming cost-prohibitive, and water-soluble lubricants with high-pressure additives and higher concentrations (10 to 12 percent) are more readily available. The real key is high-pressure, through-coolant coupled with proper flow. Especially when drilling small diameters with small oil holes in the drill, the best results come from high-pressure pumps with variable-flow sensing technology. That way, as the flute fills up with chips and the chips start migrating upward, the volume of coolant can decrease. Normal coolant-pump technology redirects coolant through a bypass valve while the chips remain stuck in the flutes, causing poor tool life or tool breakage. A variable-flow sensing pump monitors the chip packing and the pump automatically speeds up to compensate and keep the chips moving, which makes smaller-diameter deep-hole drilling much easier on modern machining centers.
CTE: What are your pecking recommendations?
GF: Pecking is only advisable with a modified retract cycle or feed/dwell programming routines. In soft, gummy steels, it takes a lot of force to bend the chip and compact it enough to break it into a manageable size that can flow out of the flutes. Use a manually created retract cycle, in which you pull the drill back a fixed Z-axis depth at the top of hole to clear chips, return the drill to the hole and repeat as the flutes repack. In many cases, chips from high-temp alloys will not break, so we also recommend a feed/dwell cycle in which you add a dwell of a few turns to break the chip and eliminate a chip ledge at the bottom of the hole. This ledge is a major cause of catastrophic drill breakage during pecking cycles. Many times, we at PCT recommend a combination feed/dwell and retract move to manage stringy-chip situations.