Author
Christopher Tate
Published
December 01, 2016 - 01:45pm
It is common practice for machine shops and other parts manufacturers to mark parts. Customer and engineering requirements often specify part numbers for identification, serial numbers for traceability, bar codes for inventory and marks for assembly or alignment purposes.
Parts marking can be done several ways, and the marking method is often dictated by the production environment, part quantities and part function.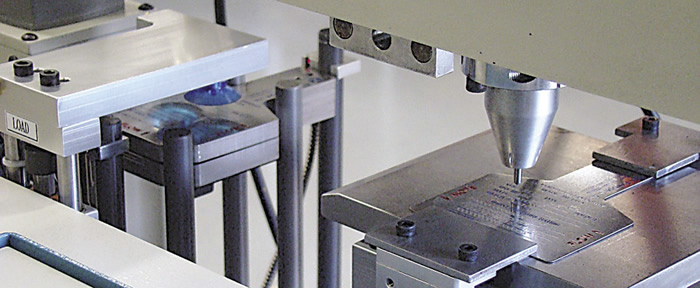 Dot-peening machines, such as the Tag Master 3 from Kwik Mark, feature a vibrating punch that produces a series of evenly spaced, small-diameter indentations in the surface of a part. Image courtesy Kwik Mark Inc.

Stamps of Approval
Stamping, peening and engraving are the most common marking methods. They share a common trait in that each upsets or displaces material. Formed marks are the most permanent and will survive in harsh environments.
Many toolmakers, engineers and machinists are familiar with the old wooden box full of lettered and numbered punches that are often used to stamp information on a part. Hand stamping is a simple and cost-effective method that can be used anywhere and requires no special training or equipment. Hand stamping is a common form of marking in tool-and-die shops and maintenance shops where one-off parts are common.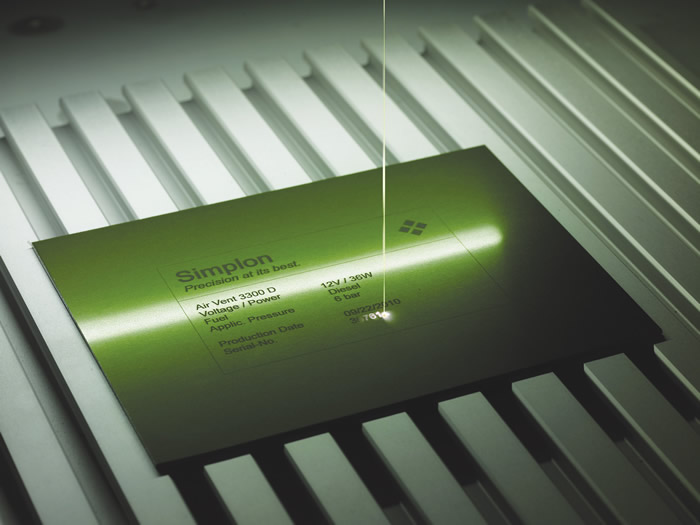 This compact Gravotech CO2 laser marks almost any material at speeds up to 2.54 m/sec. (8.33 sfm). Image courtesy Gravotech.

Stamping is not limited to hand operations. Marking machines are often incorporated into production lines just like other machine tools. Because stamping does not necessarily require a dedicated machine, it can be easily incorporated into other manufacturing processes. Manufacturing operations involving punch presses are the most obvious processes where part stamping could be integrated, but it is common to find stamping in other operations as well.
Turning operations, for example, can be tooled to allow marking during the machining process. Screw machines and lathes are often outfitted with special rollers that have the desired marks. These rollers are then forced into the part to form marks in an operation that resembles knurling.
Engraving and Dot Peening
Engraving is a close cousin to stamping and is done with hand-held air- or electric-powered tools that apply an oscillating, pointed piece of metal. Hand-held engraving is quick, easy, inexpensive and, most importantly, flexible. Engraving by hand is as simple as using a pencil or pen and allows the user to mark necessary information with no programing or special tools.
Engraving tools allow small shops to satisfy customer parts-marking requirements with minimal investment. One drawback of engraving is the inconsistency in appearance that results from variations in penmanship from operator to operator.
Dot peening is a more-refined method of stamping. Dot-peening machines use a vibrating punch to produce a series of evenly, spaced small-diameter indentations in the surface of a part. Dot-peening machines are programmable and can produce various fonts, font sizes and simple images.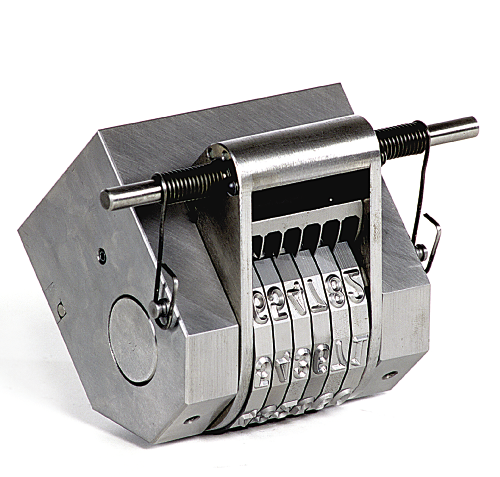 Automatic numbering heads, such as the Model 50P from Numberall, provide rapid, accurate and consecutive parts numbering. Image courtesy Numberall Stamp & Tool Co. Inc.

Dot peening has a very neat and clean appearance but does not provide fine-resolution marks. The lack of resolution prevents the creation of detailed images or characters. It's a cost-effective marking process easily integrated into automated cells or performed as a manual operation in low-volume environments.
A Sketch of Etching
Chemical and laser etching are effective methods of parts marking when stamping or engraving can't be used.
Chemical etching can be used when materials are very hard and stamping or similar methods won't work. The process makes clear, detailed images and characters. It is versatile and relatively inexpensive. I have seen kits online for less than $100.
Etching can be used on a large scale in production environments along with automated processes. Chemical etching also does not significantly alter the part surface the way stamping and dot peening do.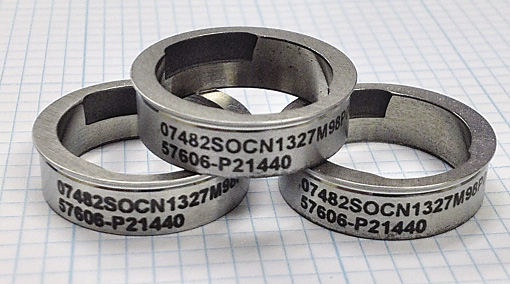 Electrochemical etching produces clear, detailed images and characters. Image courtesy Universal Metal Marking Co.

Although flexible and inexpensive, chemical etching does have a few drawbacks. First, it is necessary to keep potentially hazardous chemicals on hand, which can be challenging in today's regulatory environment. Second, creating the etched surface requires several process components along with the chemical. More components mean more opportunities for failure.
At one of my previous employers we marked aerospace parts with a chemical-etching process that required the use of a typewriter to make stencils. Our etching equipment was robust and reliable, but the typewriters tended to fail. So our entire etching process was subject to failure because of the typewriters—and it can be difficult to purchase typewriters in the digital age.
Laser etching is probably the most-desirable method available. It is extremely flexible, accurate and easy to do. The process allows intricate details that would be difficult with other methods. Laser-etching machines can have their power output and speed altered, making them capable of intricate photo-like details.
There is actually a growing industry driven by the demand for laser-etched consumer goods. An online search reveals numerous companies that etch a variety of products. These machines are surprisingly inexpensive, with some small models starting at just over $300. They are also easy to use. You simply connect the computer, select an image and tell the machine to begin.
In most cases, the marking specification will dictate the method used. When the method is not dictated, it is important to remember that there are many ways to mark parts and to consider all aspects of the process before making a selection.
Related Glossary Terms
knurling


knurling

Chipless material-displacement process that is usually accomplished on a lathe by forcing a knurling die into the surface of a rotating workpiece to create a pattern. Knurling is often performed to create a decorative or gripping surface and repair undersized shafts.

peening


peening

Mechanical working of a metal by hammer blows or shot impingement.

turning


turning

Workpiece is held in a chuck, mounted on a face plate or secured between centers and rotated while a cutting tool, normally a single-point tool, is fed into it along its periphery or across its end or face. Takes the form of straight turning (cutting along the periphery of the workpiece); taper turning (creating a taper); step turning (turning different-size diameters on the same work); chamfering (beveling an edge or shoulder); facing (cutting on an end); turning threads (usually external but can be internal); roughing (high-volume metal removal); and finishing (final light cuts). Performed on lathes, turning centers, chucking machines, automatic screw machines and similar machines.