Author
Cutting Tool Engineering
Published
September 22, 2020 - 11:15am
After a machine tool is a decade old, it's history at J&R Machine Inc. The Shawano, Wisconsin-based Tier 1 manufacturer caters to OEMs and other Tier 1 companies and targets the industries of oil and gas, fire protection, heavy vehicle, defense and aerospace. Typical part runs are from 500 to 5,000.
"Our strong point is in multitasking, turning and automation in the 1"-to-10"-dia. (25 mm to 254 mm) range," said President Tim Tumanic, who added that parts are up to 711 mm (28") in length.
Last year, two DMG Mori NLX 2500 universal turning centers hit their replacement age. Those machines had one spindle and one turret with live tooling. Because J&R Machine exclusively runs DMG Mori USA Inc. machines to have a common platform, the shop turned to the Hoffman Estates, Illinois, machine tool builder for new machines.
But instead of replacing the old machines with new versions of the same model, J&R Machine decided to purchase two NZX 2000 CNC machines, which have two spindles, automated gantry loaders and three turrets with live mill/drill tool heads, said Vice President Parker Tumanic.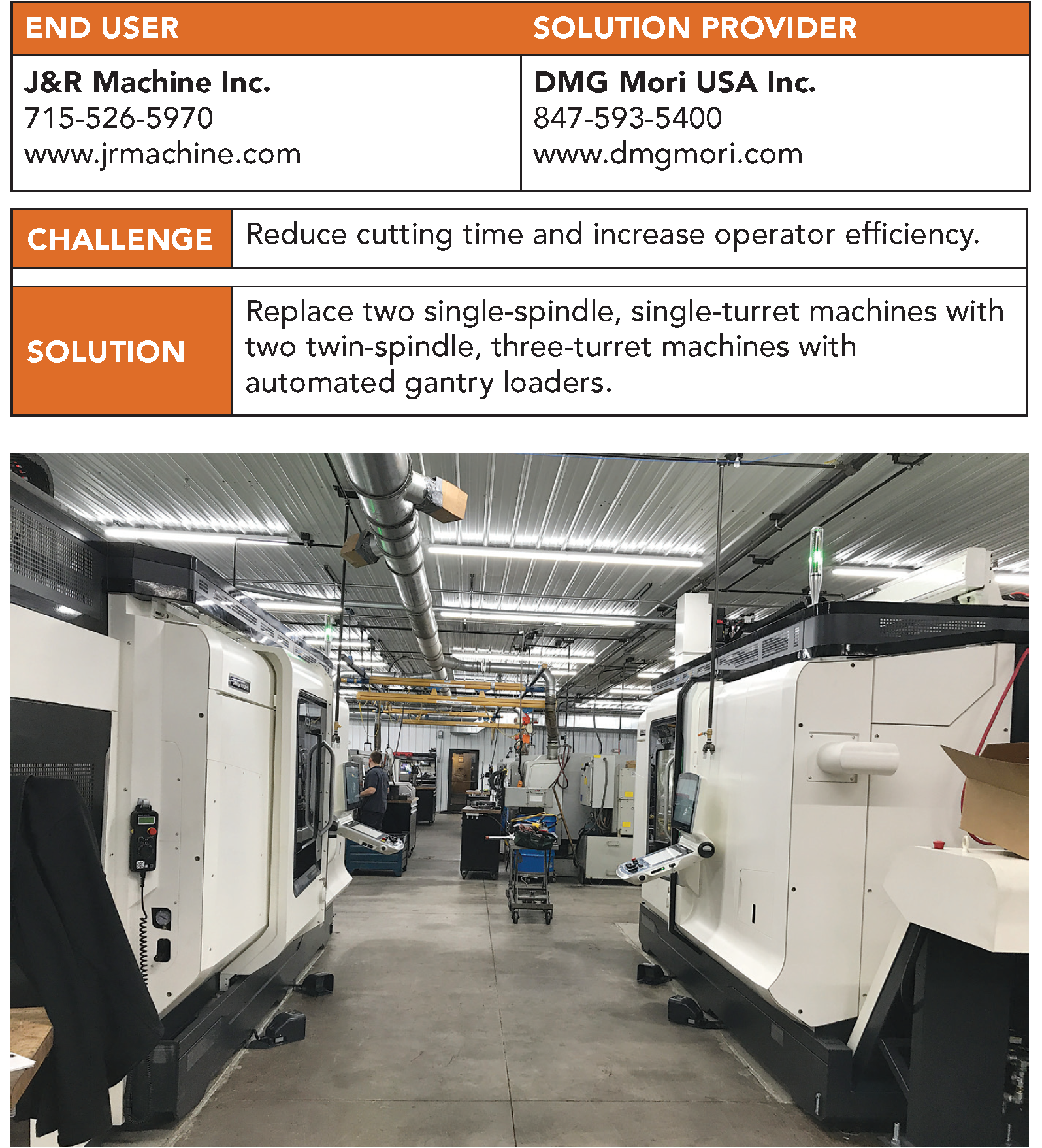 J&R Machine replaced two single-spindle, single-turret machines with two NZX 2000 machines, which have two spindles and three turrets apiece. Image courtesy of J&R Machine
"The thought process was," he said, "instead of adding more equipment long term to increase capacity, as equipment needs to be replaced we will simply put in a machine with twin spindles, automatically realizing a 100% gain while utilizing the same amount of floor space and the same operators. We are not just going to say, 'We have this job, and this machine is all we need.' Because if that job goes away in a year, we want to still have a machine that has the most capability and efficiency because we never know what is going to come through the door tomorrow."
The machines were custom-ordered. Shop representatives traveled to a facility in Portland, Oregon, for a machine demonstration because that was the closest location with a machine similar to the ones that J&R Machine decided to buy.
"It took about eight months from purchase order to delivery," Parker said.
He said after installation, which required constructing a 0.6-m-thick (2') concrete foundation under each machine to enhance stability, the machines quickly improved the contract manufacturer's efficiency. For instance, a part that previously needed fixturing on two lathes and three horizontal machining centers was completed in one setup on an NZX 2000.
"The part was measured in the coordinate measuring machine and came out perfect for our orientation," Parker said.
He explained that the risk of operator error enters the picture when a part is produced on more than one machine, especially when precise orientations must be held. In addition, the gantries automatically load and unload parts.
"Not only did we just double the gain with the twin spindle and triple turret," Parker said, "but the machine runs unattended as well."
In another example, he said J&R Machine increased the number of parts per hour from five with the old machine to 12 with the new one.
"The setup time remained fairly neutral," Parker said. "Where you gain is on the uptime of the machine and its efficiency."
He said some jobs run for 100 hours or more after setup.
"Your low-hanging fruit is in the run time rather than setup time," Parker said.
To keep coolant at the ambient temperature of the shop air, which is held to 22° C (72° F), J&R Machine added coolant chillers to the machines.
"When you have three turrets cutting, it heats up the coolant," Parker said, noting that the company can run 69 bar (1,000 psi) coolant through all the turrets.
He expects a return on investment for the two machines in 24 months.
"This was one of our first steps into chucking automation," Parker said. "It's probably a good chance this will be our new platform going forward."
Tim said everything that J&R Machine does — from its collaborative culture to rapid response times — is focused on simplifying the production of complex machined parts for customers.
"This is especially valuable now as manufacturers work to address the unprecedented challenges in our current environment," he said. "The addition of the two new DMG Mori NZX 2000s strengthens our automation platform, increases employee efficiency and results in greater accuracy of our customers' parts."