Author
Marlow Knabach
Published
March 01, 2009 - 11:00am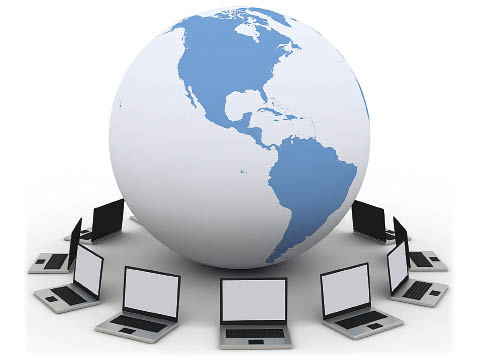 Today's Web-based training programs can get machine operators ready to cut metal before they ever lay hands on a real tool.
Web-based machinist training has been in existence for more than a decade. But past experiences with Web-based training were likely frustrating, with pixilated graphics and training programming that was too slow, making it difficult to complete. So, why choose this method over others?
The answer is simple. Compared to traditional training methods that often include out-of-date materials, textbook-style content and simple photos without animation or interactivity, today's online training offers an enhanced user experience. Web-based training has finally caught up to the demands of the user. Many new machinists are from a generation raised on sophisticated video games and they expect no less from an online training experience. Now, they can get that experience.
Web-based training now includes the same elements as entertainment-based electronic systems, such as Nintendo. Furthermore, many providers do not provide exclusively Internet training. Web-based training often supplements classroom or on-site training, so individuals can customize their training.
Web-based training is also less costly than traditional classroom options. Without travel expenses and instructor fees, manufacturers can realize 40 to 60 percent savings.
How Effective is it?
Web-based training can, at times, be ineffective due to poor instructional design or misapplication. However, the rate of effectiveness dramatically improves when training programs incorporate certain features. Important factors to consider include:
• Is the training highly effective?
• Is it interactive?
• Is navigation intuitive?
• Is the training consistent?
• Is it competency-based?
• Is the length of the course consistent with the subject?
• Is the scope of the course directly relevant to the need?
Effectiveness. Unless the training is highly effective, it is not worthwhile. Manufacturing organizations are busy, complicated places where there is typically a shortage of skilled labor and an overabundance of work that must be completed on deadline. If labor is being spared for training, there had better be a return on investment of both time and money. So, before choosing a program, be sure it meets your specific needs.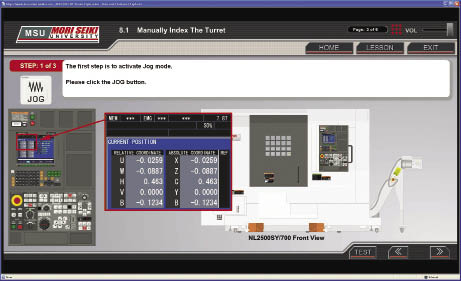 Courtesy of Mori Seiki

In this screen capture from Mori Seiki University's Education On Demand lathe operation training, the student is instructed to activate JOG mode. The machine reacts to user interaction, allowing a student to log hours of realistic experience before operating a live machine tool.
Interactivity and ease of navigation. A ROI can be ensured by being certain the training is realistic enough for the user to have a sufficient probability of applying the training. Modern, interactive training can be so near to game-based exploration that the user is engaged at a previously unachieved level. However, not all training is created equally. Ease of program navigation and interactivity are crucial factors.
How do you know if a training program is up to snuff? Ask for a trial. Many training providers are happy to provide a free trial. This play-before-you-pay approach allows a user to gain familiarity with the product. You can comparison shop to determine if the product offers the highest quality programming and interactivity before you buy.
Consistency. Is the training reliable? It should be presented in a similar format every time. Are all courses developed to the same standards? They need to follow established guidelines. Is competency measured and ensured? Test-based training measures achievement by material learned, not time spent in the classroom. Reporting and record keeping is an integral part of competency-based training and is vital to achieving the best results—building skills that create more productive and efficient machinists.
Relevancy. Define your expectations before beginning Web-based training, including the key skills operators should retain. Are those courses available from the provider? What other courses are available that can buoy your organization's effectiveness so that you can maximize your investment in online training? Are you learning the skills you need? Does the course design allow students to "test out" of material already mastered?
What are the Benefits?
Time is money. That is why one of the key benefits of online training is the ability to arrange course work based on one's schedule. Many online training programs are available 24/7. The time savings involved in customized scheduling and a virtual commute to an Internet-accessible computer facilitate course completion.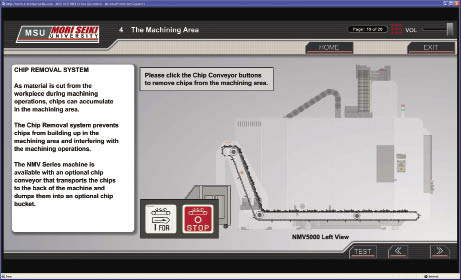 Courtesy of Mori Seiki
In a 5-axis machining operation course, all facets of the machine tool's functions are explained. This interactive illustration of a chip conveyor allows the student to virtually operate the mechanism and to gain familiarity with the machine controls found on Mori Seiki's NMV5000. This immersive experience aids the student in building competencies, not just course completion.
Another benefit of online training programs is their flexibility in program options. A good training vendor provides beginner, intermediate and advanced courses. Furthermore, many programs can be tailored to the user's preferences. Educational institutions that provide Web-based training often also have more traditional training available. The freedom to choose an educational style that is best suited to each learner is a very powerful tool in retaining knowledge.
Furthermore, it is a great benefit for machinists to operate virtual machinery prior to the shop receiving the actual machine because it drastically shortens the learning curve and prepares them for more meaningful training after installation. However, online training supplements live training, allowing the operator to use it as a reference.
What Can I Learn?
A wide range of Web-based courses are available for manufacturing professionals. For example, topics available from Mori Seiki University include, but are not limited to:
• safety skills,
• manufacturing fundamentals, such as SPC, metrology, shop math
and blueprint reading,
• quality systems and lean manufacturing,
• communication and leadership skills,
• QC and metrology skills,
• productivity improvement skills,
• technical skills,
• equipment and process technology,
• CNC programming, and
• CNC machine operation.
As technology progresses, manufacturers must stay ahead of the competition by embracing processes that increase efficiency—and that includes online education. Web-based training offers cost savings compared to traditional classroom training, increases employee skills and, most importantly, boosts organizational effectiveness so that technical resources can be refocused on revenue-generating activities. CTE
About the Author: Marlow Knabach is vice president of Mori Seiki University and Mori Seiki USA, Rolling Meadows, Ill. He graduated from the University of Wisconsin-Stout with a manufacturing technology degree and a concentration in manufacturing engineering. He also has an MBA in marketing management from Benedictine University. Knabach joined Mori Seiki in 1990. For more information about MSU, call (847) 593-5400, visit www.musondemand.com or enter #320 on the IS Card.
---
What is competentcy based training?
Competency-based performance is a hot topic in business and government. According to Training magazine, a comprehensive definition of "competency" is "a cluster of related knowledge, skills and attitudes that affects a major part of one's job (a role or responsibility), that correlates with performance on the job, that can be measured against well-accepted standards and that can be improved via training and development."
Competencies are achieved in various fashions, most commonly through on-the-job experience, formal education and training and development programs. Competency-based training is a system of education and training that focuses on the ability to demonstrate a set of skills, knowledge and understanding within a set of relevant values and standards. It can also be referred to as standards-based, skills-based and outcomes-based training.
CBT, when done correctly, requires training and assessment of training in educational environments as close as possible to actual on-the-job performance. Although this format can be remarkably effective, it also requires a considerable investment. Thoroughly research the training system you might consider before committing because not all programs are created equally.
CBT allows the most accurate assessment of competency likely to be exhibited in job performance and overall employee competence. When choosing training and development activities to help achieve competencies identified for your job, target competencies—not courses.
—M. Knabach
---
About Mori Seiki University
Mori Seiki University provides the means to transform a potential machinist into a highly trained expert, according to the company. Through strategic partnership with Oxygen Education, an award-winning company focused on interactive instruction design, Mori Seiki offers a comprehensive manufacturing-related curriculum (AME21) delivered through the Education On Demand (EOD) system.
AME21 is Advanced Manufacturing Education for the 21st century. The four levels of AME21 curriculum are consistent with the content included in most associates degree in manufacturing programs.
EOD is Mori Seiki's online interactive solution to training; this Web-based training is complemented by on-site classroom experiences. MSU's comprehensive, yet flexible, approach helps ensure that employees have the skills and knowledge to maximize productivity. This three-pronged training plan is included in new* Mori Seiki machine installations. For more information and a free demonstration, go to www.msuondemand.com.
*NL, NH, NT, NMV, DuraTurn and DuraVertical series classes are now available in eight languages: English, German, French, Chinese, Japanese, Italian, Thai and Spanish.
—CTE Staff