Author
William Leventon
Published
December 01, 2016 - 02:45pm
Are you about to scrap an old machine tool and replace it with a new one? Before you do, consider what could be a much less expensive way of getting a better machine: having the old one remanufactured.
Remanufacturing a machine tool "is completely bringing it back to the way it was manufactured," explained Jerry Remick, president of Orange Coast Rebuilding Inc., Anaheim, Calif. (Editor's note: Compared to retrofitting and rebuilding, remanufacturing is often considered the most comprehensive type of machine upgrade, but "rebuilding" is sometimes used interchangeably with "remanufacturing.")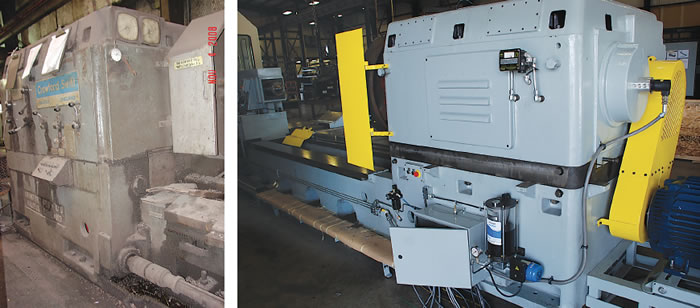 Left: A worn-out, manually operated lathe that Texas Machine-Tool International remanufactured, which included adding ground ballscrews and low-backlash planetary gearboxes coupled to an A/C servo system. Images courtesy Texas Machine-Tool International.

The remanufacturing process can produce a machine that's actually better than when the machine was new, claimed Michael Sullivan, president of Texas Machine-Tool International LLC (TMI), a machine remanufacturer and rebuilder in Waco, Texas. "There are a lot of enhancements that we can offer a customer that go beyond restoring [a machine tool] to its original condition," he said. These include converting a manual machine to CNC and adding pressure-monitoring load cells, as well as revamping machine axes so that they exceed the original OEM specifications.
But why remanufacture rather than buy a new machine with all the desired features and capabilities? One reason is cost. The cost of remanufacturing is generally only 40 to 60 percent that of purchasing a comparable new machine, according to Remick.
In addition, many old machines have a quality edge over their new counterparts. For example, Sullivan said many of today's machine tools are built from weldments instead of castings, which have better damping characteristics and are more rigid structures.
On the other hand, it probably makes sense to buy new if an old machine has been problematic and you covet the latest control and automation features, Sullivan said. In many cases, getting these features with a new machine is a more cost-effective route than adding them to an old machine.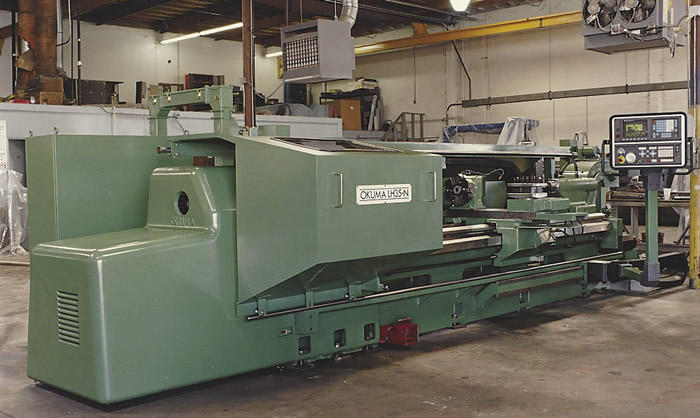 This machine looks as good as new after a rebuild by Orange Coast Rebuilding. The process included upgrading the control, regrinding the ballscrews and hand scraping mating components. Image courtesy Orange Coast Rebuilding.

At TMI, remanufacturing involves completely disassembling a machine down to its frame, which is steam-cleaned and inspected for cracks and other damage. In addition, components such as ballscrews, thrust bearings and wiring are replaced, as is the lubrication system, if it's deemed inadequate for an up-to-date machine. Old components that remain are individually painted before the machine is reassembled.
Another important part of the process is restoration of the ways. OCR works on the ways until they meet or exceed the original factory tolerances. The key: "We do a tremendous amount of hand scraping," Remick said. "We probably have more hand scrapers than anybody west of the Mississippi."
OCR's rebuild process also includes the addition of state-of-the-art controls. When all the work is finished, the customer comes to OCR's facility and runs some parts on the rebuilt machine to test it. Then the machine is returned to the customer's facility, where it's set up and leveled by OCR personnel.
Remick said a rebuild typically takes from 8 weeks to 3 months. Sullivan said TMI rebuilds can take anywhere from 12 weeks for smaller machines to 26 weeks for large units. Along with a rebuilt machine, TMI customers get a report containing laser measurements of the straightness, flatness, pitch, roll and yaw of the machine's axes.
Both companies back their work with a 1-year warranty.
Related Glossary Terms
computer numerical control ( CNC)


computer numerical control ( CNC)

Microprocessor-based controller dedicated to a machine tool that permits the creation or modification of parts. Programmed numerical control activates the machine's servos and spindle drives and controls the various machining operations. See DNC, direct numerical control; NC, numerical control.

lathe


lathe

Turning machine capable of sawing, milling, grinding, gear-cutting, drilling, reaming, boring, threading, facing, chamfering, grooving, knurling, spinning, parting, necking, taper-cutting, and cam- and eccentric-cutting, as well as step- and straight-turning. Comes in a variety of forms, ranging from manual to semiautomatic to fully automatic, with major types being engine lathes, turning and contouring lathes, turret lathes and numerical-control lathes. The engine lathe consists of a headstock and spindle, tailstock, bed, carriage (complete with apron) and cross slides. Features include gear- (speed) and feed-selector levers, toolpost, compound rest, lead screw and reversing lead screw, threading dial and rapid-traverse lever. Special lathe types include through-the-spindle, camshaft and crankshaft, brake drum and rotor, spinning and gun-barrel machines. Toolroom and bench lathes are used for precision work; the former for tool-and-die work and similar tasks, the latter for small workpieces (instruments, watches), normally without a power feed. Models are typically designated according to their "swing," or the largest-diameter workpiece that can be rotated; bed length, or the distance between centers; and horsepower generated. See turning machine.

pitch


pitch

1. On a saw blade, the number of teeth per inch. 2. In threading, the number of threads per inch.