Author
CTE Staff
Published
September 20, 2022 - 03:30pm
It doesn't take a rocket scientist to realize that a change is needed when machining a part that has a long cycle time while the tool chatters and creates annoying noise.
That was the case at Highland Machine Tool Inc. in Floyds Knobs, Indiana, when machining an adjustment sleeve made of 1018 medium-carbon steel. The cycle time on a vertical machining center was 14 minutes at a cutting speed of 144.8 m/min. (475 sfm), a spindle speed of 2,304 rpm, a feed rate of 0.0254 mm/tooth (0.001 ipt) and a table feed of 175.5 mm/min. (6.91 ipm), according to a test report from Arlington Heights, Illinois-based Tungaloy America Inc., which supplied the milling cutter to solve the challenge.
"It was chattering the old way," said Brian Sawicki, business development manager for the Northeast at Tungaloy America. "Everybody was complaining in the shop. That machine was loud as heck."
He said the 38.1 mm-dia. (1.5") workpiece starts on a lathe, where a 25.4 mm-dia. (1") hole is drilled through the center. Previously, holes were drilled through the part wall in four positions after moving it to the VMC, which has a c-axis.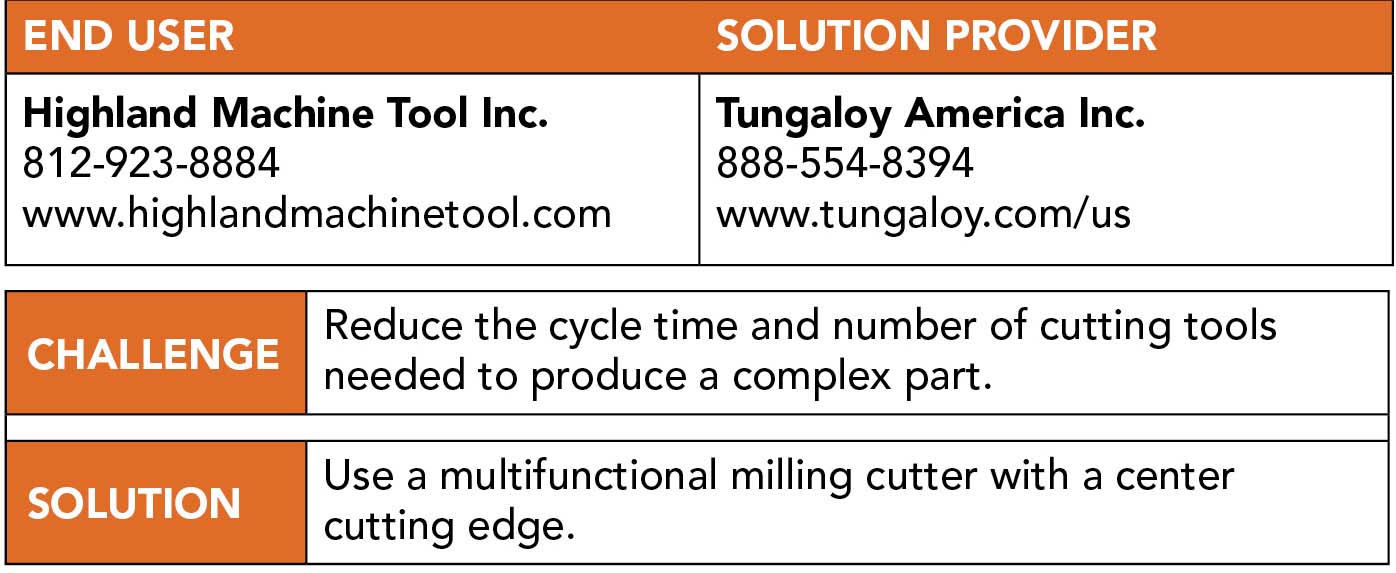 "That is the start position for one of the slots and an end position for one of the slots," Sawicki explained about each hole. "Then they brought in a center-cutting endmill to — in four passes — open up these slots. I have never seen a part like this before in all my years at Tungaloy."
He said Highland Machine Tool produces about 800 of the parts per year. Tool life was six parts per tool.
The machine shop purchases a variety of turning tools from Tungaloy America and turned to the toolmaker for a solution after examining options.
Tungaloy America initially tested a replaceable tip-style endmill, but the tool generated "terrible harmonics," primarily as a result of a long tool overhang, Sawicki said. "It has a carbide shank with a threaded endmill on the end of it."
In addition, Ron Bender Jr., who performs CNC setup and programming for Highland Machine Tool, said the part had a tendency to spin in the chuck while being cut.
Sawicki explained that the workpiece is held between centers.
"There is a tailstock and a chuck that's holding the workpiece," he said. "It's in free space, lying horizontal and rotating while the tool is rotating in order to create this feature."
Tungaloy America then tested its DoMultiRec multifunctional milling cutter with a center cutting edge. Sawicki said the team suspected that the overall length of the tool would make it susceptible to chatter. Because the tool body is made of steel, the toolmaker easily shortened the body by 50.8 mm (2").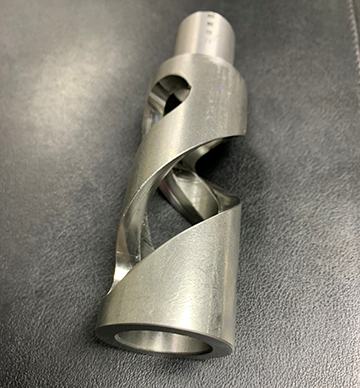 "We didn't even try it at its full length," he said.
Highland Machine Tool still drills the center hole on a lathe before moving the part to the VMC, but the shop uses the DoMultiRec endmill to produce four holes rather than using a drill and then milling the part.
"There were two tools," Sawicki said, "and they replaced it with one: the DoMultiRec."
"We used to have to drill the holes for the old endmill," Bender said. "With this tool, we can do everything. It gets rid of any type of tool change."
In addition to milling and drilling, Tungaloy America reports that the DoMultiRec is suitable for ramping, pocketing, profiling, slotting, plunging, counterboring and helical interpolation.
By switching to the DoMultiRec, Sawicki said the shop reduced cycle time to 3 minutes, 45 seconds. The cutting speed increased to 182.9 m/min. (600 sfm), the spindle speed increased to 2,910 rpm, the feed rate increased to 0.0838 mm/tooth (0.0033 ipt), and the table feed increased to 487.9 mm/min. (19.21 ipm). As a result, the metal removal rate went from 11,143.2 mm3/min. (0.68 in.3/min.) to 30,971.6 mm3/min. (1.89 in.3/min.).
Tungaloy America calculated a total cost reduction of $24,535 for a batch of 800 parts.
"It saved a lot of money compared to what we were doing," Bender said.