Author
William Leventon
Published
July 03, 2023 - 12:30pm
What's better than a system that provides fast, accurate measurements for roundness? Better would be a system combining that capability with two additional measuring functions needed in the production of a wide variety of workpieces and geometries.
That's the thinking behind the design of the RTX Roundtracer Extreme from Mitutoyo America Corp. in Aurora, Illinois. Mitutoyo bills the Roundtracer Extreme as an all-in-one CNC machine that integrates roundness, contour and surface roughness measurement capabilities in a single platform to save time and boost productivity.
The Roundtracer Extreme measures workpieces by moving a measurement stylus along a vertical column z-axis, as well as a perpendicular x-axis. The stylus can be set at two different orientations. Changes in the tip position of the stylus are recognized automatically by system software.
Workpieces sit on a table that rotates during the measurement process. Movement along the linear axes and around the rotational axis is motorized. The fully motorized system allows continuous automatic measurement of different parameters.
"Once you write your part program and set up your part, it can do those different measurements without stopping for any interruptions," said Product Specialist Chris Lee.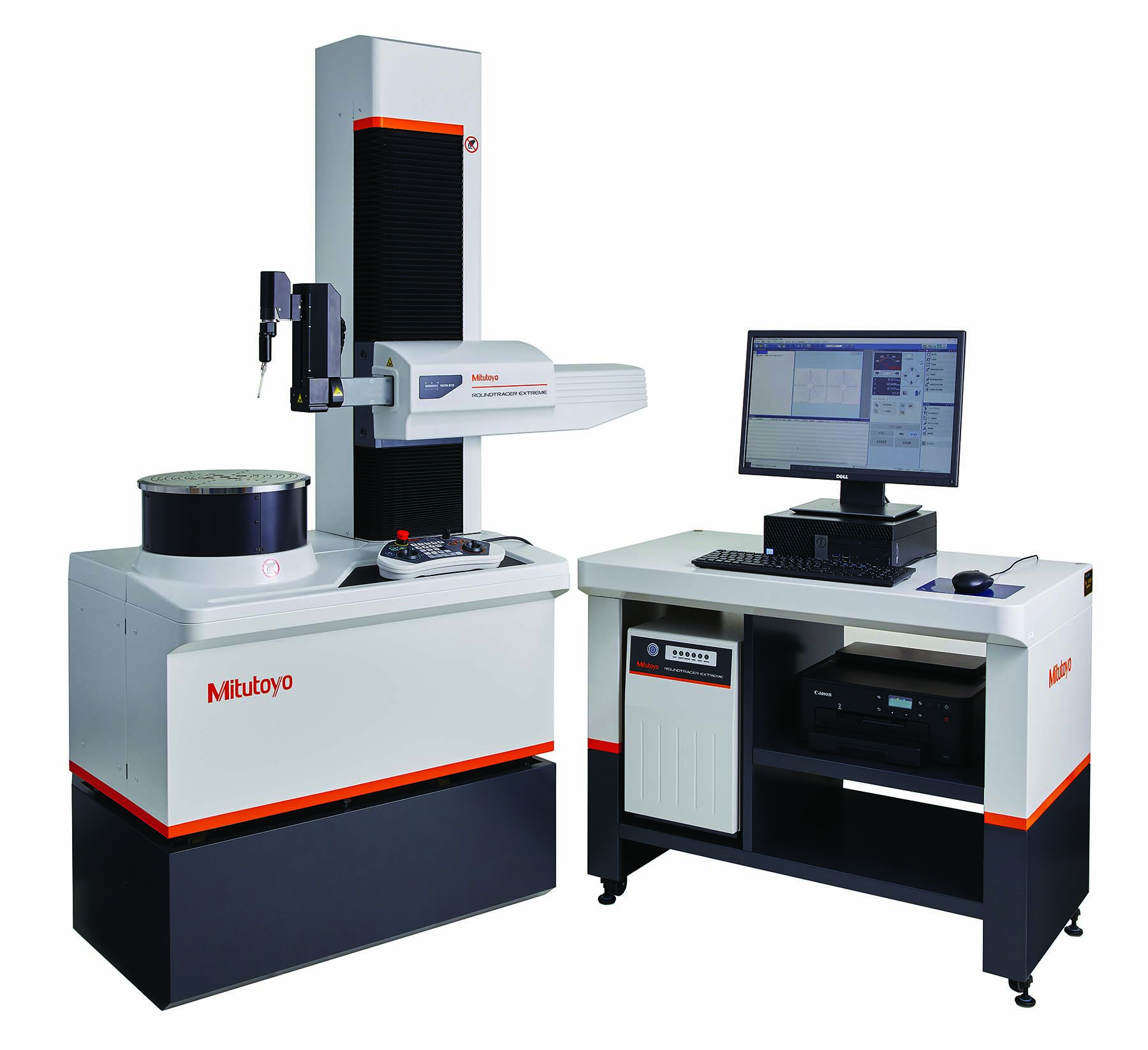 The motorized Roundtracer Extreme offers linear axis speeds of up to 100 mm/sec. and a maximum rotary axis drive speed of 30 rpm.
Compared with manual axis movement, the high-speed axis motors decrease positioning times, Lee said, "so setup time is lowered and you can measure your parts faster."
In addition, the z-axis slider features a hybrid design that includes a friction guide and air bearings. According to Mitutoyo, this design makes the slider more resistant to vibration, resulting in improved positional accuracy and repeatability compared with other models in the company's roundness-measuring family.
Mitutoyo also points out that the Roundtracer Extreme's three-step sliding axis design makes it easier for the system to take inside-diameter measurements of thick workpieces while avoiding interference. Additionally, the redesigned sliding axis gives the flexibility to measure various geometries in hard-to-access areas, according to the company.
Another redesigned component is the rotary table. For improved repeatability, the turntable features increased rigidity and new internal architecture that reduces the positional changes of the workpiece during the measurement process, Mitutoyo reports. In addition, software improvements that allow the acquisition of rotary table measurement data at any angle reduce positioning times by about 40% compared with other systems in the same product family, according to the company.
The Roundtracer Extreme can measure workpieces with diameters up to 680 mm and weighing as much as 60 kg. Suitable applications include measurement of camshafts, splines, toolholders, transmission components and electric motor cores. In the case of camshafts, Mitutoyo points out that measurement of cam roundness, shape and surface roughness, which used to require multiple instruments and setups, now can be handled by a single machine.
In addition to a PC, the Round-tracer Extreme comes with the company's Roundpak software, which enables measurement of parameters, such as roundness/cylindricity, flatness and parallelism. The system's capabilities also can be enhanced by optional MCubeMap software, which uses a variety of graphic technologies for the visualization of contour and surface roughness data. Among other things, MCubeMap supports lead (twist) analysis of a rotating shaft. Common in the automotive industry, this analysis is used to detect seal leakage and wear that can lead to failure.
But the main selling point of the Roundtracer Extreme is that it saves setup time and shop floor space by handling multiple measuring tasks that normally require separate systems.
"The neat part is that it encompasses three measuring disciplines in one machine," Lee said. 
---
For more information about the RTX Roundtracer Extreme from Mitutoyo America, view a video presentation here: qr.ctemag.com/1jqk7
Related Glossary Terms
computer numerical control ( CNC)


computer numerical control ( CNC)

Microprocessor-based controller dedicated to a machine tool that permits the creation or modification of parts. Programmed numerical control activates the machine's servos and spindle drives and controls the various machining operations. See DNC, direct numerical control; NC, numerical control.

computer-aided manufacturing ( CAM)


computer-aided manufacturing ( CAM)

Use of computers to control machining and manufacturing processes.