Author
William Leventon
Published
April 01, 2016 - 10:30am
When it comes to highly accurate machining technology, jig boring is better. So say proponents of the century-old machining technique.
In the early part of the last century, jig boring started as a better way to make holes. But the technology has since evolved into a more-versatile machining option.
A conventional jig borer is a machine tool for boring highly accurate holes. "With higher-quality machining centers, you can look at achieving tolerances of 20µm in the work zone. But when you need to go beyond that—down to 10µm, 5µm or even 2µm—that puts you into the realm of a jig boring machine," said Tom Dolan, vice president of sales and marketing for jig-borer builder Mitsui Seiki USA Inc., Franklin Lakes, N.J.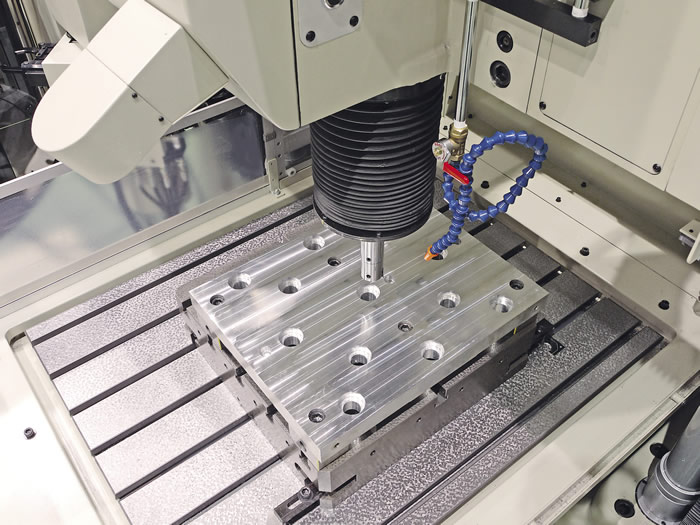 Manufacturers of mold bases use jig boring and jig milling machines to finish bores with tolerances tighter than 5µm in roundness, perpendicularity and straightness. Image courtesy Mitsui Seiki USA.

To achieve the required level of precision, jig borers are designed and built in ways that set them apart from typical machines. For example, jig borers feature components made with tighter-than-normal tolerances, as well as improved rigidity, thermal stability and vibration-damping capabilities, according to Dolan.
What's more, jig borers are made to maintain their accuracy for long periods of time. Dolan said it's not unusual for a jig borer to remain exceptionally accurate for 20 years or more.
Because of their superior accuracy, jig borers are used to make parts for machine tools, which is why they're often referred to as "mother machines," Dolan said. Other applications include making parts for the aerospace, defense, optics, and mold and die industries.
On the downside, jig borers are not built for high-speed machining. Though much more accurate than a typical machining center in terms of positioning capability, jig boring is a slower process, Dolan explained.
Nonetheless, jig-borer productivity has gotten a boost in recent years from control technology. Fifteen years ago, Dolan said, visitors to a manufacturing facility where jig boring was done wouldn't have been surprised to see only manual jig borers—or, at best, machines with simple MDI (manual data input) controls. Since then, however, CNC jig boring machines have become the norm, he said.
Another important advancement is the so-called jig milling machine, which has taken jig boring technology beyond its traditional roles of holemaking and light-duty milling.
Though it can be thought of as a specialized type of milling machine, a conventional jig borer features a quill or headstock that cannot handle the significant side loading generated during normal mill work. Jig mills, however, usually lack a quill but can still perform jig-borer tasks and milling operations that are beyond the capabilities of conventional jig borers. This ability to perform more than one task can eliminate the need to move a workpiece from one machine to another, saving time and improving part accuracy.
Jig mills can hold tighter tolerances than a typical milling machine, though perhaps not as tight as those held by a conventional jig borer, Dolan said.
Not willing to make accuracy compromises? Then consider the Yasda YBM-Vi40 5-axis jig mill. The machine "can do 3-, 4- and 5-axis milling with the same accuracy as a traditional jig borer producing a straight-line hole," said Stephen Previti, Yasda product manager for Methods Machine Tools Inc., Sudbury, Mass., a machine tool importer of Yasda machines to North America. What's more, Previti added, "no jig borers have the spindle construction that will take a side load like the Yasda will."
Accuracy-boosting Vi40 features include a rigid worm-gear mechanism and a thermal-displacement system that circulates temperature-controlled oil through the machine body to minimize thermal displacement. In addition, the machine's performance is enhanced by more than 400 hours of hand scraping, done to enable precise machine movements, said Jeffrey Johnson, Yasda mold and die project manager for Methods.
According to Johnson, the Vi40 can perform complicated jobs involving high-value parts made from materials like titanium and Inconel, while lowering scrap and labor. And in moldmaking applications, it can eliminate the need for "very laborious" EDM or grinding operations.