Author
Alan Richter
Published
July 13, 2021 - 01:45pm
Machining tiny holes with solid-carbide microdrills presents a host of challenges, one of which is monitoring tool wear and breakage.
Tracking microdrilling applications in real time can be problematic because a drill that's 0.1 mm (0.0039") in diameter, for example, has a power consumption of 0.2 W when cutting steel, according to Digital Way Inc. If the resolution of a system for monitoring tool wear and breakage is no better than 1 or 2 W, detecting anything about a microdrill is impossible.
To overcome that obstacle, Digital Way offers the WattPilote monitoring system, said John Cosic, North American sales and service manager. He's based in Simi Valley, California, and the company also has an office in Troy, Michigan. He said the system provides "true" power monitoring in which current consumption is combined with voltage to provide an accurate representation of what's actually happening at the cutting edge.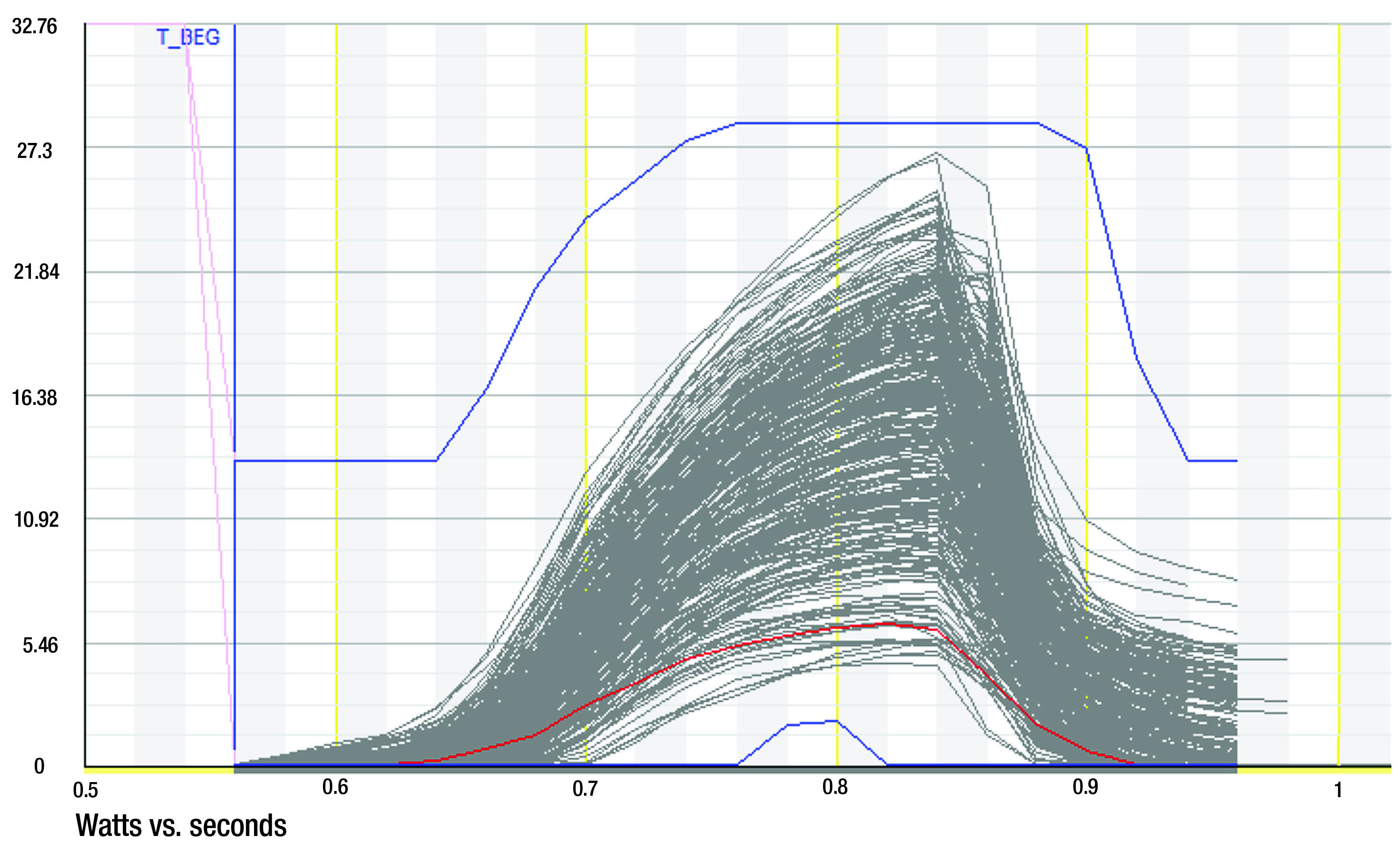 An example is shown of a 0.47 mm-dia. (0.0185") drill on a 5-kW spindle. Machining power is about 5.5 W. The red curve represents a new drill, and the blue lines are the upper and lower power limits. Note the increases in power due to drill wear. Image courtesy of Digital Way
He said the use of a resistive shunt sensor differentiates the system from other power monitors for machining applications.
"From the perspective of the machine tool builder," Cosic said, "it looks like three short pieces of copper wire, but what is really in there are three precision low-ohm resistors. They provide power measurements that are more repeatable, more sensitive, more accurate and faster so you can detect tripping events that you normally can't see with a power sensor."
He said that capability enables reliable measurement of small amounts of power consumption when drilling with large motors. A motor can be sized appropriately on a dedicated microdrilling machine that applies only one tool or a limited number of different tools, which makes detecting the condition of microdrills easier. But if a variety of tools are needed on a machining center, ranging from a microdrill to a large-diameter endmill, the motor must be sized for the endmill.
"That's how we developed the technology in the first place," Cosic said, "because we often find ourselves monitoring big and small tools on the same machine. Automotive is my typical application."
A conventional microdrilling operation in the automotive industry might require monitoring a 1.5 mm (0.059") drill on a machining center with a 30-kW spindle. But he said the company's system has monitored a 0.15 mm (0.006") drill rotated by a 1.5-kW spindle for a medical application.
"That's far removed from what you might see in the auto industry," Cosic said.
He compared a resistive shunt sensor with a Hall effect sensor, which is a commonly used sensor for estimating power consumption by combining current information and voltage tap information. A resistive shunt sensor has accuracy for amplitude and phase measurement of greater than 98% on nonsinusoidal waveforms versus about 80% for a Hall effect sensor and has a real-world response time of 5 milliseconds versus 25 to 500 milliseconds for a Hall effect sensor, he said. In addition, the WattPilote power sensor has a sensitivity of 1 part in 65,000 (0.5-W resolution on a 32-kW spindle motor) versus about 1 part in 6,000 (greater than 5-W resolution on a 32-kW spindle motor) for a Hall effect sensor.
"We can do things that perhaps many people don't believe is possible," Cosic said.
Other in-process tool wear and breakage technologies are available, such as those that measure vibration, acoustic emission or machine tool displacement, but he said he has gravitated to power monitoring over the course of his career, especially when monitoring micro­tools. He said the installation work occurs in a machine's electrical cabinet and doesn't involve placing mechanical, optical or any other sensors in the machining envelope.
"Each technology has its strengths and weaknesses," Cosic said, "and I have applied all these technologies to machine tools in the last 30 years or so. My experience indicates power is a good technology. It's easy to install, retrofit and test. That's why I'm a fan of power."
For more information about Digital Way, visit www.digitalway.fr or call 805-433-2820.
Related Glossary Terms
endmill


endmill

Milling cutter held by its shank that cuts on its periphery and, if so configured, on its free end. Takes a variety of shapes (single- and double-end, roughing, ballnose and cup-end) and sizes (stub, medium, long and extra-long). Also comes with differing numbers of flutes.

machining center


machining center

CNC machine tool capable of drilling, reaming, tapping, milling and boring. Normally comes with an automatic toolchanger. See automatic toolchanger.

tap


tap

Cylindrical tool that cuts internal threads and has flutes to remove chips and carry tapping fluid to the point of cut. Normally used on a drill press or tapping machine but also may be operated manually. See tapping.