Author
Cutting Tool Engineering
Published
February 01, 2011 - 11:15am
Tim Brosius has worked with hard materials, tool geometries and coatings since 1974. More than a decade ago, he owned a business that produced, among other things, short, cylindrical carbide dies that resembled finger rings. Today, Brosius is CEO of Tungsten Pride LLC, Minneapolis, whose sole business is manufacturing custom tungsten-carbide wedding, engagement and personal rings. "People ask, 'Could you do one this way for me?' and we say, 'Yep, that's what we specialize in. We make one ring at a time,' " Brosius said.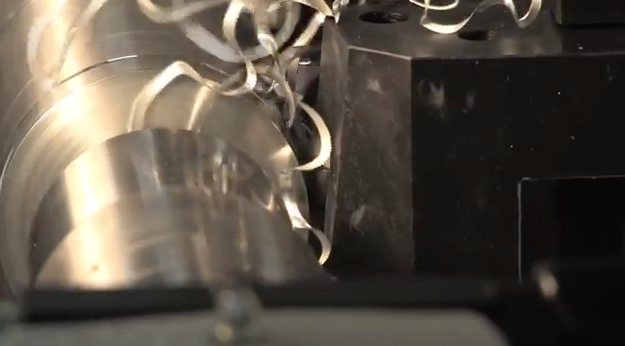 The video above prepared by Tungsten Pride provides an overview of the company's ring production capabilities. Courtesy of Tungsten Pride.

Ring IDs generally range from ½ " to 1 ", but can be larger or smaller. "If a guy wants to put a ring on an elephant, or if he marries a tiny girl, we are capable of doing it," Brosius said.
According to Brosius, competitors typically grind generic carbide blanks to shape by the thousands, and jewelers sell them off the shelf. Tungsten Pride, on the other hand, produces its rings on a 2010 Mazak Quick Turn 150-II CNC turning center, machining them from 8 "-long sections of tungsten-carbide tubing. "We are the only ones in the world that do it the way we do," he said.
Tubing ID and OD depend on the size of the finished ring. Ring walls typically are 0.083 " to 0.098 " thick; the larger the ring size, the thicker its walls. Ring width varies depending on customer desires, but a typical width would be 0.315 " for a size 10 (0.781 " ID) ring.
The composition of the tungsten-carbide alloy influences a ring's structural durability and long-term appearance. One that is too hard will be fracture-prone, but an alloy that is too soft may scratch. The hardness is determined by the percentage of binder in the alloy. The rings produced by Tungsten Pride have a 10 percent nickel binder. A higher percentage of binder reduces hardness but adds toughness. "We found that 10 percent nickel provides enough hardness so that the rings are basically impossible to scratch; you can call it a permanently polished ring," he said. "I sell these to people in wheelchairs, weightlifters, masons, and they just last a lifetime."
Competitors have made tungsten-carbide rings with cobalt binders, Brosius added, but salts in the skin can leach out the cobalt and cause pitting. "Nickel is more chemically inert than cobalt," he said.
To machine the rings, the turning center is fitted with both turning and rotating synthetic-diamond brazed tooling. Cycle times average 45 seconds for OD and ID machining and 25 seconds to cut the ring off the tube.
Courtesy of Tungsten Pride
Tungsten Pride machines tungsten-carbide tubing on a CNC turning center for custom wedding, engagement and personal rings.
Craig Brosius, Tim's son and Tungsten Pride president, said special workholders provide the rigidity required to produce fine details in the rings, and it is important to apply sharp tools to minimize cutting pressure. However, most other details of the process remain trade secrets.
Tim Brosius said he initially didn't have funds to file for a patent, but added that a patent does not necessarily protect a unique process. "If you patent something, everybody reads what you are doing and then they knock you off." And for a small operation, defending a patent can be difficult. "If you don't have deep pockets, you can be right all day long but that doesn't make you right in court if you don't have the money to defend it. So it's good to just keep your mouth shut where you can," Brosius said.
The company's rings receive a stress-relief treatment to further enhance their durability. Grinding exposes rings from competitors to high heat and pressure and generates residual stress, Brosius said, and those who grind WC rings "have never found a way to relieve the stress. Their rings can crack."
When a ring comes off Tungsten Pride's CNC machine, it is ready for hand finishing. The shop offers free engraving for the ring ID and optional OD treatments. A laser engraver produces patterns and images on the OD, and ID engraving is accomplished with a small, programmable 4-axis dividing head developed by the company to apply a diamond tool. "We can scribe anything that's on Microsoft Word," Brosius said. "It's simple for us just to pull up a file. We've engraved Greek, Chinese, figurines—anything a customer wants if he sends us a file."
For example, Tungsten Pride produces a large number of rings for military personnel. "An Army Ranger will e-mail us his logo and we will laser it on the ring," Brosius said. The shop can work with CAD files, he said, but "basically, the customer can scratch what he wants on a napkin, scan it and send it to us."
Tungsten Pride publishes a delivery time of 3 to 5 days, but actual manufacturing time varies. "If someone orders just a plain, polished ring, you are looking at it coming off the machine in 20 minutes," Brosius said. However, depending on the level of special finishing desired, a ring may require 2 or more hours of hand finishing by a craftsman.
The company produces a range of polishes and other finishes. For example, a stone gray finish is achieved via sandblasting. Tungsten Pride's Black Ice finish is actually a cutting tool coating. "The secret is in making a coating stick," Brosius said. "When you highly polish something, the coating doesn't like to stick. We have discovered a way to make it stick."
Brosius credits his industry connections for helping him develop his company's technology; his brothers are in the cutting tool business and have their own coating center, and his best friend runs Ionbond's coating facility in Chicago. "It's all one little family," he said, adding that "We are getting ready to come out with some really cool coating colors."
Brosius said one of the biggest challenges in marketing the rings is determining correct ring size. The company's Web site provides detailed instructions on correct sizing, recommending that customer visit two different jewelers for measurements. "If they say they are a size 9 and we send it to them and they are really a size 10, we can open it up, but only one size," Brosius said. "But if they say they are a size 9 and are really a size 7, then we are in trouble. We can't make them smaller."
Brosius said his wife runs the business and talks with every customer to confirm sizing. Tungsten Pride can produce the rings in quarter-size increments, and typically holds a machining tolerance of ±0.0015 " on each ring, well within its capability of ±0.0001 ".
Brosius estimates that tungsten-carbide rings have replaced precious metal bands in as much as 40 percent of the market. "Some jewelers say tungsten is popular because nobody wants to pay the high prices for gold," Brosius said, "but tungsten was popular back when gold's price wasn't bad at all."
—Bill Kennedy