Author
Ken Schnepf
Published
January 29,2020 - 09:45am
Machinists can realize ease of handling and energy efficiencies when producing components for e-mobility applications with Latrobe, Pennsylvania-based Kennametal Inc.'s 3D-printed, lightweight stator bore tool. It is for machining the stator bore of hybrid and electric engine housings.
"In the housing itself, all components of the engine, such as stator, rotor and bearings, are fitted in," said Ingo Grillenberger, technical program manager of e-mobility for Fürth, Germany-based Kennametal GmbH's Solutions Engineering Group. "For the final performance and efficiency of the electric engine, it is very important that all these components are aligned perfectly and they are concentric."
E-mobility components typically are machined on small, low-horsepower CNC machine tools that require lightweight cutting tools. Kennametal's 3D-printed stator bore tool weighs about half that of the conventionally manufactured version while still meeting requirements for accuracy, roundness and surface finish when boring aluminum.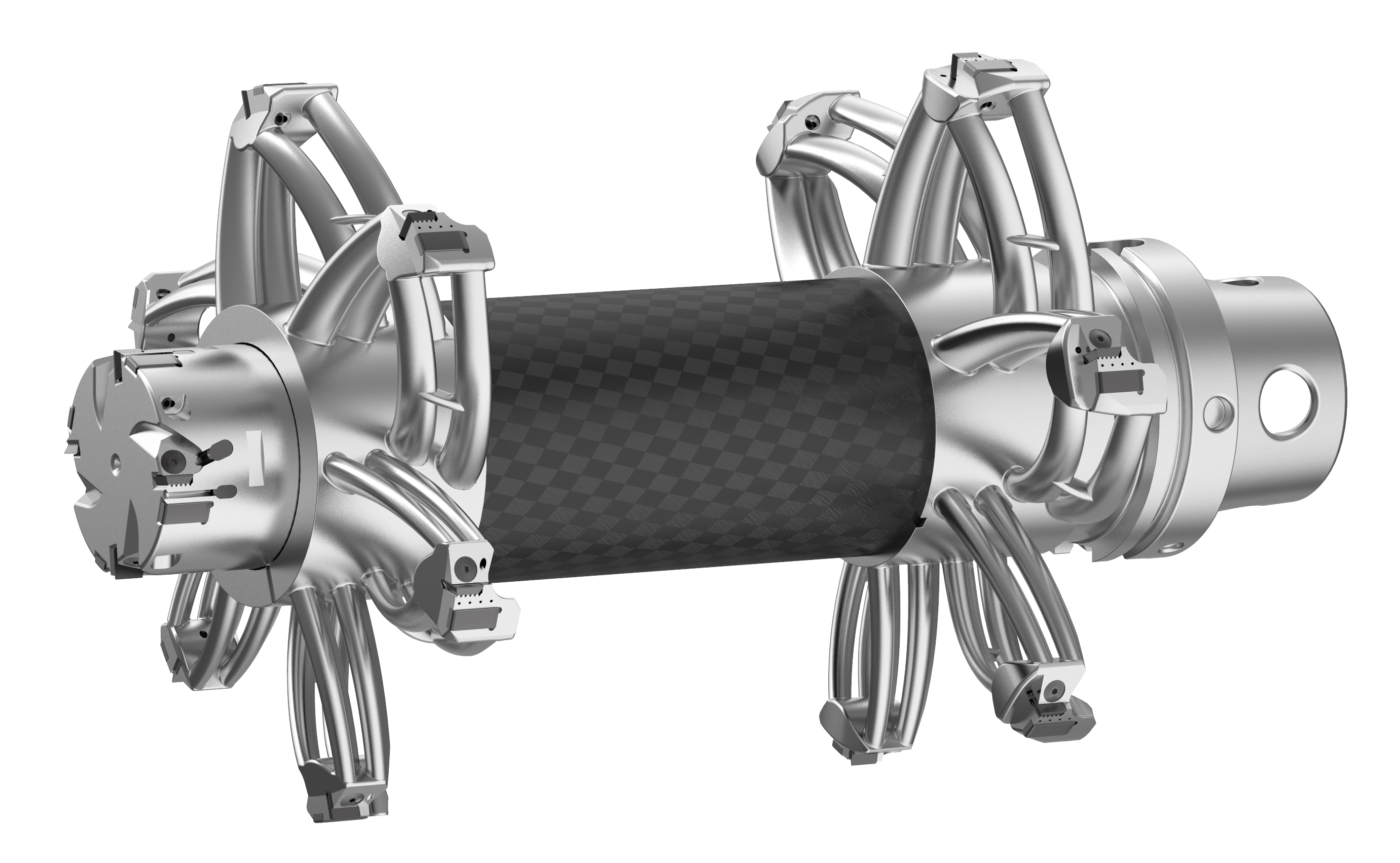 For more information about Kennametal's 3D-printed stator bore tool, view a video presentation at www.ctemag.com
Two versions of the tool were built: one with a carbon fiber tube and the other using a 3D-printed metal tube. The tool with the 3D-printed tube weighs 10.7 kg (23.6 lbs.), and the carbon fiber version weighs 9.5 kg (20.9 lbs.).
The tool's reduced weight is significant because the resulting lower tilting moment makes it easier for machinists to maneuver the tool, and the resulting lower moment of inertia reduces not only wear on machine components but energy consumption.
"It has advantages because it's lighter," Grillenberger said.
Although Kennametal developed the tool to machine stator bores, alternative applications are conceivable wherever there are big bores and large depths, such as the bores in transmission cases.
"The main bore that houses the stator of an electric motor measures approximately 250 mm (9.84") in diameter and approximately 400 mm (15.74") in length with a smaller bearing bore at the bottom," explained Harald Bruetting, manager of program engineering at Kennametal. "When manufactured using conventional means, a reamer for this type of application would weigh more than 25 kg (55 lbs.), far too heavy for the existing machine tool or for an operator working with the tool."
Bruetting and Kennametal's Solutions Engineering Group turned to the company's in-house additive manufacturing capabilities to print a strong yet lightweight indexable-insert tool equipped with Kennametal technologies, such as fine-adjustable RIQ reaming inserts for precise finishing and the KM4X adapter for enhanced rigidity. The tool also features 3D-printed coolant channels, which help boost productivity and extend tool life.
"By using metal powder bed 3D printing together with finite element analysis software, we were able to design and build a tool that brought the tilting moment very close to the spindle face, increasing its rigidity while meeting the customer's weight restrictions," said Werner Penkert, manager of Kennametal's Future Solutions.
For more information about Kennametal, call 800-835-3668 or visit www.kennametal.com.